Council looking into options for Omanawa Falls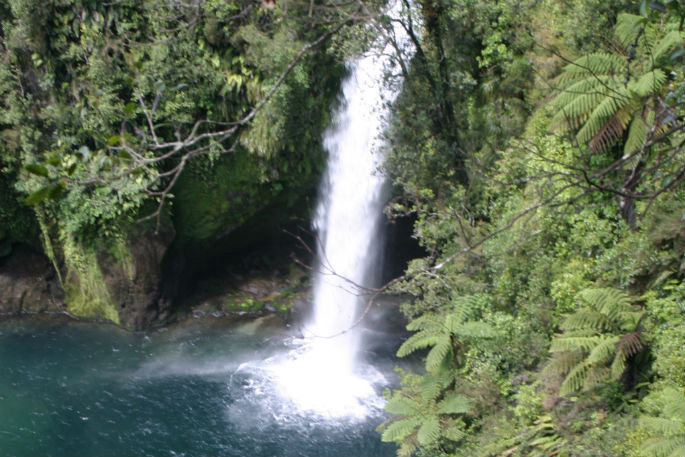 The Omanawa Falls and the track leading to it has been closed for some time. But despite this closure, many people still visit the falls each year.
As owners of the falls, the Tauranga City Council are working on short, medium and longer-term plans to address a number of concerns they have.
"Firstly, in the short to medium-term, we are addressing the number of people who still visit the falls while it is closed and in the longer term, we are investigating how we could potentially reopen the falls in a staged manner," says Tauranga City Council general manager for community services Gareth Wallis.
Short term plan:
"Tourism Bay of Plenty has been contacting the travel sector to update, remove or edit their online listings about the falls, including Trip Advisor. By working to reduce the amount of online content available, we hope to see a reduction in the number of visitors to the site each year.
"So far, a number of online sites have agreed to update their information as requested.
"Tourism Bay of Plenty is also working to educate owners of local backpackers of the cultural and environmental reasons not to visit the site.
"In addition, our Spaces and Places team is updating signage to deter visitors and locals at the site. Unfortunately, we are unable to trespass anyone at this time. We are suggesting McLaren Falls as a nearby, freshwater swimming spot to those looking for an alternative place to visit."
Longer-term plan:
"We have recently established an Omanawa Falls Project Group, which includes local hapu, Tourism Bay of Plenty and Tauranga City Council. The purpose of the project group is to work through issues and potential solutions together based on short, medium and longer-term timeframes.
"Longer-term we are looking for opportunities to potentially re-open the Omanawa Falls in a staged manner, as was directed by our previous council.
"We'd like to stress that planning is in the very early stages and we have no timelines or plans to share at present. We are committed only to opening the Omanawa Falls when it is safe to do so, with full consideration being given to the cultural and environmental significance of this special site."
Site purchased:
"We have purchased a neighbouring property to the falls, but the plans to use this land will be dependent on if/when the site is part of a potential staged reopening of Omanawa Falls," says Gareth.
More on SunLive...