Hit the beach, but mind the dunes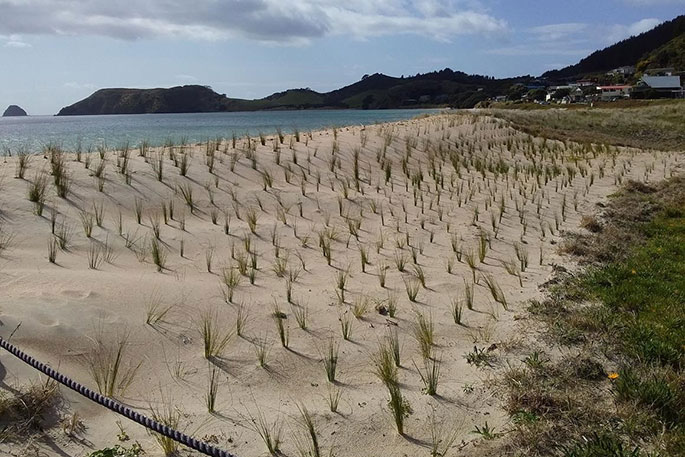 Thames-Coromandel District Council is encouraging beach-goers to respect the sand dunes this summer.
Thousands of people are expected to pour into the district over Christmas and New Yeara, and the iconic beaches are a major attraction for visitors.
"Sand dunes protect land and properties from erosion and storms, and on many of our beaches, sand dunes are also natural habitats for native species of birds such as the dotterel," says Council's coastal management coordinator Tanya.
"Our dunes are always changing as they erode and build up again, in cycles."
Council has been working hard this year to restore vulnerable dune areas with native coastal plants. These help build up the dunes and maintain their natural function.
Tanya says beach-goers can help protect the dunes by staying off them, not driving on beach reserves and not leaving rubbish on the beach.
Other guidelines to follow include:
· Encourage children to respect the dunes and not play on them
· Do not light fires on the dunes. Fire and Emergency NZ (FENZ) has declared a total fire ban in urban and rural areas across the Coromandel.
· Do not dump personal or household rubbish or green waste in the dunes. Do not leave rubbish on the beach full stop.
· Respect the fences, which provide boundaries to help protect dune plants.
· Keep vehicles off the dunes. Important plants and creatures live in the dunes and motorbikes, 4WD vehicles and quad bikes harm them.
· Surf the waves, not the dunes: Sandboarding on the dunes destroys plants and loosens the sand, which allows wind erosion to occur.
More on SunLive...