Thousands donated to Tauranga Foodbank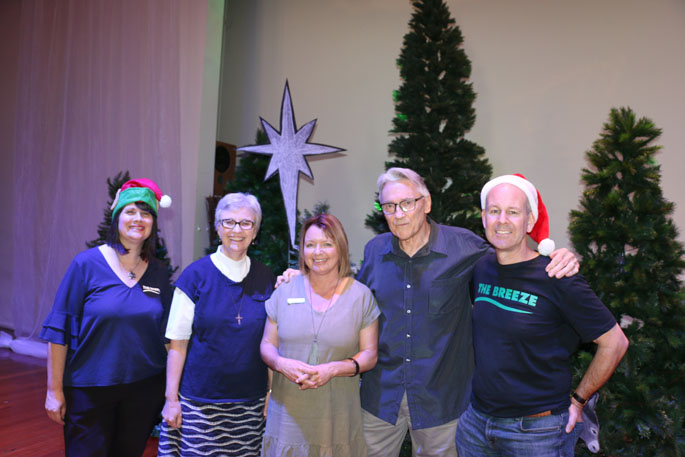 A donation of $8000 to the Tauranga Foodbank is being hailed as a generous donation from the Holy Trinity Church.
The church managed to raise the money by putting on 'A Kiwi Christmas' at the start of December.
Show creator Tom Bradley says they're pleased with being able to raise $8000.
"It's a first effort doing this show we did and we think it's a good return and we think next year we possibly will do it again, maybe a new super improved, revamped version, with a bigger audience and more for Foodbank."
He says the show was looking at the way we, as Kiwis, do Christmas and how it's evolved.
"We have had some terrific feedback. People really loved it. I think it was just a very different type of Christmas show."
He says what made them want to raise funds for the foodbank was last year, he became aware of the fact that media around the place was pushing the foodbank.
"I thought what a great cause and a simple cause to sell because you say Foodbank and people go 'oh' – there's no big explanation needed. People know what Foodbank is, they know what it does.
"This is the time of year where they really need support. So I thought if we do Kiwi Christmas – which has been an idea pottering around in my head for a while – Foodbank could be a terrific recipient.
"And it all worked together very well. It was lovely working with them too. They've been great to work with," says Tom.
Vicar of the Holy Trinity Church Dale Williamson says the feedback they have received is everyone thought the show was a good night and many were very delighted about supporting the Foodbank, and helping people who don't have what they need for Christmas.
Manager of the Foodbank Nicki Goodwin says it was the nicest surprise to hear that the church was doing this for them.
"They have just been amazing. It's a huge donation that we weren't expecting.
"It's really important to let people know that Holy Trinity has supported Foodbank for well over 12 years with twice yearly donations. So they already give us $4000 a year and this is amazing.
"What this donation has actually done, is it's tipped our total appeal into the most successful appeal ever for cash donations, so it's a really big deal.
"And $8000 is going to buy a lot of food that's going to feed a lot of people. The reality is, is the people that we're helping there is nowhere else. So if we weren't helping, they would be hungry.
"A massive thanks to Holy Trinity and the community in general also needs a big thanks and a big hug from Foodbank cause we're really grateful," says Nicki.
More on SunLive...