Powell promises to look into resident's rates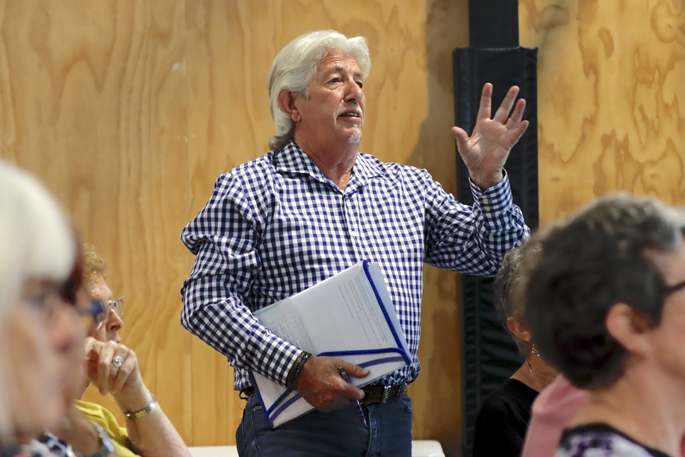 The subject of rates is always going to be something many homeowners can debate about and that is exactly what happened at a long-awaited public meeting between Tauranga City Council, independent valuers and residents at the Golden Sands Lifestyle Village.
Almost every chair in the Golden Sands School Hall was taken by the residents all eager to hear what the council had to say about their rates on Tuesday night.
In attendance at the meeting was Mount Maunganui and Papamoa ward councillor Steve Morris and Tauranga Mayor Tenby Powell. From the council, there was general manager of corporate services Paul Davidson and manager of revenue Jim Taylor. Also in attendance was Garth Laing, who is an independent valuer.
There was a lot of back and forth throughout the meeting, with questions leading back to why are 116 houses in the lifestyle village paying more rates than just one house next door?
Garth tried explaining how the valuation of the property – land and house – works saying he values the land and house together. There is no way of splitting the two and if it was possible, then the rates would go up.
He says the situation the residents in the village are in is also common with council and iwi leases.
Jim explained the costs included in rates, including the fixed amounts. He says around 50 per cent of the rates amount is fixed costs, meaning everyone has to pay the same amount. The other 50 per cent is the part that will fluctuate based on the valuation.
"Part of your rates are based on valuation, just part of them," he says.
"A lot of your rates are fixed components that you pay for the services that you get to your property, and that's why, although your neighbours may only be $300 more, that's to do with the evaluation component.
"So everyone pays a fixed charge of $600 for general rates. The general rates is what you pay for everything in the city that the community gets access to. So that's all of your roads, all your stormwater, all the pars, reserves, libraries, all the amenities that council put out there - all the things that doesn't go directly to your property, but which you can use is the uniform annual general charge.
"The uniform annual general charge is part of the general rates, so it's split into two. There's a fixed component and everyone pays a minimal amount. And then there's a variable component, which is part of the general rate which uses your valuation.
"In the last LTP, the councillors had a really serious discussion about rates affordability, and they were concerned about the impact of the uniform charge on properties that have lower value. So what the councillors decided to do was to reduce the fixed components to 50 per cent of what it was two years ago.
"So you may have noticed that even though we're talking about rates and affordability at the moment, they've gone down slightly two years ago, much the same last year, and they won't change this year because we're reducing the fixed component on the rates for your properties next year if the councillors follow through on the proposed draft and plan.
"So the reason that the rates aren't hugely different for different types of properties is because most of you pay a whole lot of fixed amounts that everyone else pays," says Jim.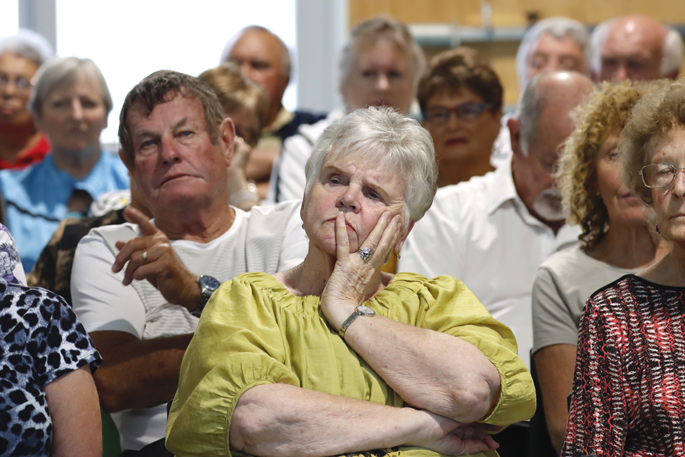 Residents frustrated at some of the answers to their questions.
One of the residents who live in the lifestyle village, Jesse James says he thought the meeting went okay.
"In general, well we'll see what happens. You've got to give them time, I understand they need time to formulate answers and look for answers and see what they can or can't do. I understand all of that and I didn't expect to get any answers last night," he says.
He says answers to basic questions also weren't very clear.
"They sort of baffled, excuse the expression – they baffled us with bullshit. They kept using a lot of technical terms that I understood, but there's a lot of people there that wouldn't have."
Jesse says he really glad the meeting happened and it was great so many people turned up.
"The one [question] that I wanted the answer to was why can't they reallocate it as a special housing area? They say the government has repealed that – that was the answer.
"Good old Labour Government supposed to look after the people has repealed the fact that we can't make it a special housing area to allow us to have a few benefits.
"When this place was first announced it could have been classed as what they call a special housing area and that allows them to get a reduced cost for a lot of things, but the Labour Government repealed it.
"Why? I don't know.
"The question would have to be put to the Labour Government – why did you do that? Especially the government that's helping people and then you've just penalised a lot of people around the country – not just us."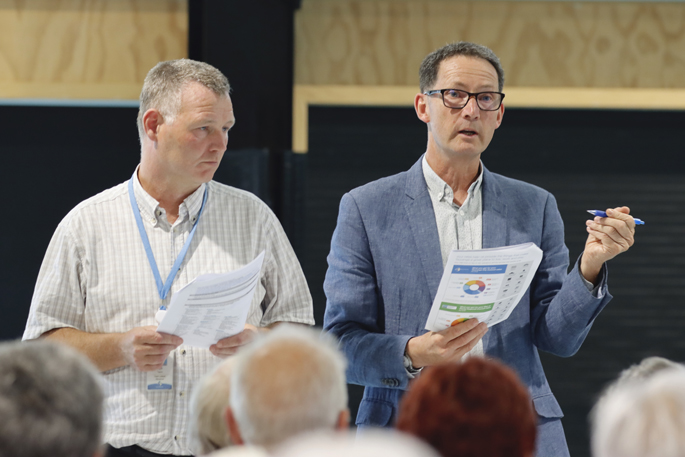 Tauranga City Council manager of revenue Jim Taylor and independent valuer Garth Laing.
Towards the end of the meeting, Mayor Tenby Powell took hold of the conversation and assured people that he would have a good hard look at everything.
"His words were he sensed that the feeling was about how unfair it was, and he said he feels it was unfair himself," says Jesse.
"They've promised to come back to us in writing and notify each person with a written recommendation or whatever they're going to put together. They didn't give a timeframe and I wouldn't expect anything this side of Christmas."
He says it is good that the meeting happened and it's been very beneficial for the residents.
"At least we've been heard and it has been noted," says Jesse.
Tauranga City Councillor Steve Morris says the issues with the rates is a complex issue.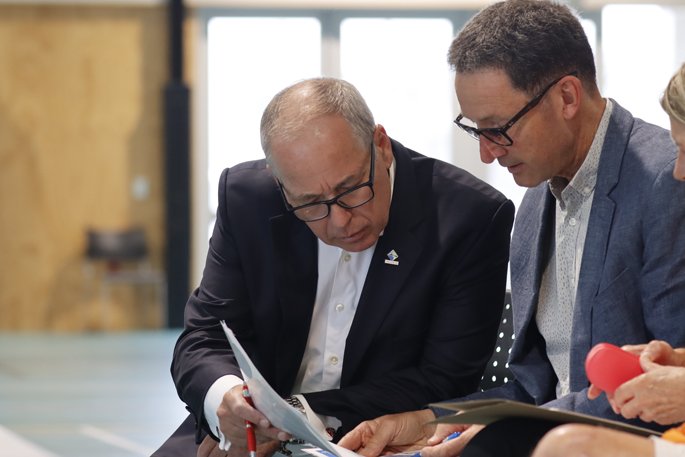 Mayor Tenby Powell looking over a residents rates notice.
He says one of the main questions people were asking during the meeting is 'how come the next door property valued at $700,000 on a 600 square metre site and maybe a 200 square metre house, yet I'm on a 150 square metre site with a 60-metre house and I'm paying two thirds to three-quarters of the rates of the person with the place which is worth nearly three times as much'.
"A lot of the reason is fixed charges which are the same no matter what your property value is worth, and I think a lot of residents understood that but the rating act and the determination of the valuer general is that the person who is the leaseholder is the ratepayer.
"The advice we've had is under the rating act of course set by parliament, as we have no discretion to reduce rates in that regard or to put it back onto the landowner. So I think there was a level of frustration by residents.
"When they moved in there with Blue Haven, they paid their rent and they paid a certain dollar amount towards their rates and what's happened is once the titles have been issued to the property, 'bang' they all got the rates bills and many of them were under the impression that was not going to happen."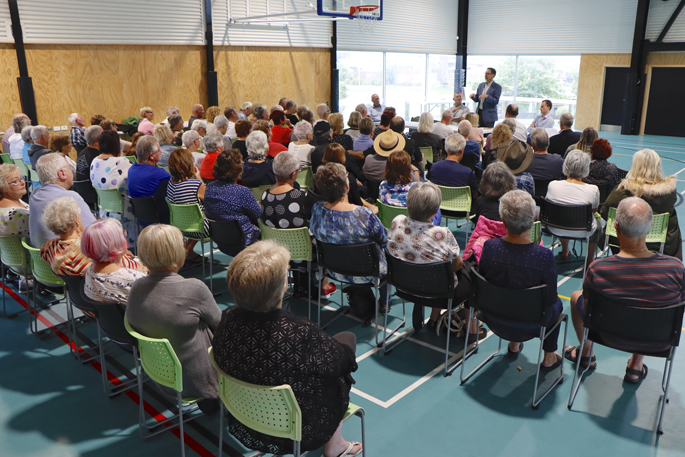 Plenty of residents attended the meeting, listening to what the council and valuers had to say.
Steve says at the end of the day, it's about giving the residents as much information and showing them what the council can and can't do.
"We're going to send around some further information to all of the residents, and really it's making sure they've got the right information so that they can gear up for a rating objection in about 18 months, two years' time when the next valuations come out."
One of the things that is within council control is reducing the fixed components in the rates.
"In terms of how the rates are calculated, there's a lot of fixed charges and one of the big ones is called the uniform annual general charge. What that effectively does is that it's a regressive tax, so that means that those with lower value properties pay a higher proportion of their property value in rates than people with higher value properties, and that's basically so people in Bethlehem, or Matua, or Marine Parade aren't paying too much.
"But what it means essentially is that the poor pay more, and my view is that we should actually remove the uniform annual general charge and have a flat rate per dollar of value for every property.
"Our rating system is actually regressive and that means that the poor do pay more. So what we're doing over the next few years is we are reducing that uniform charge. In my view, it doesn't go far enough.
"People might actually be quite surprised how high a value your property has to be before you start paying more. Essentially, anybody who owns a property less than $800,000 in the city – if we scrap the uniform annual general charge, you actually pay less rates than what you do now. And of course, the lower your property value, the less you pay by going with a flat system."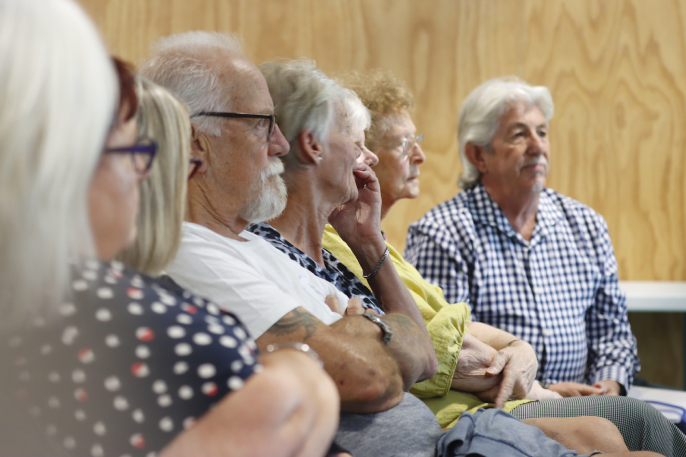 Another thing the council is looking into is increasing commercial differential. Steve says in Tauranga, the residential ratepayers have paid more of the total rates bill for the city than compared to other cities.
"In Wellington, for example, your commercial ratepayers pay over twice as much as your residential ratepayers, and I think what we're slowing moving to now, we're getting up to 1.2, so your commercial ratepayers pay 1.2 times what a residential ratepayer does.
"The benefit of that is, of course, a commercial ratepayer doesn't pay GST on rates or they can claim the GST back. And of course, it's tax-deductible as well, whereas your pensioner or somebody on a fixed income has to pay GST on rates and can't use it as a tax deduction.
"So that's why the benefit of having a small differential is there. It helps residential ratepayers, so those factors will help the residents of the lifestyle village, and they were certainly appreciative of the things that are actually within our control.
"If we keep reducing this uniform general charge and keep increasing the commercial differential a bit, they will be better off," says Steve.
More on SunLive...