Wild Summer Storm: Trees ripped up by tornado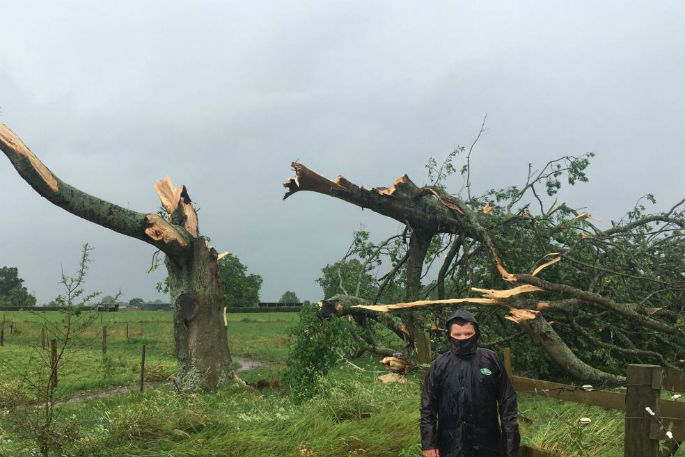 A tornado swept through rural Waikato tearing a garage roof off and knocking trees down, as severe thunderstorms and rain hit the country.
At Dwayne Stewart's dairy farm, a massive poplar tree was torn clean off its roots, leaving the 2 metre-wide base fully exposed.
Andrew McGiven, another dairy farmer in the area, says he was was standing in his living room when a sudden big wind came through. "It picked up all of the outdoor furniture and then one of our big plate glass windows went."
Fifteen trees were also knocked down.
MetService meteorologist Peter Little says the area in east Waikato where the possible tornado was reported was out of site of weather radars in Bay of Plenty and Auckland.
"There have been thunderstorms around the area. The particular cell that looked like it was passing over that area at the time wasn't producing any lightning but it was still quite a tall cloud and had the potential to produce some gusts," says Peter.
By Tuesday evening, a severe thunderstorm watch was in place for almost the entire upper half of the North Island.
At the top of the South Island, flooding, rock falls and and fallen trees caused road closures.
High gusts of wind had been also recorded in Auckland.
A wind gust of 91kmh was recorded at Whangaparaoa on Tuesday morning and there were gusts up to 80kmh on the Auckland Harbour Bridge.
"The winds have been from the northeast, which tends to be a direction where Auckland is more prone to damage," says Peter.
A large tree came down late morning across Hospital Road, blocking access from the north to Middlemore Hospital, and took several hours to remove.
Power lines were also down in east Auckland, and flooding caused by high winds and high tide partly closed a section of Tamaki Drive, east of downtown.
Wellington was expected to see rainfall into the evening, with a strong southerly change overnight causing the temperature to drop, getting as low as 10 degrees Celsius by early Wednesday.
There was a chance of some snow overnight Tuesday in the south with a few light snow showers possible on Lewis Pass and Arthur's Pass, and 2 to 4 centimetres on Porters Pass.
At the top of the South Island, the NZ Transport Agency closed the St Arnaud highway section of State Highway 63 in Marlborough on Tuesday morning after continuous rain raised the levels of the Wairau River, flooding parts of the road.
About 200 metres of the highway was under deepening water, making it too deep to drive through safely.
The heavy rain and gales were caused by a complex low pressure system, which had moved east across New Zealand on Tuesday, and an associated front.
Peter says the heaviest rain overnight on Tuesday was recorded in the northwest ranges of Tasman district, with one weather station having 140mm, and two others having close to 100mm.
MetService says the low would move away to the east on Wednesday, directing widespread showers and cooler southwesterly gales to many parts of the country.
On Thursday and Friday, a front was expected to move eastwards across the country, followed by a narrow ridge on Saturday.
Another front was then forecast to approach New Zealand from the Tasman Sea late on Saturday.
More on SunLive...