Bay Dreams brings fun and tourism benefits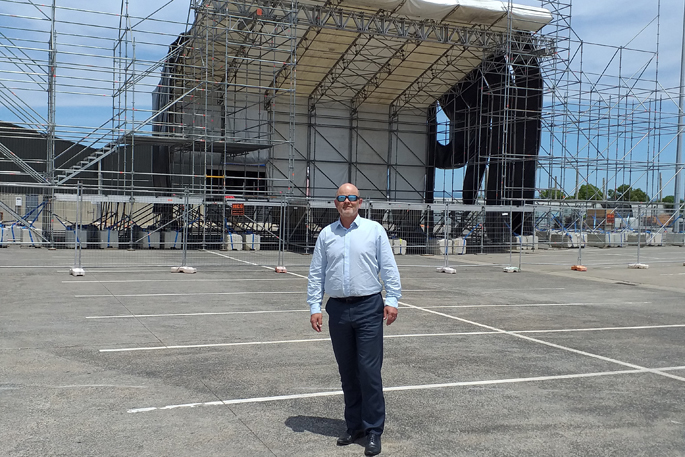 Set up for the 2020 Bay Dream's event, one of the biggest summer music festival in New Zealand, is currently underway at Trustpower Baypark Arena.
Bay Venues commercial manager Ervin McSweeny is welcoming Bay Dreams back to Baypark this summer.
"We look forward to seeing Bay Dreams 2020 come to life around us and working with the event organisers to build on the success of this iconic event for Tauranga."
Bay Dreams brings significant tourism and economic benefits to the city.
An economic report prepared by Fresh Info for Bay Venues and Creative Bay of Plenty following the 2019 event found that Bay Dreams attracted over 25,000 visitors to Tauranga, more than 95 per cent of which were domestic visitors.
These visitors spent money of a wide range of goods and services including accommodation, food and beverage, retail, activities and transport. The total net benefit to Tauranga from last year's event was $4.10 million.
"Creative Bay of Plenty were pleased to support this research to advocate for the value that Bay Dreams brings to Tauranga," says Creative BOP general manager Meg Davis.
"There is a sweet intersection that this type of festival brings to the community, improving both the local financial well-bring and increasing community pride in Tauranga as a liveable city and visitor destination."
The report also found that most residents felt proud to host the event and felt it made Tauranga a more enjoyable place to live.
Visitors also agreed, with the majority saying it improved their perception of Tauranga as a place to live and visit.
"Trustpower Baypark continues to be the entertainment hub for the region and a masterplan for the venue has been developed to ensure we can continue to deliver large-scale events like Bay Dreams for the benefit and enjoyment of this city," says Ervin.
Final release tickets for Bay Dreams 2020 are still on sale. January 1 is the pre-party event, with the big event taking place on January 2.
For more information about the events taking place at Trustpower Baypark, including Bay Dreams 2020, visit www.trustpowerbaypark.co.nz.
More on SunLive...