What's on - migrants day, pageant and Santa grotto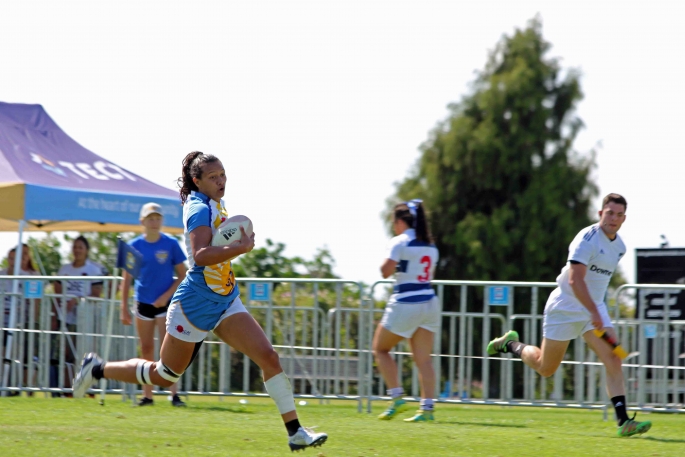 Kia ora and welcome to Sunday. Kia mau te rongo ano he kukupa ki runga ki a tatou
The weather forecast is for a cloudy morning, with a chance of a shower, mainly from the afternoon. Westerlies will gradually turning northerly.
It's a one-clothing-layer day today with an expected high of 23 degrees and an overnight low of 16 degrees is forecast for Tauranga. Sunset is at 8.33pm.
What's on today?
Come along to the Tauranga Domain to watch the top 16 men's and 12 women's teams from all over NZ compete for the National titles at the TECT National Sevens today.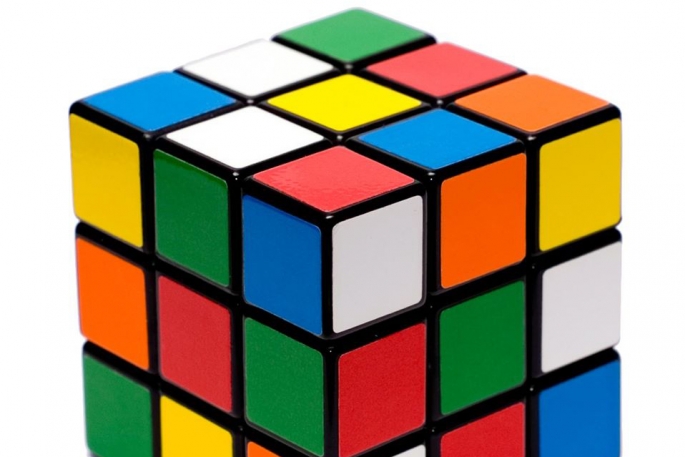 The New Zealand speedcubing national competition is on today at Trustpower Baypark. Can you solve the 3x3x3 Cube or other similar puzzles quicker than anyone else? More information here
In the heart of Whakatane today is Christmas at the Park, at Rugby Park in Domain Rd, starting at 2pm. A community gathering - more here https://whakatanechristmasathepark.weebly.com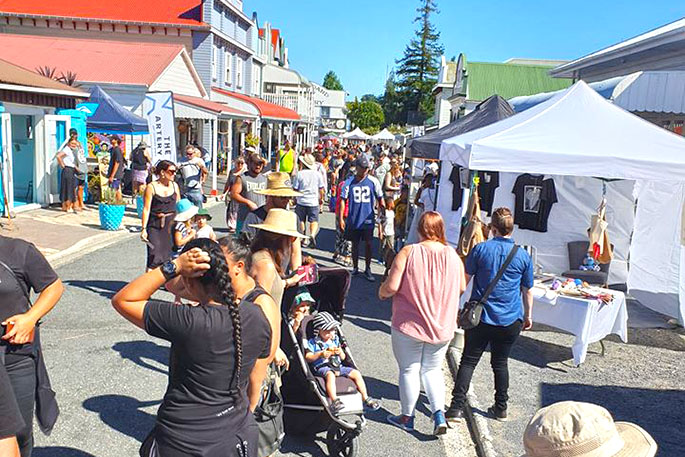 The Bethlehem Te Puna Lions are holding their market in the Tauranga Historic Village today from 8am – 12noon. Come and find Christmas gifts!
Head to Whakamarama for the Atrium Art and Artisan Christmas Fair at Black Sheep Bar & Grill from 11am – 3pm. More here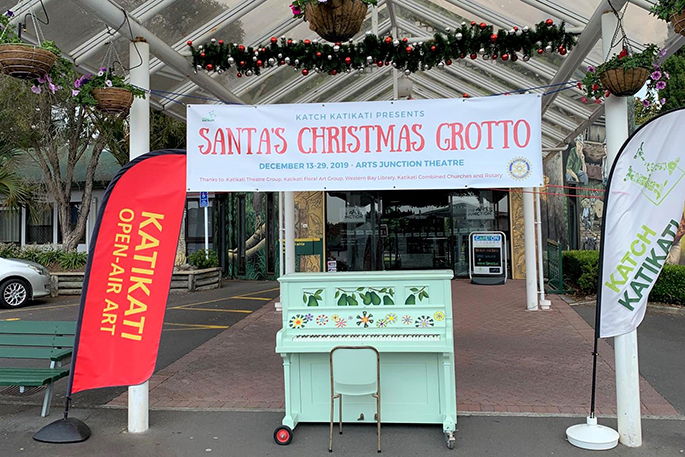 Katikati has a Santa's Christmas Grotto across the road at the Katikati Art Junction, so come along and check out Santa's workshop and other wonderland scenes, as well as meeting Santa himself. More here
Holy Trinity Church Kidz are presenting their end of year pageant, 'An Unexpected Christmas' at 10am today. A surprising interpretation of the Christmas story involving children, youth, and adults of all ages. Family friendly service and will include an opportunity for children to be "blessed" plus sausage sizzle. More here
Barrett Homes are bringing Christmas to Golden Sands, Papamoa this year, from 3pm – 5pm. Come along for an afternoon of entertainment, festivities and a visit from the man in red. Check out more information here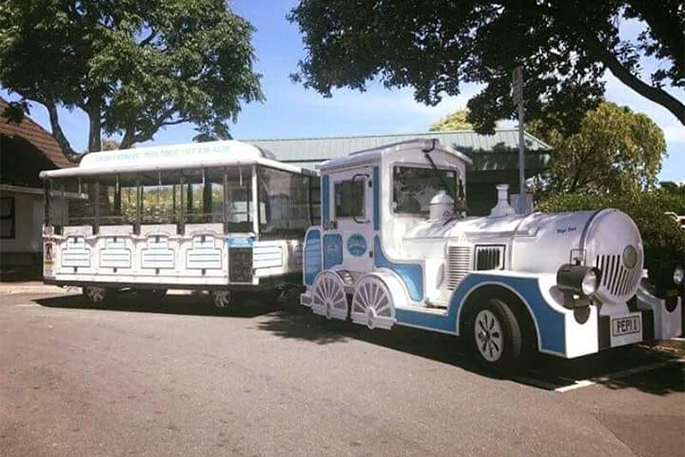 Next to Coronation Park is the Pepi Toot train which will be out about today and tomorrow from 10am – 2pm with 30 minute rides, leaving from Salisbury Ave outside the Spongedrop Cafe. All aboard! Toot! Toot!
The UN International Migrants Day is being celebrated today from 8am – 12noon at the Tauranga Historic Village. More here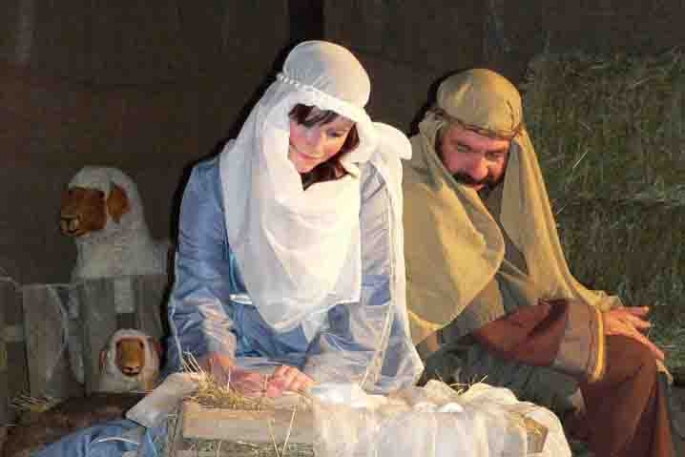 Come to 'The Road to Bethlehem' at the Tauranga Adventist School in Bethlehem this evening. This is a unique experience which makes the real story of Christmas come alive as you walk through the streets at the time of Jesus birth. Enjoy the Welcome Area before your show, eat at the food stalls, and then come for a walk through the Christmas story to see the events of history unfold in front of you. Wonderful for families, young and old. This walk-through experience opens at 6.30pm and runs to 9.30pm.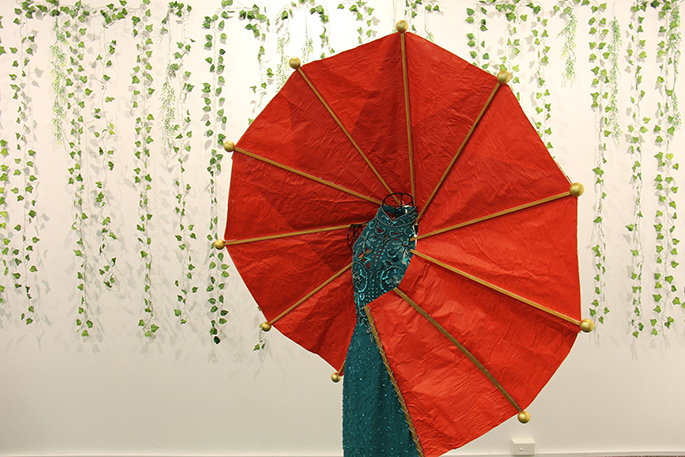 Come and see the Heart of Christmas Wearable Art Exhibition in Downtown Tauranga at the Goddard's Shopping Centre. There are ten new creations on display as well as designs from the 2018 exhibition. The exhibition runs until Christmas Eve.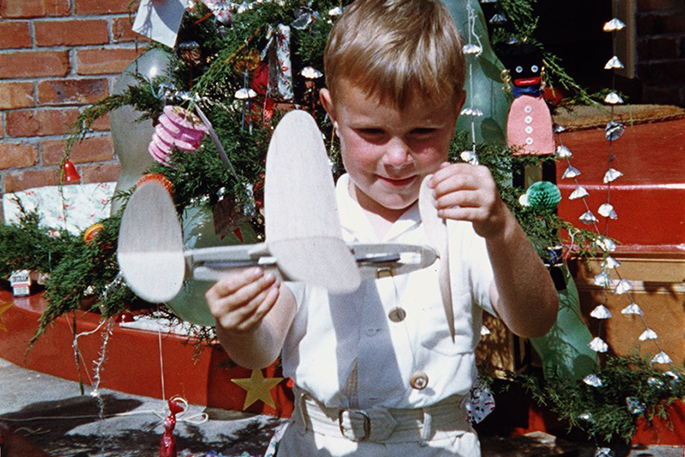 Image credit: Exterior scene showing boy standing in front of Christmas tree playing with a toy plane. Credit: Personal Record. Reynolds, Ah. [Christmas 1952] Stills Collection, Ngā Taonga Sound & Vision. Courtesy of Alfred Harry Reynolds Collection. S297831
At Tauranga City Library is an opportunity to view 'Summers past and Christmas presents', a compilation of amateur films from the archive collections. More information here
Come check out Clare Birch's first solo exhibition 'PrettyUgly' at The Incubator. There will be nibbles and refreshments supplied by lowercaseg, The Incubator Creative Hub volunteers, and The Whipped Baker Cafe, with music by Pea & Leesy-mo. The exhibition runs until December 21. More here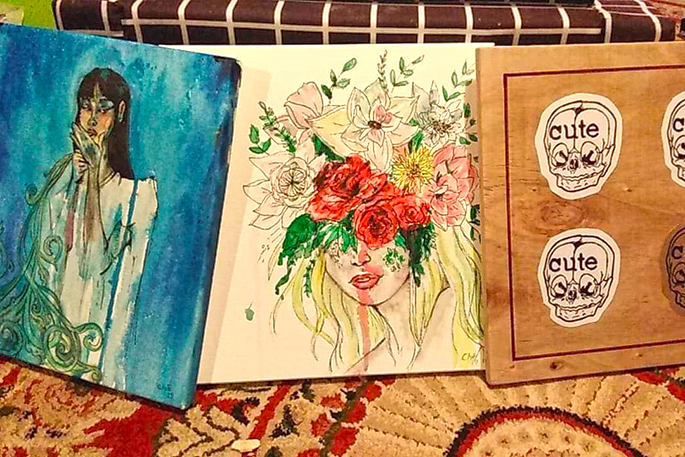 The Annual Group Show '111' at The People's Gallery Toi ka rere, near The Incubator at the Tauranga Historic Village also opens today at 4.30pm. Packed with art by many local artists, all works are $111 each. Check out more information here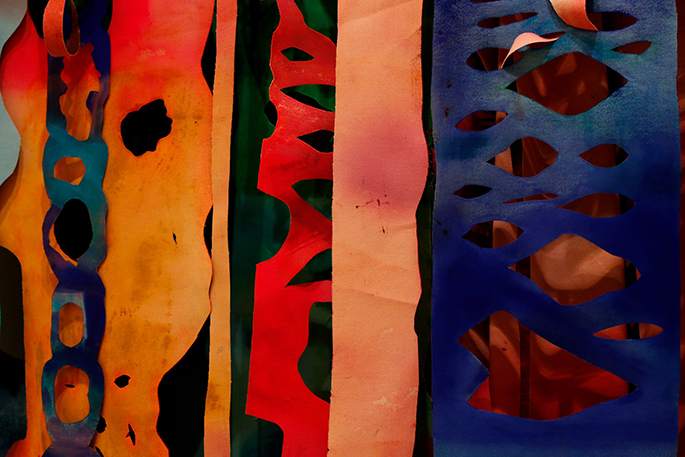 The Miles Art Award is now open for entries. Submissions are online. This is the sixth instalment of the biennial awards, with the exhibition to be held at the Tauranga Art Gallery from March 14 – June 7, 2020. Check out more information here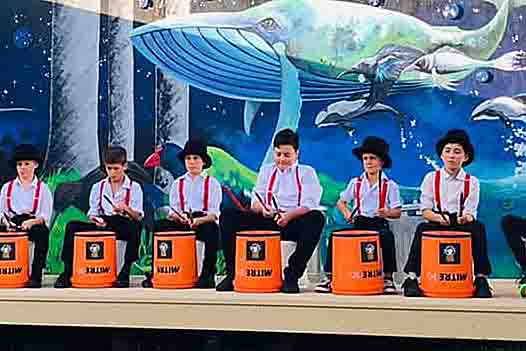 Come to Tauranga Crossing today from 1pm – 1.30pm for a performance by the Fuse Bucket Drumming group. More information here
The Mauao Performing Arts Centre in Totara Street has its 2019 End of Year Student Concert from 4pm – 7pm. Come along and be wowed by the local talent. Concert is free.
For more of what's happening around the Bay:
111 Annual Group Exhibition
Presented by The Incubator, Historic Village. 30x30cm works from the Bay's most sought after artists on display every day until Dec 21st at The People's Gallery.
---
Accordion-Keyboard
Old time music-makers, Welcome Bay Hall 1-4pm. $3 entry & Ladies a plate please. All welcome. Ph Ces or Joy 544 3849
---
Atrium Art+Artisan Fair
11am-3pm. Locally Handmade Art & Wares at the Black Sheep Restaurant, 21 Plummers Pt Rd, Whakamarama
---
Croquet
Tauranga Domain, Cameron Rd, 12:45 for 1pm start, Sun, Tues, Fri. Beginners welcome. Peter 571 0633
---
Dickens' A Christmas Carol
Free family event! Reading of Dickens' "A Christmas Carol" plus carol singing with Scholars Baroque Aotearoa chamber choir. St Peter's, Victoria Rd, Mt Maunganui, 4pm.
---
Golf Croquet
At Croquet Mt Maunganui, 45 Kawaka St; Tues, Thur, Sun; 9:15am for 9:30am start. Ph Nev 07 575 5121
---
Historic Village Market
17th Ave, 1st & 3rd Sunday of each month, 8am-12pm, wet or fine. A Bethlehem Te Puna Lions Project. Ph Bernie Allen 021 0422 612
---
Mah Jong Te Puke
Thursdays & Sundays 12:45-4pm. All players visitors & beginners welcome (free lessons). Te Puke Lyceum club rooms, 8 Palmer Pl. Ph 027 430 6383
---
Ninja Knits Hook Up
Social knitting group of mad yarn bombers, sultry stitchers & happy hookers. First Sunday of month, 9am-12pm, The Incubator, Historic Village. info@www.theincubator.co.nz. Ph 571 3232
---
PrettyUgly Exhibition
The first solo exhibition of lowercase g AKA Clare Birch, PrettyUgly in The Incubator Gallery, 17th Ave. Multi media visual art exhibition. Open daily until Dec 21.
---
Radio Controlled Model Yachts
Sun & Thurs 1:30-4pm, in pond behind 24 Montego Drive Papamoa, sailing Electron Yachts for fun. Adult beginners welcome. Graham 572 5419
---
Sunday Stitch Workshop
Textile Art casual get together. Create treasures with Kristy Clegg. First Sunday of month, 10am-1pm. $10. The Artery, Historic Village. Info@www.theincubator.co.nz. Ph 571 3232
---
Tauranga Underwater Hockey Club
Have a go at underwater hockey at Baywave at 5pm. No experience needed. Just come with your togs & we'll provide the gear. https://www.sporty.co.nz/taurangauhc emailtuwh@gmail.com
---
TePuke Country Music Club
At Te Puke Citz & RSA Club 1pm-4pm. Please bring a plate to share. Ph Gayle 07 573 8255
---
The Sociables
A group of males & females in 30s/40s/50s age group that meet up to dine out or go for bushwalks etc. Ph 022 012 0376
---
Travel Friendship Force
Interested in international travel with home hosting? Tauranga Western BOP Friendship Force is part of a worldwide organisation! Ph Barbara 574 5711 or Jonathan 572 2091
More on SunLive...