You're invited to Christmas Dinner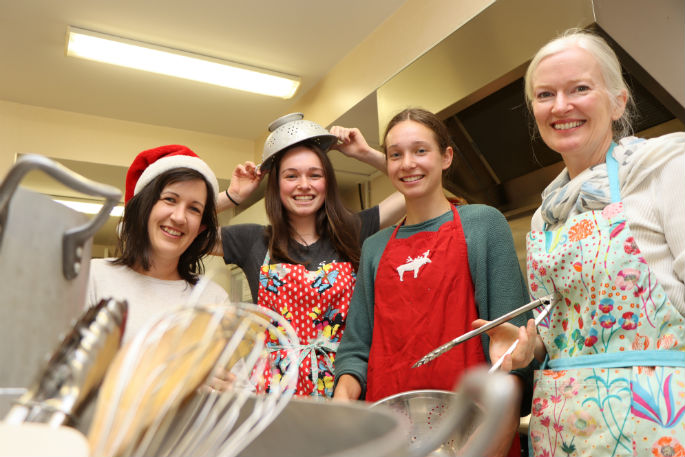 Cate Williams put her hand up to do the family Christmas dinner this year. But for her, it's a much bigger task than most.
Her 'family' typically numbers 200 to 250 guests – none related, but Cate embraces them all anyway because for some people, Christmas isn't always straightforward.
This is Cate's first time coordinating the St Peters in the City Church Free Community Christmas Dinner.
"We have a great ministry for the streeties and some of them will be here," says Cate. "People with young families will comes along, people who might otherwise miss out on Christmas, or can't join family elsewhere for Christmas, or the elderly."
A curious mix of people but one which works well apparently.
"Of course, an awesome vibe. Everyone is here to celebrate Christmas. There's a unity of purpose. Let's sit down and have a meal together. It works great."
In other words, everyone is invited and they just have to contact the church to indicate their attendance. Because there's a small matter of catering.
Provisions will run to 20kg of roast chicken, 10 half hams, 30kg new potatoes, 10 large pumpkins, 15kg kumara, 18 kg peas and corn and 15 litres of gravy. And desert, 20 kg of ice cream, 15 litres of custard and 9kg of Christmas pudding. And a team of church women are making 250 meringues.
The St Peters in the City Church Free Community Christmas Dinner has been running for 30 years and one thing they have learned is stick to your knitting, keep things the same, do what you know well. So the menu stays the same.
New World Brookfield is roasting 30 chooks at cost for the occasion.
"That's a big deal for us."
But Cate still needs the 10 half hams if anyone can contribute. Perhaps five full hams.
Dinner for 250 is a major logistical exercise. A family of four – Mum, Dad and two teenage daughters, head up the kitchen team.
"They've given up their Christmas to be here for a chunk of the day," says Cate. "They're excellent in the kitchen."
And they'll be surrounded by a team of 50 to 70 volunteers prepping, serving and hosting.
"It tells us people are good, that Christmas brings out generosity. And this church is an avenue through which people can give of their personal time, and of oneself. That's harder these days because spare time is something not a lot of people have much of and giving of time is a very generous gift."
The new coordinator of the St Peters Christmas Dinner is well into her task.
"There's the decorations and counting up kitchen, knives and forks and plates to make sure we have enough, and if not, ordering them."
And if there are any hitches, there's a bank of experience and wisdom nearby.
"Esther Brignall who works in the church office, ran the dinner for four years. I am constantly tapping into her knowledge."
To register for the dinner at St Peters in the City, 130 Spring Street, on Christmas Day call the church on: 07 578 9608 or message: christmasdinner@stpeters.org.nz
Cate will take guest registrations right up to midday on Christmas Eve. But the earlier the better.
More on SunLive...