Sallies Santa grotto makes life little bit easier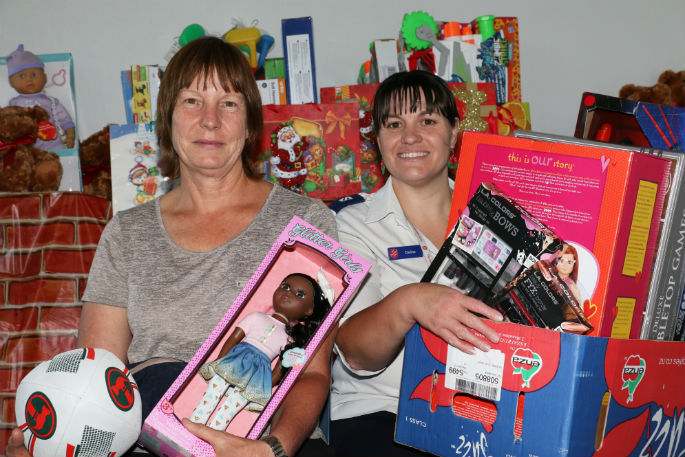 Thousands of presents will fill the Tauranga Salvation Army social hall next week for the annual Christmas Santa's Grotto.
The event takes the pressure off more than 200 local families, providing struggling parents with free gifts for their children.
So far, December has been a hectic month for Sallie's volunteers, who are putting in the hard work to bring the event to life.
Sue Leaver has spent a large majority of her time this month collecting and sorting Christmas gifts donated by generous community members.
She's only rostered on twice a week, but her supervisor says she's been working hard every day over the past two weeks.
We have been breathing very deeply the last few weeks, a lot is going on but boy we do appreciate our volunteers, says Community Ministries manager Davina Plummer.
"The volunteers have jobs and families and they reschedule what's in their private lives so they can pull out all the stops to support us."
Tauranga Sallies has received about five hundred hours of volunteer work this year.
"If we had to pay for that, we just wouldn't be able to afford it," says Davina.
Hundreds of families are invited to the grotto by a range of local social service agencies.
Nominated families are engaged in social work, financial mentoring or have extenuating circumstances. Last year, about 250 families received gifts from the grotto.
Sue says donations have been pouring in since the launch of the Christmas Appeal and she has been amazed at the quality of some presents.
"It's been an incredible time of generosity, a lot of the presents are not just cheap little presents, people are actually buying really nice stuff that kids will like."
Davina speaks of one generous donor who dropped off 16 one-metre-high Santa sacks filled with toys they had shopped for over the year.
"It just blew us away. But to be honest, the little boy who spent his whole dollar of pocket money on a gift for someone else did the same thing.
"Whether the gift is small or massive, it's the heart in which that it's given - that's what we appreciate so much."
The event mission is to alleviate stress of parents and bring joy into the lives of those under immense financial pressure.
"Next week is a very emotional week for the staff, we see so many tears of gratitude from people that are just so deserving," says Davina.
"It's a privilege to be able to support them throughout the year, and hopefully give them some luxuries this Christmas."
Sallies is putting a last-minute call out for Christmas gifts for teenagers, as that is the one area where they are lacking.
For more information, visit: www.salvationarmy.org.nz/christmasappeal
More on SunLive...