Bay Sevens go with youth for tournament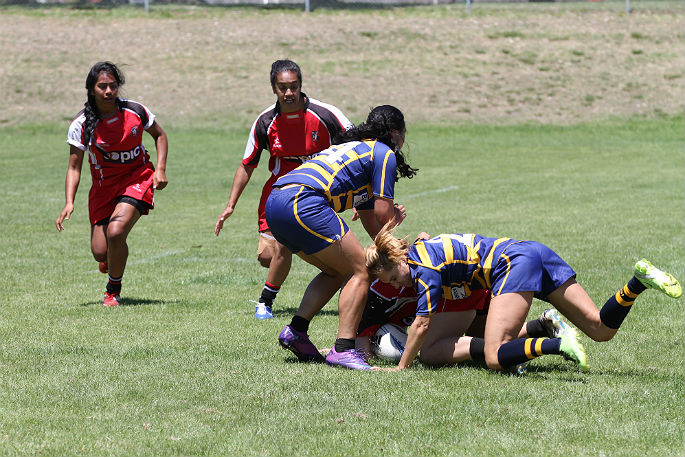 Bay of Plenty men's and women's coaches have gone with a squad stacked with youth, excitement and speed for this weekend's TECT National Sevens Tournament.

Men's coach Lance MacDonald says he is happy with the way his side has built for the two-day tournament at Tauranga Domain starting on Saturday.

"We've been building into it. It's been a tough road because some guys have been unavailable certain times of the year. So, you don't really know who is going to be in the squad until quite late in the piece.

"It can be really hard to gage how you're progressing leading up to the nationals. But every team has the same issue. We played a Waikato team and put 30 points on them at one stage and then last week lost to them."

Women's coach Victoria Grant says her side have settled into their preparation and is happy with their progress.

"I'm really happy with the team. Due to injuries we've had a small squad over the six weeks, which has had its bonuses. Our combinations are pretty strong and playing off each other is going really well.

"We are confident of what we can bring and we are confident in what we can do as a team. As individuals, the players are working on creating a real belief that they can perform well under pressure."

Both coaches say they have picked some young and exciting players for the tournament.
Grant says Mariah Ririnui is an exciting prospect.

"She's a 100m champion. It was her first year playing rugby. It's pretty exciting seeing her with ball in hand with space. She is really tall with long leavers. So, she is a great asset to us. The key is giving her that confidence to have a go and we will back her up."

The coach says having the experience of captain Tania-Rose Raharuhi and Tynealle Fitzgerald on the field gives great balance to the youth and enthusiasm.

"Tania-Rose is an amazing leader. She leads by her actions and a really good role model, she gives everything at every training and she is inspirational for the girls.

"Tynealle is a real grinder this will be her fourth nationals and she is only 19. So, she is probably one of our most experienced. She has always been a hard worker and strong in the breakdown but this year she has really developed around her footwork and her ability to beat a player one-on-one."

Likewise, MacDonald has high praise for Peni Lasaqa and Brody Lam who will make their debut for the Bay.

"Peni has had a pretty exciting year at club rugby. He's been looked at by the New Zealand Development guys. He's a real explosive, gutsy Fijian lad. He knows his role in the side now and I think he is settling in nicely. I'm expecting big things from him.

"Brody is a bit of a freak. He's big, strong, fast and extremely fit as well. I barely ever see the guy break into a sweat. He has really come into his own through this campaign. He has a bit of a shy personality, but he has got a lot of knowledge that he is sharing with the boys."

MacDonald says he will be looking to his inspirational captain Akira Mako to help guide the inexperienced players around the field.

"Akira Mako has probably played more sevens than I have. He is clever and the boys respect him. He has a shy personality, but when he talks the guys just listen. I managed to lure him back this year and give it another crack. He is an excellent captain."

Tickets for the tournament can be purchased online at the National Sevens website.

Bay of Plenty Men's
Rewita Biddle
Peni Lasaqa
Jordy Stone
Reece Macdonald
Hunter Mokomoko
Declan Barnett
Akira Mako (C)
Matthew Skipworth-Garland
Tana Tuhakaraina
Etonia Waqa
Will Ngatai
Brody Lam
Management Team
Manager: Courtney Barrow-Fraser
Coach: Lance MacDonald
Assistant Coach: Hamish Boyce
Assistant Coach: James Porter
Physio: Ryan Lee

Bay of Plenty Women's
Katarina Whata-Simpkins
Oliva Richardson
Tahlia Brody
Tynealle Fitzgerald
Sapphire Tapsell
Marina Beasley
Mererangi Paul
Hana Tapiata
Mariah Ririnui
Tania-Rose Raharuhi (C)
Hope Parata-Kingi
Kendra Reynolds
Management Team
Manager: Belinda Muller
Coach: Victoria Grant
Assistant Coach: Brendon Webby
Assistant Coach: Kelly Brazier
Physio: Courtney Wilson
Trainer: Slade King
More on SunLive...