College students make cookies for pound dogs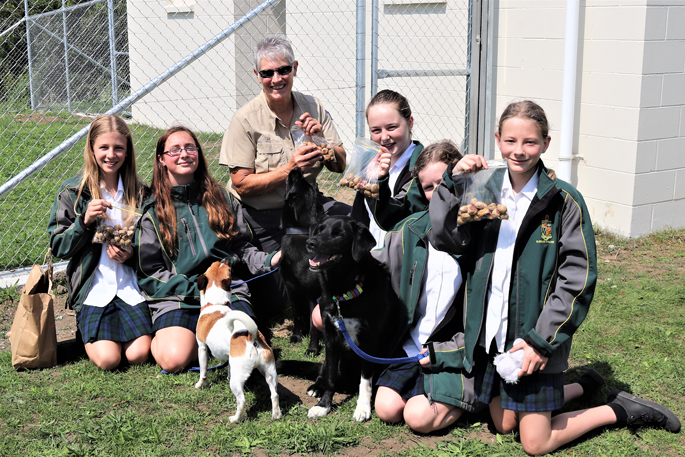 Katikati College students have cooked up a treat for Western Bay's foster and pound dogs.
Western Bay of Plenty District Council's animal services officer Betty Hall was thrilled to receive a bundle of home-made dog biscuits baked by Year Eight students and hand delivered to the new Katikati animal shelter.
Baked in the oven, the biscuits are a mix of kumara, peanut butter, flour, eggs and water – shaped into bite-sized balls. The doggie treats were inspired by a Care Package project undertaken by the students.
The treats passed the taste test session enthusiastically by Council's office dog Alfie and Betty's rescue dogs Jake and Quinn at the pound last week. The biscuits are going to be used as training treats and rewards for dogs at the pound and in Council foster care.
"We really appreciate the generosity of all the students baking for our pound pups. The biscuits are wonderful and will be a great treat coming up to Christmas," says Betty.
The Katikati shelter in Wills Road has been expanded and renovated over the past few months to create a safer and more comfortable environment for dogs and staff. The existing shelter was over 20 years old and too small to cater for current demand.
College teacher Anderley Middleton says the Tauranga SPCA was a great help in referring the students to Council with the idea of treats for the pound dogs and the students took the biscuits to the Katikati Vets for their seal of approval.
Council runs a successful Adopt-a-Dog programme for those dogs which are rescued, abandoned or surrendered to Council by their owners. Dogs are fostered and temperament tested before being selected for the adopt-a-dog programme from where they find their forever home.
For more information on adopt-a-dog check out our website: https://www.westernbay.govt.nz/rules-regulations-and-licenses/animal-services/adopt-a-dog
More on SunLive...