Gardening for the good of the children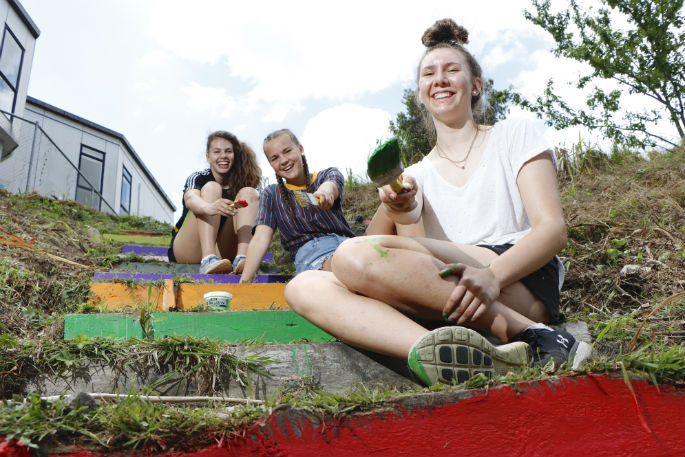 Digging soil, harvesting vegetables, growing flowers and doing "real, genuine hands-on work".
These are the projects that will keep Tauranga students busy next year as part of a garden therapy initiative led by local special needs educators.
It will involve working with 'neurodiverse' primary level students, who don't get any funding support in school.
Programme leaders Jo Easterby and Jess Hubbard say they will spend two days of the school week volunteering their time, getting stuck into therapeutic gardening with the kids involved.
But now, they need help raising funds to get the project off the ground.
"We're talking about kids with autism, dyslexia, dyspraxia, high-anxiety, post-traumatic stress disorder and ADHD," says Jess.
"We have taken it upon ourselves to start this project, as we know first-hand that when students are out of the classroom and in a hands-on environment, you can get so much more out of them.
"These kids are struggling in the classroom and acting out. The problem is there is no means in the current system for schools to access funding to support them."
That's why they are launching the initiative called Your Garden: Children's Therapy Garden in Tauranga.
The passionate pair hope to see the community garden project launched for the start of the school year.
It's their mission to raise $6000 for garden beds, a large shed, garden equipment and plants.
Tauranga City Council is letting them use a piece of land at the back of the Historic Village free of charge. However, it is up to Jo and Jess to self-fund the rest of the project.
"We have had to cut down our full-time work hours to three days a week," says Jo. "Our wages are taking quite a cut."
They are calling on the Tauranga community to support the movement over the coming months.
At first, people just thought we were two ladies with a shovel in a garden, working with a few kids, says Jess.
"But now people are starting to understand this project is something that can work and is working for kids."
A six-month pilot programme with students from Matua and Merivale Primary at the Welcome Bay Community Gardens this year has shown the "great impact" garden therapy can have on students learning.
"People don't realise how much of an impact working outside, physically with your hands, can make such a difference to smaller things inside the classroom," says Jo.
"The feedback from teachers at Matua and Merivale is that these children have grown, and it's improved there learning drastically."
Merivale assistant principal and special educational needs coordinator Heather Langley says the programme transformed students involved.
"When they came back with produce and flowers, they had massive pride. On the last day, we had tears from students because they knew it was the end.
"We chose the quiet students for the programme, but when they were given the chance they just blossomed in this environment."
Produce grown next year will be donated to local community group Good Neighbour, helping students understand the importance of giving back to the wider community.
Last Thursday a group of Year 10 students from Tauranga Girls' College helped revamp the garden as part of their end-of-year activities day. Pulling out weeds and adding a splash of colour to the garden.
Romy Heayns, 15, says it was a calming way to spend her day and awesome to get behind a local community project.
Jess told The Weekend Sun they aren't running the programme in school garden beds because many of these student's don't feel "good enough" when they are onsite.
"We need to be in a completely neutral environment. In school, their adrenaline rises, their cortisol rises and their brains aren't in a position to be learning. That's why we couldn't run this from garden beds in schools."
The pair emphasise they are facilitators in the garden, not teachers; describing their role as "providing students with the opportunity, with direction to manage themselves".
Horticultural therapy is about physical movement and lowering stress levels, which is what the programme is structured around, says Jess.
"When the kids first get here they will spend the first ten minutes just digging. Then we will be doing the actual gardening, making sure we have got lots of time for sensory breaks.
"Some kids may spend a good part of the day regulating themselves to this environment. The noises, the smells, the sounds and light – a lot is going on here."
Alongside Council, local organisations Enspire, Tauranga SeniorNet and Turning Point Trust are also getting behind the project.
To support the project, visit: www.givealittle.co.nz/cause/your-garden-childrens-therapy-garden
More on SunLive...