From a backwater of surf lifesaving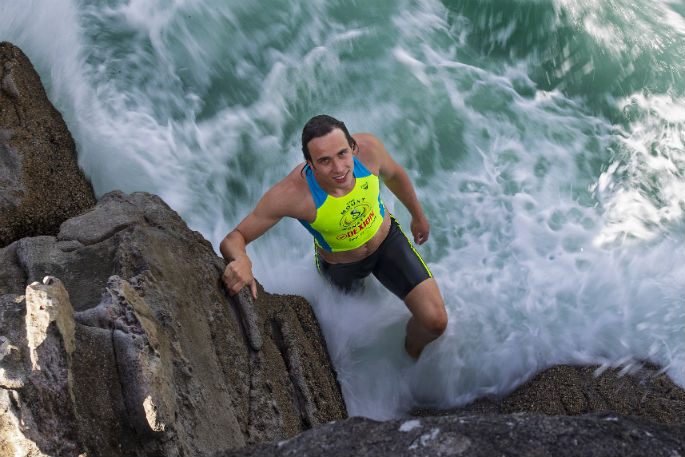 A surf lifesaver from Switzerland – what are the chances? Switzerland is landlocked, there is no surf.
But there is 20-year-old Cyril Senften, a Swiss surf lifesaver. "They do exist," he insists proudly, if not defensively.
And to prove the point Cyril will line up with more than 300 of the nation's fastest surf athletes for the nasty, gut-busting, 24.5 kilometre surf lifesaving endurance race along the Mount Maunganui coastline.
The race is called the Mount Monster for a reason – a 12km ski paddle from Main Bedach to Omanu and return, a 5km run to Tay Street and return, the worst of it according to Cyril, a 1.5km swim which includes the epic Moturiki blowhole jump and a 6km board paddle.
Each stage is back-to-back and slightly tweaked this year, it's about two and a half hours of grind and torture, even for elite athletes. There's a long sigh from Cyril. "It's so exhausting, and it's forecast to be a hot day as well." And in the next breath, the Swiss is talking up "amazing" Tauranga. "The location, the conditions, the coaching. Amazing!"
His unusual entry into beach sports probably accounts for some of that enthusiasm. "I was always part of the lifeguard service back home, but at swimming pools."
Then one day his Dad was telling him about a Swiss national surf lifesaving team. "Aw, sick!" Sick as in great, awesome, cool. "And I signed up for the trials." This in a country 160 kilometres from the nearest wave on the Gulf of Genoa.
"We just trained in the rivers and lakes. No surf. Fewer lifesavers, the standard isn't as high and it's a lot more boring because it's flat water."
Then one momentous day in 2016 an 18-year-old Cyril stood on real sand on a real beach in the Netherlands – it was the world championships and his first competitive encounter in the surf. It was also when he met Hamish Miller – winner of the Mount Monster two years ago. "He convinced me to come to New Zealand and train. That's why I am here." That's why he has come back twice, that's why he's having another crack at the Mount Monster.
"The run is the worst, kills your legs." If he worries enough, perhaps it won't be as bad as he first thought. "And it just sucks the oxygen."
He much prefers the board leg because of 'runners' – "We get runners all the time here, I get so excited when there are runners. Guys say they are normal and I say come on!"
Runners are something the sea gods throw up for local surfers, but don't happen on the rivers and lakes of Switzerland. Runners? "Little waves, not proper waves that will break, but enough to ride for a few metres. They give you a lift. It's just so much more fun to do it here."
Not only has Cyril Senften represented his country, he has served it. Every male form age 18 has to do compulsory military training – 21 weeks in the army. He has done that and now is enjoying a gap year before heading off to university to study environmental engineering – he will one day design and set up systems to provide clean drinking water and to treat wastewater, solid wastes, hazardous wastes and air pollution.
As a surf life saver, an elite beach athlete, he is a young man well in touch and appreciative of his environment. He will serve the world well.
But first, tomorrow Cyril will defy his environment – he has done two hours 35-ish for the Mount Monster. He's aiming to go under two hours 30.
More on SunLive...