Paying rates for land they don't own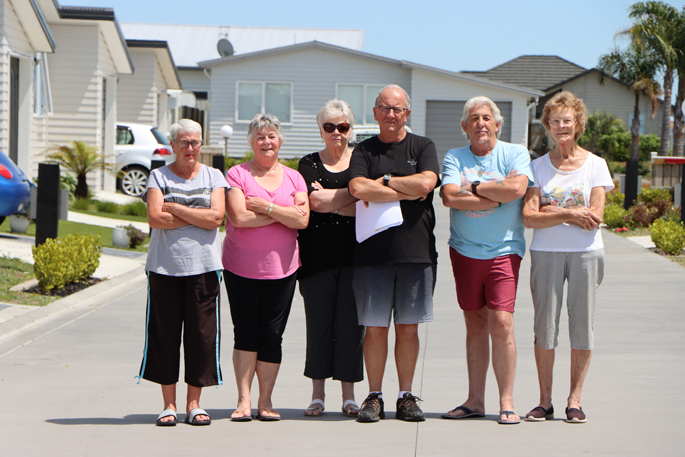 Six residents at the Golden Sands Lifestyle Village are the driving force behind trying to get the cheaper rates.
They live in units they paid for themselves, but the land is leasehold, meaning they are paying $244 each a fortnight for them to stay where they are.
But because they don't own the land, the residents are left baffled at why they should be the ones paying rates.
Residents Sylvia Thompson, Jan Gore, Margaret McBurney, Paulette Headington, Paul Haybittle and Jesse James are asking why.
"We've looked at what we're currently being charged and compared it to surrounding properties and we're a fraction of the size individually of these other properties and they are being charged just under the same amount that we're being charged for places only a third the size," says resident Jesse James.
"There's a couple of other things involved as well. It's leasehold land – we don't own the land, we own the unit. Blue Haven owns the land. We pay Blue Haven rent, but we also pay rates on land that we don't own.
"So the big question needs to be asked is why we're doing it. It's like a double hit.
"You've got 116 houses in this block, we're paying $244 a fortnight each. Do the math, that's a lot of a year and that should cover the rates. It should cover the rates easily.
"When you originally bought these places, the lady who was the salesperson for the company that was building these for Blue Haven told us that the rates would be around $25 a week and it's more than double that.
"So a lot of these people have budgeted on that. And a lot of people in this establishment is on their own and it's a hard thing for them to take an increase like that. All of a sudden you get 'waymo' and there's your rates, 'boom' it's double what you were told," says Jesse.
Most of the residents in the lifestyle village are on the pension and have no other income. Their next rates payment is due by February, meaning some of them have to find over $1000 before then, making their total rates payment around $2150.
Some comments from the residents were that their grandchildren would be missing out on Christmas presents this year, as that money has to go towards paying the rates.
But apart from the rates issues, when asked if they enjoyed living there, all their faces light up.
"It's great, it's fantastic. We all love it here. I think it's great," says Jesse.
"It's so relaxed and everybody's here for the same reason. Made a lot of friends and everybody's chilled out and that's great because you can just lock it up and go away and the neighbour will keep an eye on your house for you cause they're all quite close together."
The residents at the lifestyle village aren't doing nothing about it though. They are holding a meeting at the Golden Sands School on Tuesday, December 17 at 5.30 where Councillor Steve Morris and Mayor Tenby Powell are expected to attend.
Tauranga City Council's corporate services general manager Paul Davidson says they know that rates are a significant cost for many people.
"We are aware of the concerns raised by the residents on Kamahi Crescent. We intend to meet with them to discuss their concerns in the coming week."
Paul says how rates are calculated is "our annual plan and/or long term plan decides the work for the year ahead, how much this will cost and the total amount of rates that are needed to pay for it."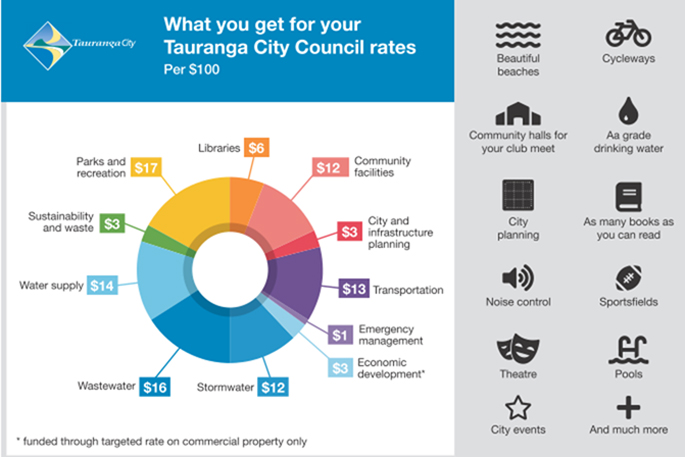 A break down of Tauranga City Council rates. Image: Supplied/Tauranga City Council.
"About half of the income we need to pay for it comes from rates, which are a type of property tax.
"Part of the property rates are calculated using a property's value and the use of the property – such as residential or commercial or rural. The value of a property is set every three years by independent valuers. The most recent citywide revaluation was done on July 1 last year and has been used to calculate rates from July 1 this year.
"Rates are made up of general rates which pay for all services provided to the wider community, and targeted rates for services that are provided directly to ratepayers. The general rate is made up of a fixed uniform annual general charge, and a variable general rate calculated on the capital value of every rating unit.
"Most residential properties also have a fixed wastewater charge and a fixed waste charge for kerbside glass recycling. All ratepayers have a resilience targeted rate calculated on the capital value of the property.
"The fixed rates are: Uniform Annual General $600, Glass Collection $36, Wastewater $467.
"The rates that are calculated on each properties capital value are: General rate $18.48 for each $10,000 of capital value. Resilience rate $0.27 for each $10,000 of capital value.
"They help fund councils day to day operations and the services that benefit us all.
"Ratepayers with a low, or fixed income may be eligible for up to $640 rates rebate. The amount of income that a household can have and still be eligible for a rebate is shown on each ratepayer's rates invoice.
"In almost all cases a couple on a married superannuation benefit will be eligible for the full $640 rebate.
"Any ratepayer who is struggling to pay rates in a lump sum can contact council to set up a payment arrangement. Ratepayers can find out more on our website or call 07 557 7000 for assistance," says Paul.
More on SunLive...