Toi Ohomai golf day raises $20k for women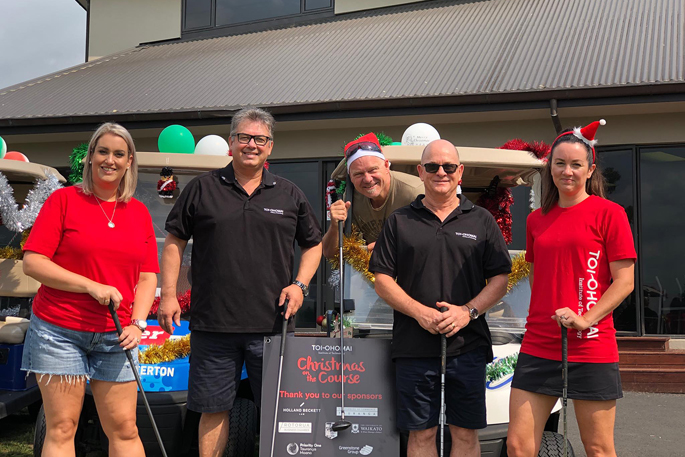 Toi Ohomai will provide $20,000 towards scholarships to support women on to higher education.
The institute held its annual Toi Ohomai Charity Golf Day tournament and chief executive Dr Leon Fourie says the funds raised will be given to the New Horizons for Women Trust to administer as scholarships for women.
"At Toi Ohomai, our focus is on helping to improve our communities through education and we understand a key to this is supporting women.
"We've therefore made a commitment to support women to succeed through higher education. It's one of the reasons we signed up to be signatory to the United Nations Women's Empowerment Principles.
"Through the agreement, Toi Ohomai joined 55 organisations around the country and more than 1700 globally committed to making the equal treatment of women and men a priority, and taking a lead to achieve gender equality in the workplace. We're the only Institute in New Zealand to be a signatory and we're proud of this commitment."
Leon says the Toi Ohomai Charity Golf Day was one way of meeting these responsibilities.
"Each year we team up with New Horizons for Women Trust to provide the Hine Kahukura awards to support those in study.
"For the past two years we've held the Toi Ohomai Charity Golf Day to raise funds to provide for the scholarships. The event is a great way for Bay of Plenty businesses and Toi Ohomai to support our women and communities, and it's also a fun day out.
"This year we're delighted to have raised $20,000, matching the amount raised last year. I'm sure this will be a great boost to the scholarship fund."
This year the Charity Golf Day was held at the Tauranga Golf Club and involved 17 teams from businesses across the Bay of Plenty.
The day was also supported by nine key sponsors, Holland Beckett Law, Tauranga Chamber of Commerce, Rotorua Business Chamber, Bay of Plenty Rugby Union, University of Waikato, Westpac and Pacific Toyota.
The trust supports education, innovation and research that benefits women. It achieves this by administering a variety of awards that help New Zealand women into tertiary education, second-chance education, promotes research by New Zealand women on significant issues for women and girls, support initiatives aimed at the elimination of family violence and other proposals that benefit women.
Applications for scholarships will open next year.
More on SunLive...