Tauranga homeless get a helping hand from Lions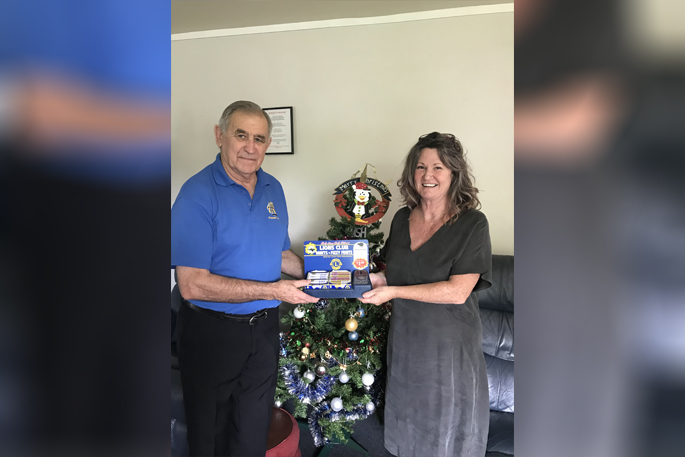 Homeless men will be able to transition into a permanent home easier thanks to a donation from the Otumoetai Lions Club.
Tauranga Moana Nightshelter Trust manager Annamarie Angus says the $584 donation will go into a pool of money for items needed when housing people.
"We try to access everything that we can, generally from a very generous community, but there's often things that we can't get or things that we need to organise that it's really good to have a little bit of funds for.
"It just helps us kick start our guys off in their new home in a really positive way."
Annamarie say the funds can go towards something as small as a mop and bucket, a vacuum or bond for a new tenancy.
Takitimu House is the men's shelter that acts as a first port of call for men to access the trust's services.
"We work with men from the age of 17 and we work with them holistically around all of their needs.
"The priority is keeping them off the street and stabilising them and whatever issues they may present with, whether that be drug and alcohol or mental health and engaging any other service that we need to.
"So once they are quite stable and all the supports are in place, then our goal is to house them but with a 100 per cent likelihood of success.
"We don't want to see our people keep turning over tenancies. We want to see happy tenants, happy landlords, and a happy community."
Annamarie says the shelter isn't a typical shelter.
"The shelter is like a house, it's like your house and mine. We have pets, we have fish. It's a very different, humbling environment to work within.
"It's not a shelter, it's everything that they would need."
She says the have often received support from different Lions Clubs around the region since they started five years ago.
"It's really amazing that people like the Lions club still remember us and remember to think about our clients."
Lions vice district governor Margaret Gill says she wanted to help Takitumu House after seeing a news article about it.
"They do some awesome work and probably don't get the sort of publicity that they really need."
The donation has come from the sale of Lion mints around the city.
Annamarie spoke at the club's Christmas function and inspired members with the work that they do.
"We look forward to doing more with Takitumu House, because I think the things that Annamarie had to say the other night really resonated with our members.
"In terms of the work they're doing around a hand up, not a handout and empowering the men that come to them to take charge of their lives again and get things under control."
The trust is currently seeking donations of gifts and food for their Christmas lunch.
She says gifts can be dropped at the shelter, 171 Elizabeth Street and if someone wants to cook something for their lunch on Christmas day there are staff at the shelter coordinating the meal.
More information about Takitimu House can be found on their Facebook page.
More on SunLive...