Tom Bradley on stage with 'A Kiwi Christmas'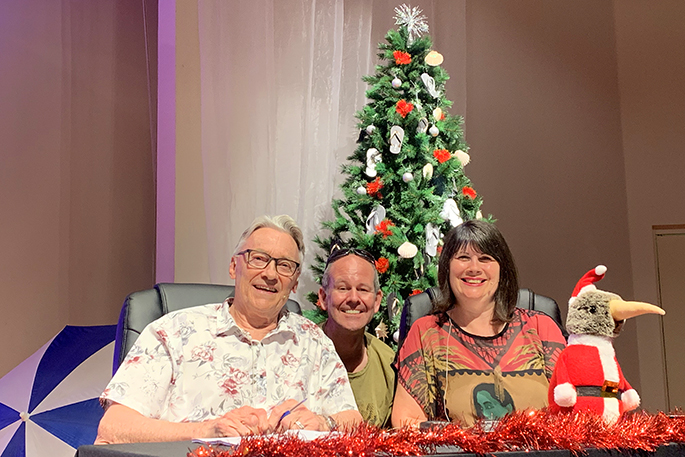 The momentum and excitement is building rapidly for tonight's Tauranga show 'A Kiwi Christmas'.
Written and hosted by veteran broadcaster Tom Bradley, the show is an affectionate exploring of Christmas in New Zealand, from the first explorers, to the pioneers, to the present day, highlighting events that impacted and sometimes shocked the nation during the Christmas period.
"Seat sales are going really well," says Tom. "It may not be full to the rafters but boy, its looking like it is going to be a pretty good house."
Tom will be joined on stage by radio breakfast hosts Jolene James and Mark Eagle from Tauranga's 95.8 The Breeze, and the contemporary retelling of the Christmas story will feature the Kiwi Christmas singers and Elizabeth Price, and a mix of Christmas songs and carols. Funds raised from the event will go to the Tauranga Food Bank.
"We're so excited by the feedback that we've been thinking maybe this could become an annual event. People have really latched on to 'Kiwi Christmas'," says Tom.
"We're looking at the way we do Christmas, how we do Christmas, and why it's become the way it is in New Zealand, how it's evolved, and how different it is from the way they do it in the Northern hemisphere. We're all sun and sand and they're all winter and snow."
The show will look at the first Christmases in NZ including how Captain Cook and his men celebrated the day. As James Cook rounded the top of the North Island in December 1769, the French explorer Jean François Marie de Surville was as little as 40 km to the south-west, just missing what would have been a historic meeting. In mid-December de Surville reached the east coast of the Far North, spending two weeks in Doubtless Bay.
"Surville would have celebrated Christmas in the general area," says Tom.
On Christmas Day 1769 the French explorer Jean François Marie de Surville and his crew were in Doubtless Bay in the Far North. On board his ship Saint Jean Baptiste was a Dominican priest, Paul-Antoine de Villefeix. While no records survive, it seems highly likely that such an important Catholic festival would have been marked with a mass. In the absence of hard evidence though, New Zealand's English colonial traditions have favoured Samuel Marsden's claim to fame as being the first Christmas celebration in 1814.
"Tasman was off the coast, he probably celebrated Christmas," says Tom.
Dutch explorer Abel Tasman sighted New Zealand on December 13 1642, but after an encounter with Maori in Golden Bay/Mohua on December 19, he left without going ashore. He then sailed up the west coast of the North Island.
"And then you have the official Samuel Marsden first Christmas ceremony."
It is believed that Samuel Marsden's Christmas Day service was held at Hohi (Oihi) Bay in the Bay of Islands in 1814, although some believe this may have been the first preaching of the gospel in NZ.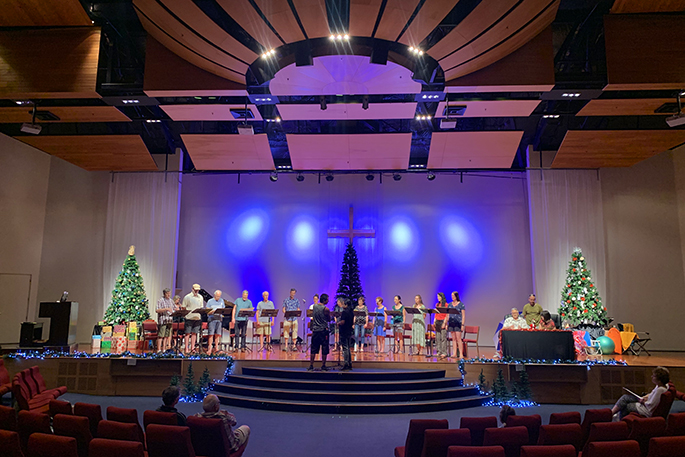 "Then we look at Christmas as it has evolved. We've got a reading from Lady Mary Anne Barker who wrote a very famous book called 'Station Life in New Zealand'. She spent three years out here on a South Island sheep station in the 1860s with her new husband.
"She wrote copious letters back home. One of them is about Christmas in the 1850s up in the hills through the eyes of an English lady."
'A Kiwi Christmas' looks to be heaps of good fun too, as Tom has deliberately gone for a lot of humour and warm-hearted nostalgia.
"Hopefully people will come away having had a good laugh and a good sing and feel reinvigorated with the joy of Christmas."
Tom has been working on the idea for the show for most of this year.
"Back in the 80s and 90s in Auckland, I emceed a number of functions for the New Zealand Blind Foundation, which did an annual Christmas event for their supporters showcasing blind performers and entertainers and artists. They used to input a bit of Kiwi content in to those events.
"When I came down here to Tauranga, we did an event last year, which I kind of wrote, with the Civic Choir. And then I thought - a Kiwi Christmas - an evening devoted to a Kiwi Christmas and all its angles and ramifications. That could be quite pleasing.
"I talked to a few people and they said we could do this. So I just started writing it and drew material from all sorts of websites, the National Library, the New Zealand history website. From there, I went hunting for stuff that I knew about Christmas, researched and generally have drawn together this whole arc from the beginning to the end, weaving them in and out, not necessarily from beginning to end."
He's also dug into old newspaper archives, finding old advertisements that could be worth having a talk and a giggle about.
Around the stories, will be traditional Christmas carols and songs.
"It's chock full of music, and a lot of visuals. There's everything from 'Silent Night' to 'All I want for Christmas is my two front teeth'.
All the lyrics will be up on screen, so that the audience will be able to sing along.
"We'll be encouraging them to sing with everything. We have a small group of about 14 singers, and they will lead the way.
Tom has about 400 visuals that will be displayed, some sourced from local stories, and some internationally, that highlight Christmas as New Zealanders have lived it.
"We've lived Christmas through some really tough times. World Wars, the depression. And we've lived Christmas through some quite happy times. Sometimes, it's touched by tragedy. There was the Tangiwai disaster in 1953.
"And then a lot of local people don't know about the wreck of the Ranui, which went aground in 1950 and smashed up on rocks off Mount Maunganui. Twenty-two people died that day. That cast a terrible pall over the whole area that Christmas because of the enormity of what it was in a town at the time of 7000 people."
He's also added in a lot of fun things that have happened during December.
"We've looked at things that have happened concurrently with Christmas. I think an entertaining time will be had by all."
Mark Eagle will be playing a role during the show, as Steve-O.
"I've created a fictional letter, supposedly written and sent between a couple of Kiwi blokes," says Tom. "Steve-O's good mate meets Joseph and Mary on the way to Bethlehem. Steve-O and his mate have played footy together, and he's written to Steve-O saying 'you'll never believe who I met, and you won't believe what's happened to him and what he's into these days'.
"It's a sort of a funny retelling of someone's encounter with Mary and Joseph, which Mark will do as a good kiwi bloke."
The Holy Trinity Church and generous sponsors have teamed up to help raise funds from the event for the Tauranga Food Bank. Tom thinks it's going to be a night to remember.
"Any adults or people who have a memory of Christmases gone by will be saying 'wow I didn't know that'. Or it will remind them of things they may have forgotten. They'll be saying 'gosh, my mum or dad or grandfather must have lived through those times and experienced that."
There are still a few seats left to 'A Kiwi Christmas', this slightly wacky evening of Christmas history, trivia, anecdotes, laughs and facts at Holy Trinity, tonight, December 7 at 7pm. Tickets which are available here are $25 for adults, and $15 for children, with all proceeds going to Tauranga Foodbank.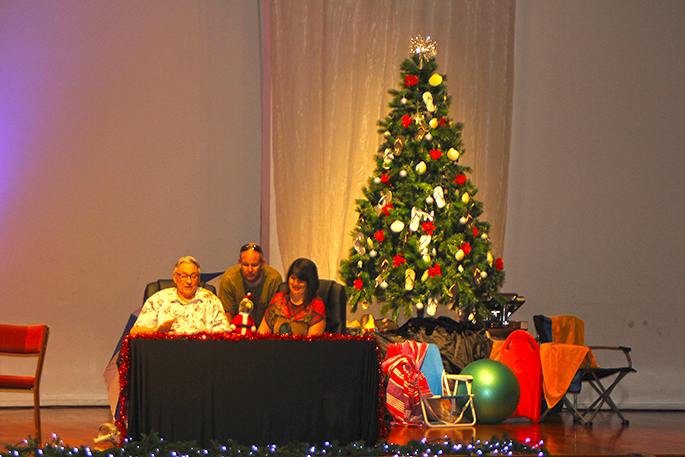 More on SunLive...