Getting creative with saving penguins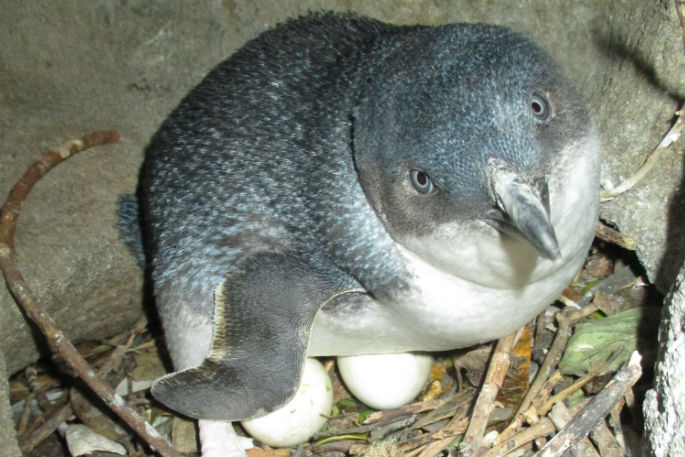 I've decided to become a backyard trapper.
I always loved watching Daniel Boone, America's great frontiersman and explorer when I was growing up, and somehow the word 'trapping' fits with a lost childhood ideal.
Trapping a cute hedgehog with a dab of peanut butter and letting it go again or chasing butterflies with a net – it was all very gentle.
When I was about seven, I tried to turn the supplejack growing around the cabbage trees on our Waiuku farm into bows and arrows. I never shot anything alive, nor did it occur to me that people did that, I was mostly aiming at tree trunks.
Recently I was shocked to hear that the little blue penguins at the Mount appeared to be under attack by predators.
Melissa McLuskie, the chair of the Western Bay Wildlife Trust told me how she'd gone to check on Maia, one of the penguins named for her bravery, only to find her sitting on an empty nest made from shards of glass and fishing line.
A week earlier while doing penguin monitoring, Melissa had noted a little newly-hatched chick in the nest. Now she was finding chicks and eggs had disappeared from many of the other penguin burrows as well.
"What's going on?" I asked.
Probably taken by a predator, Melissa thinks.
The trust has a long-term Department of Conservation permit to monitor the little blue penguins but the cost of undertaking research is high, and as we talk, I realise that the wildlife trust needs help with getting monitoring equipment in place so they can find out exactly what is happening. They've set up a fundraising page on Givealittle, so that people can donate, but I start to feel the urge to do something myself.
"There's a lot of cost involved for us to do the work that we're doing and much of that cost is equipment and manpower. We do our best with the resources we have and are so grateful for our dedicated volunteers and supporters," says Melissa.
"Backyard trapping is a relatively simple task, which can make a huge difference."
I realise backyard trapping is something I can do.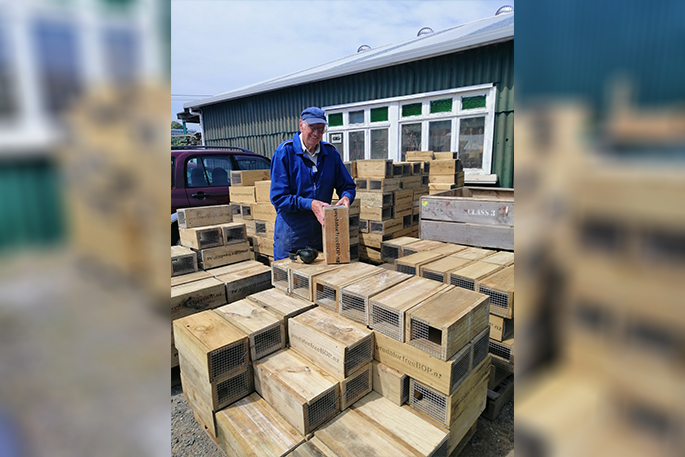 Alf Parfitt with the Predator Free Bay of Plenty traps
Emma Wood from Predator Free Bay of Plenty sent me some photos of the traps, which they're giving away.
"Alf from the Tauranga Men's Shed was busy adding more traps to the pile while I was there," says Emma, who is planning, along with Melissa, the launch of Predator Free Mount Maunganui on Sunday, December 8, at Mount Drury.
I discover that there are groups of backyard trappers all over Tauranga, but hardly any at the Mount, which seems odd, as that is where much of the local penguin and petrel colonies are nesting. The Cosy Corner has a trap and some great folk down near Bayfair, so talking with Leigh Pettigrew from the Mount Lions, we decide we need to do something. Maybe set up groups, call for help from the community. Help give away traps. Something.
"The wildlife trust isn't getting much in the way of funds coming in from Givealittle," I say to anyone listening, starting to find myself bothered about the decimated population of birds. "Is there some other way we can help raise funds?"
I went off home mulling on it, and after about 12 nights of sleep had a mini-brainwave. I went off to see my daughter Che Crawford and her husband Ford Saunders, both exceptional artists, and after waving my hands around a bit, sketching on paper and finding some photos to point at, they said: 'yes we can do that'.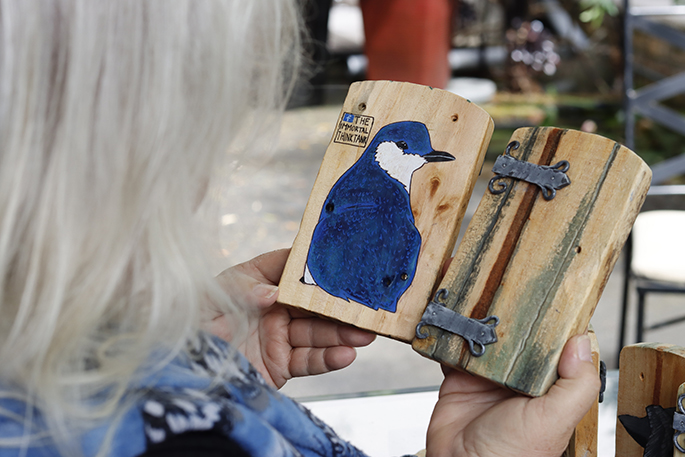 The result was they turned some unwanted wooden crating into arty garden doors for me. I take those off to Melissa to look at, and that's when I discover that Melissa's mum Karen McLuskie is busy coming up with ideas herself to help raise some funds for the trust.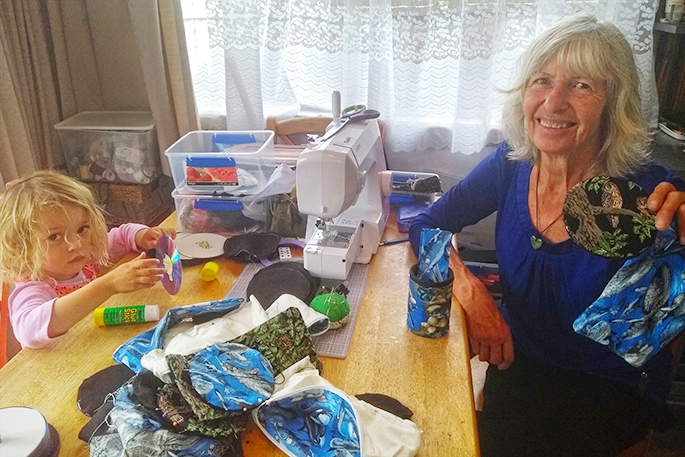 Fern helping her nanny Karen McLuskie who is busy at work on a variety of wildlife merchandise
Bookmarks, coasters, pen holders, pencil cases, tote bags – many utilising Kiwiana New Zealand fabrics, which are highly appealing. Karen has endless ideas, using her own original patterns. And she is brilliantly recycling cans, cardboard, old CDs and paper.
"I'm in my 30th year working at Countdown and I like to come home and make crafts," says Karen. "You can make things out of whatever you've got lying around the house. It's amazing what you can do with recycled items."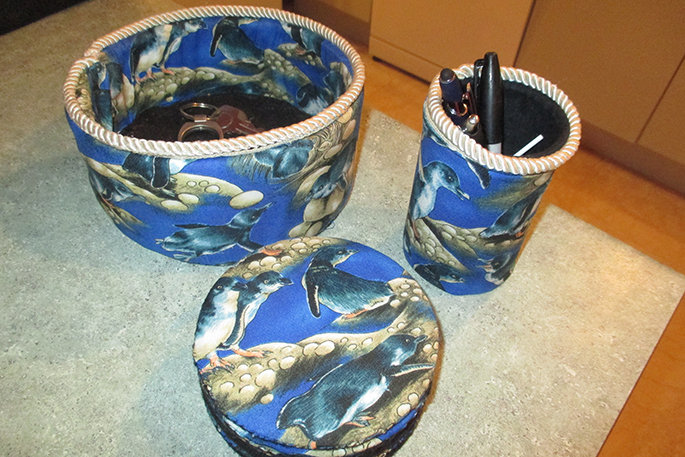 Penguin souvenirs made by Karen McLuskie to help raise funds for the Western Bay Wildlife Trust
"I don't know if anyone will want to buy our penguin doors," I say, wondering if I should turn them into weta houses.
"I don't know how popular my fabric journal covers will be," says Karen. "Melissa can only try and see what goes well and what's popular.
"All I'm doing is making them and hoping they make lots of money."
Backyard trapping means that pests that can cause harm to little blue penguins will be caught before they reach the bird's nesting areas on Mauao, Moturiki and Motuotau Island.
The public can come get a free rat trap from Melissa at an upcoming wildlife day, which was planned for Sunday December 8 but has had to be postponed due to the weather forecast. While a new date is being set, there is opportunity to get creative and think of ways to help us raise some funds so the wildlife trust can continue to help protect little blue penguins.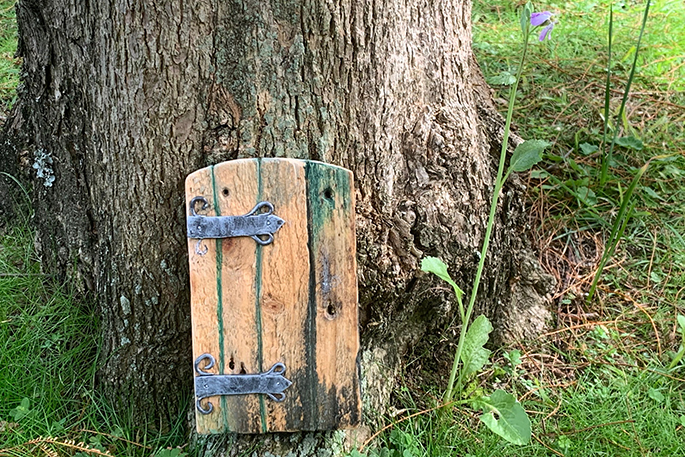 'Penguin doors' reminding people that little blue penguins and much of NZ's wildlife nest in burrows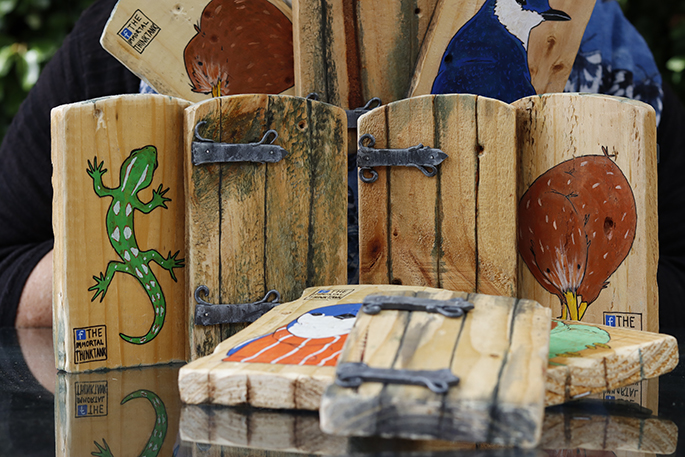 More on SunLive...