Workplace wellbeing a winner for council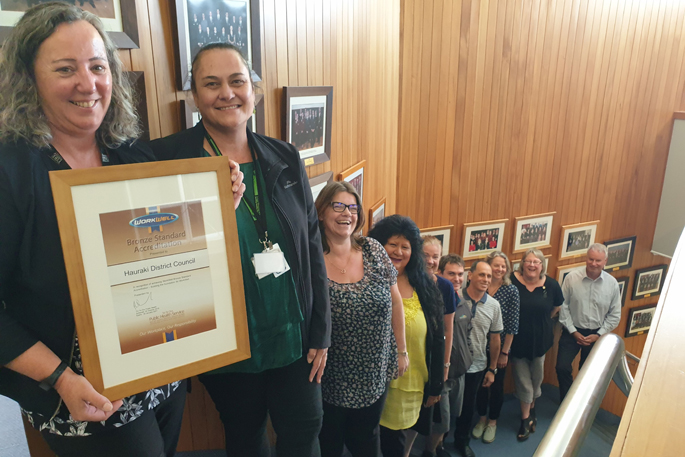 You might hear more Christmas cheer in the hallways of the Hauraki District Council this year, and it's not just because of the fast approaching holiday season.
The organisation is the first council in the Waikato Region to be formally recognised by Waikato District Health Board for its focus on workplace wellbeing.
Waikato DBH Health Improvement Advisor Louise West presented a Bronze Standard WorkWell accreditation certificate to the council last week.
"We congratulate Hauraki District Council on its commitment to being role models for workplace wellbeing," says Louise.
"WorkWell is a free, continuous improvement programme that supports wellness in the workplace. The council's newly formed wellness team, Ki Waiora, have earned the Bronze Standard accreditation in record time. From start to go, I've been so impressed with the work ethic of this team," she says.
Deputy Mayor Paul Milner was inspired to implement a wellbeing approach after Louise presented the WorkWell programme at a Business After 5 event.
Under the leadership of Health and Safety officer Karen Muir, and with support from group manager: community services and development, Steve Fabish, Ki Wairoa has flourished.
"By law, businesses have a responsibility to provide a healthy work environment so you could say it's a given, but we know it takes real effort and commitment to do it well," says Steve.
"We're going the extra mile because being happy and safe is good for workplace mental health. We know that happier, healthier people are more productive in turn, that makes for happier customers. We love it when our actions can make their day."
The Ki Waiora team initiated face to face conversations, staff surveys and work site audits to take the pulse of the organisation. Three key programs are now set up for the next 12 months – mental health and wellness, healthy eating and sun safety.
Council chief executive Langley Cavers is passionate about building a culture of health and safety in the workplace.
"My number one priority for staff is that everyone who works here feels safe, respected, motivated and supported, and that we all go home safe and well at the end of the day," he says.
"I'm very proud of our recently formed Ki Waiora team's achievements. We've got Silver and Gold accreditation in our sights now, as everybody wins when a workplace is happy, safe and healthy."
WorkWell is a wellbeing initiative of the Waikato DHB Public Health Unit, which supports workplaces to 'work better through wellbeing' and rewards efforts put in by awarding accreditation standards for those the pass programme milestones.
More on SunLive...