Clayton McMillan puts his hand up for Super Rugby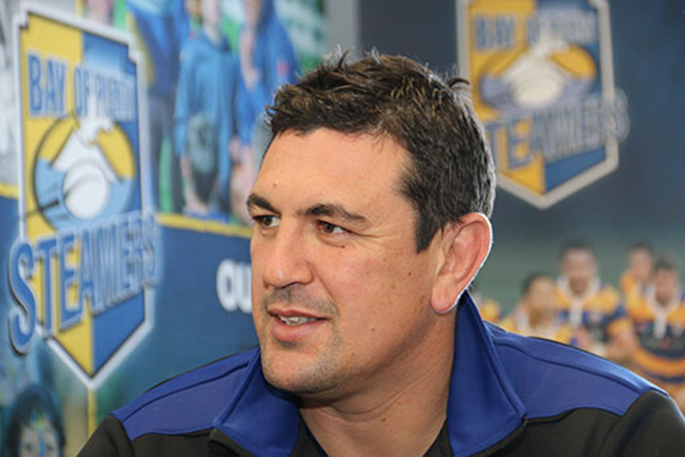 Clayton McMillan has been at the heart of one of New Zealand rugby's success stories this year.
His Bay of Plenty side not only won the Mitre 10 Championship title but they did it in the right way.
Investing in the development pathways within the region, the Steamers have become a production line of talent that has made its way into Super Rugby squads and the New Zealand under-20s system.
The NZ Maori coach has been instrumental in shaping that process and after seeing the 'fruits of the labour' he admits he shares the same ambitions as his squad members.
"I'm no different to a player," McMillan tells Stuff. "I aspire to coach at the highest levels.
"The message I give to myself is no different to what I'd give to the players.
"If you're patient and you work hard then you would like to think that at some stage along the line gets recognised and you get an opportunity."
To understand how the Steamers got to this year's Championship title with a brand of tough and clever rugby you have to rewind the clock and find how the foundations were laid.
"A numbers of years ago I came to the realisation that teams who generally do well in the Mitre 10 Cup are those that have a large representation of Super Rugby players," McMillan says.
"There was no denying that if wanted to improve our own fortunes we needed to increase our Super Rugby representation.
"There's only two ways you can achieve that.
"One, you can buys players in, and that's easier said than done because there isn't an abundance of Super Rugby players in provincial land who are looking to change provinces.
"The more realistic way to achieve that is to ensure that our development pathways were a lot better.
"I've been fortunate to work with a great CEO and board who have had the vision to invest heavily in that academy space and do well at the under 19 competition, the Jock Hobbs [Memorial Tournament]."
The Bay of Plenty's success in that competition has been significant. As 2018 champions they remain the only side outside the traditionally 'bigger' unions to win the tournament. In 2019 they finished a solid fourth.
McMillan says it was all part of the plan to get national recognition and then get the interest of the Super Rugby scouts.
"And if you end up making the under 20s, one of their measures is around the conversion from under 20s to Super Rugby and their success on that front is very good," he says.
"That was the more viable pathway."
The Bay's success was more than getting lucky with a group of talented youngsters who happened to come through at the same time. First, they had to take a critical look at themselves.
"Part of that was doing a better job locally with our own schools," McMillan says. "They have always produced talent but we needed to build better relationships with them.
"We've started to see that fruits of that labour. We're getting some consistency of performance at under 19 level.
"I think if we compared ourself to other provincial unions our conversion rate from the academy to the Steamers in the last few years has probably been as good as any other provincial union."
McMillan rattles off the names of some young men who have been picked up by Super Rugby franchises or recognised at New Zealand under-20 level.
"Emoni Narawa [Blues], Kaleb Trask [Chiefs], Coles Forbes (NZ under-20s], Lalomilo Lalomilo [NZ under-20s] ... they've all demonstrated to us for a number of years they are going to be bloody good rugby players and contribute at the highest level.
"Those things haven't happened by chance, there's been a bit of strategy behind it."
McMillan's role is carrying out that strategy should put him on the hitlist of Super Rugby franchises, where squads are getting younger and a track record in player development is becoming more important.
There might an opening of sorts in the Chiefs coaching team in 2021 when Warren Gatland is on Lions duty and at the Highlanders Aaron Mauger and Mark Hammett are both entering the last year of their contracts.
But McMillan, a 47-year-old former Rotorua policeman with plenty of life skills, knows more than most than the big jobs in New Zealand are hard to get.
He had to wait until 2015 to get his chance with the Steamers after a long apprenticeship in club rugby.
However, his success since then has made New Zealand Rugby take notice.
He was named coach of the New Zealand Provincial Barbarians in 2017 to face the touring Lions, when McMillan nearly engineered what would have been a huge upset, and was appointed NZ Māori coach in 2017.
There are echoes of Dave Rennie's gradual rise in his journey to the top and McMillan is prepared to bide his time and trust that his work is being noticed.
"You need to be patient," he says. "I'm really enjoying my work I'm doing here at the Bay of Plenty so I don't feel like I'm in a rush to get anywhere.
"But it's certainly a goal [Super Rugby]. All I can do is control my own environment and hopefully that gets recognised by people at a higher level."
More on SunLive...