Getting Christmas started in Red Square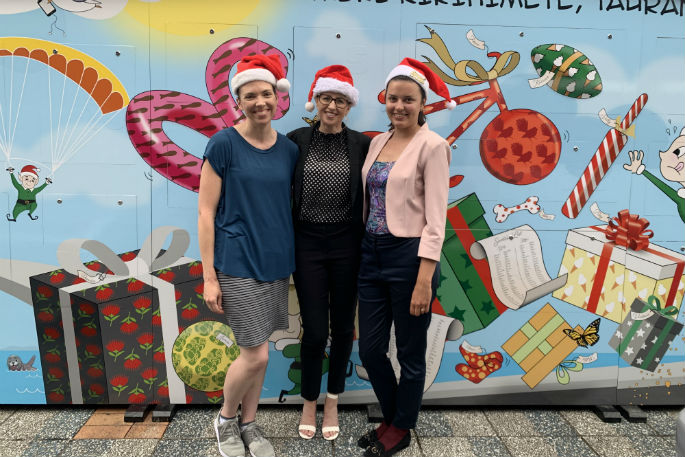 A lifesize advent calendar is set to open this Sunday in Tauranga's Red Square.
The Downtown Tauranga initiative showcases 24 local charities and artists who have contributed to the community-driven project.
Downtown Tauranga representative Emma van de Molen says the purpose of the calendar is to "celebrate the magic of Christmas and the amazing work these charities do in Tauranga".
Each day from Sunday, December 1, one of the 24 windows in the calendar will be opened and the display revealed to members of the public. This will run up until Christmas Eve.
The freestanding wooden advent calendar is two metres high and each charity and artist has created individual displays.
One of the artists involved is Karolina Ferbei, whose display will be revealed on Monday, December 16.
She can't share what her display looks like but reiterates "it's definitely something Christmassy".
Bay of Plenty contemporary choir Vocal Chords will be singing at the official opening on Sunday morning.
The first box, to be opened by Deputy Mayor Larry Baldock, has been created by Homes of Hope Charitable Trust which will be also handing out bottles of bubbles to children.
The Incubator has also got stuck into the project, with their creation being revealed on Thursday, December 5.
Tauranga City Councillor Tina Salisbury says she's stoked to see a project like this opening up downtown.
She hopes it will encourage members of the public to give back to the charities involved.
"Christmas is a time to be able to give to each other, but these are charities that are giving to our families and community every day throughout the year," she says.
"It's great to raise their visibility in the city and even give people the opportunity to give to them."
The calendar has been designed by Black Chilli Design and sponsored by Tauranga City Council.
The official opening of the Downtown Tauranga Giant Christmas Advent Calendar will be held in the Red Square on Sunday December 1, at 10am.
More on SunLive...