Tertiary providers collaborate on study options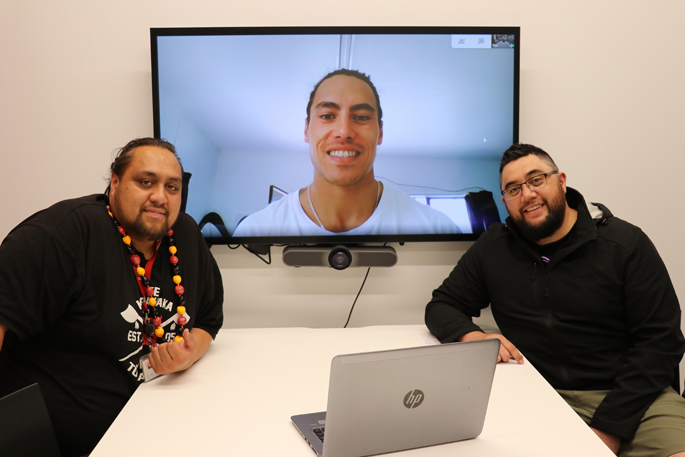 They say that good things come in threes.
It's fitting, then, that when University of Waikato kaiako Ngairo Eruera was invited to name the study options expo happening on Saturday in Tauranga Moana, he chose Nga Kete o Te Wānanga.
Referencing the odyssey of the three kete (baskets) of knowledge, the history of the three mountains of Tauranga Moana, Mauao, Pūwhenua and Ōtānewainuku, and the hosts - the University of Waikato, Toi Ohomai Institute of Technology and Te Wānanga o Aotearoa, Ngairo says the name simply "makes sense".
Nga Kete o Te Wānanga is a free event for tangata whenua to connect with the three key tertiary providers in Tauranga to better understand the opportunities available in terms of study and career pathways.
The purpose of the day is for whānau to kōrero, in a relaxed setting, with Māori advisers from the University of Waikato Tauranga, Toi Ohomai Institute of Technology and Te Wānanga o Aotearoa.
Whether it's students considering their school leaver options, career changers wondering how they can juggle work and study, or adult learners wanting to enhance their knowledge of Te Reo Māori and Tikanga Māori, Nga Kete o Te Wānanga will provide a one-stop shop of information for the whole whānau.
Topics to be discussed will cover all aspects of student life including programmes of study, support services, scholarships, accommodation options and the admission process.
Student ambassadors, past and current students will be on hand to share their tips of how to be successful in the tertiary environment.
Iwi organisations, local businesses and other support services will be there to support the event with representatives offering their insights on the benefits of staying and studying locally.
Just like its name, the event itself makes sense to the 'chief instigators' Tahangāwari Tangitu-Huata, Nathan Stewart and Shem Murray.
"The boys and I have all been approached individually about hosting an event of this nature," says Taha, the University's Māori Liaison Adviser for Tauranga Moana.
"In our roles we share the same vision to help our people better understand what opportunities are out there and guide them through the sometimes overwhelming process to navigate tertiary study.
"This is an extension of that – a collaborative effort, pooling resources and sharing knowledge and networks that will provide maximum benefit for iwi."
Taha's Toi Ohomai Institute of Technology and Te Wānanga o Aotearoa counterparts, Nathan and Shem, agree wholeheartedly.
"The kaupapa of the day is about our whānau here in Tauranga Moana," says Shem, Advisor Tauira Recruitment at Te Wānanga o Aotearoa.
"It's a chance for us, as tertiary providers, to connect with iwi members, have kōrero and wānanga about how we can align with whānau educational aspirations."
Toi Ohomai Youth and Community Engagement Navigator Nathan Stewart, hopes this event will be the first of many.
"The collaborative approach to organising Nga Kete o Te Wānanga has really been the essence of what this kaupapa is about.
"Though we may be different learning institutions, we all share the same priority which is assisting and allowing our people the best opportunities for their future."
Nga Kete o Te Wānanga runs from 9am to 2.30pm Saturday, 30 November at Toi Ohomai's Windermere campus, 70 Windermere Drive, Poike.
There's no need to register, just turn up on the day for knowledge, kai and entertainment.
For more information, contact Taha on 027 448 5792, Shem on 027 210 2373, or Nathan on 027 502 4483.
More on SunLive...