Papamoa family's plea for return of missing moggie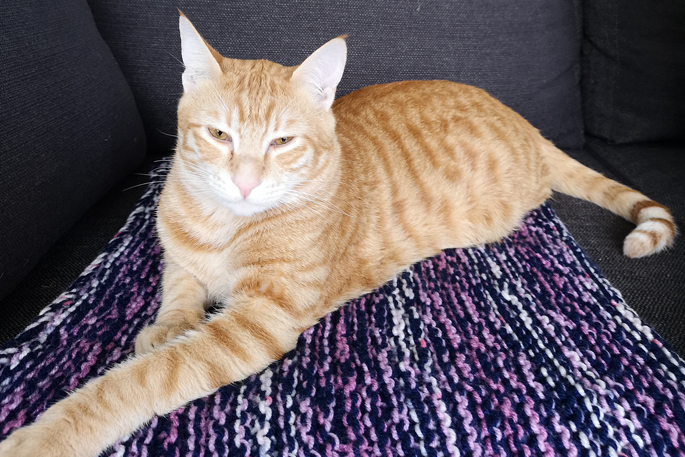 A Papamoa family is desperate to see their beloved cat Matty return home – he has been missing for three months.
Matty a ginger male went missing from Oceania Sands Way on August 28 and the Oliver family have been lost without him.
Cindy Oliver says they really miss Matty and are holding out hope that he is alive.
"It's actually ridiculous how much we love this cat. It's really weird not having him around. We've kind of all got used to him being part of the family."
Cindy's son Finnley found Matty as a kitten when they were living in Kuwait and hopes he'll be found.
"It's so much different just not to have him around. Having him around the house, then you can just see him sleeping or walking along the fence onto the trampoline. It's just completely different, it's not the same."
Matty was born in the doorway of their apartment building and Finnley fell in love with the scrawny ginger kitten.
When Matty was just a few weeks old he fell into a nearby drain and Cindy thought he had broken his back so was going to have him euthanized because she thought that was the best thing for him.
Fortunately, it was the weekend and the vets were closed and the next day Matty was walking again.
"He was all sort of bedraggled this little kitten and he looked like he was nearly dead.
"If it was another day of the week I would've taken him and had and put down thinking that was the kindest thing to do. Anyway, he sort of perked back up again so we didn't take him.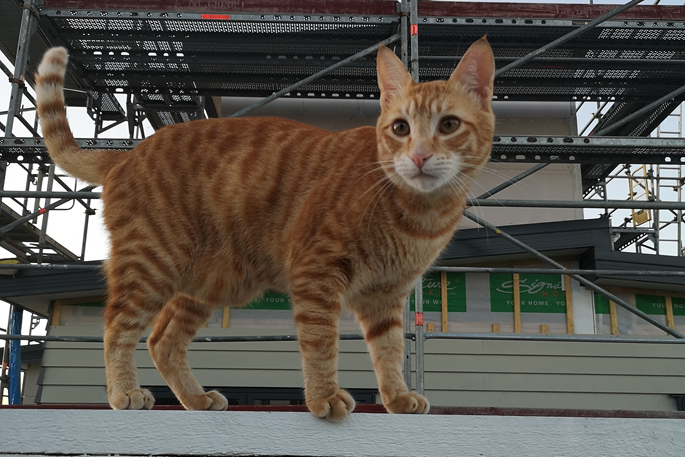 "Not long after this Finnley started a campaign to adopt Matty writing a list of the 10 reasons why they should keep Matty.
Some of the reasons include, he is very cute, he will die if we don't save him, he will have a better life with us and I love him.
The Oliver's took Matty in and brought him with them from Kuwait when they returned to New Zealand a year ago.
Upon returning to New Zealand they discovered that Matty is deaf and Cindy thinks this could be the reason why he has such a loud meow.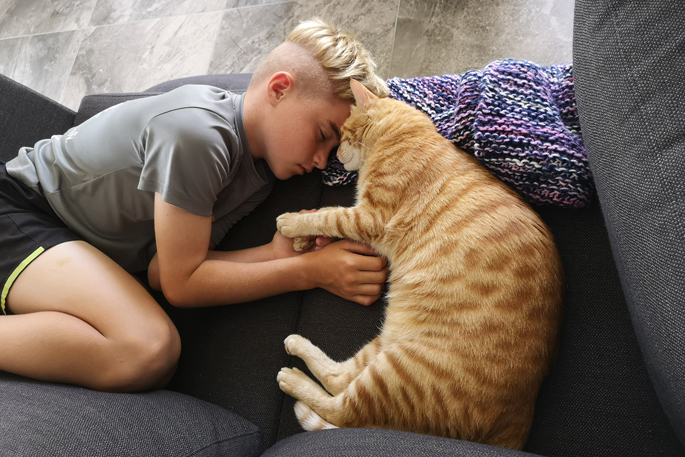 Finnley Oliver and Matty. Supplied image.
"He's got an extremely loud meow. I don't know whether that's cause he's deaf. I think he's a bit of a lion with this very loud and demanding meow."
Matty has made himself at home in Papamoa not only with his family but at other homes in the neighbourhood.
He could often be found on people's couches or knocking over candles and ornaments from people's shelves and bench tops.
Cindy had to get a door put on their kitchen to stop Matty going in and knocking things over.
"He'd got up knocked over the jars, smashed one of my nice jars with chillies in it and he ate them and was sick. He would get up onto the bench and smash the glasses."
At first Cindy though Matty had gotten locked in someone's house and would come home.
The was a lot of construction around the time Matty went missing so Cindy thinks he may have ended up in someone's vehicle and is elsewhere in Tauranga.
"It could be that Lassie moment where he's got into a van, someone's workman vehicle and he's ended up on the other side of town somehow, somewhere in Tauranga.
"He did go in a van one day and they saw him and then they kicked him out. But what if they just arrived at their destination and they opened the van and didn't see him."
The gregarious cat is very confident, docile and undeterred by people, Cindy says.
"He's just very friendly, he's quite docile, he'd just sort of roll over if you came up to him."
The family have contacted all 60 homes in their neighbourhood, put 500 flyers in letterboxes, registered Matty's absence with the SPCA and posted on the Lost and Found pets website.
If anyone has seen Matty or has information about his whereabouts they can contact Cindy on cindyoliverfenton@gmail.com.
More on SunLive...