Dazzling day at TRYathlon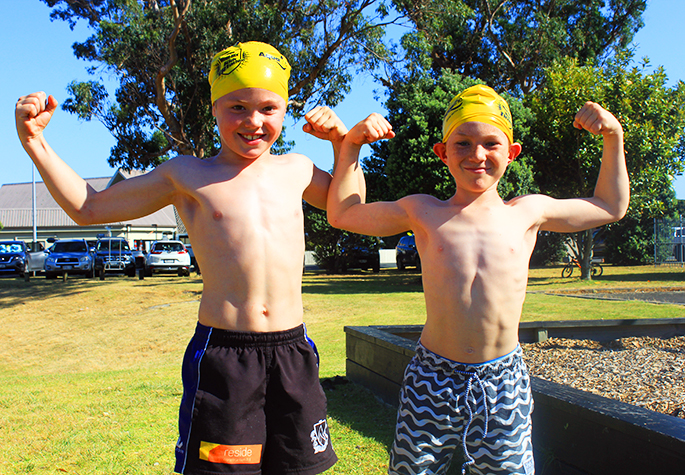 It's been a hot day out there for the hundreds of children from around the Bay of Plenty who took part in today's Sanitarium Weet-Bix Kids TRYathlon in Arataki.
TRYathlon helper teams were making sure the kids were hydrated with water stations, as well as sunblock stations dotted around to avoid nasty sunburn.
It was a fun day out for the whole family, with kids, parents, grandparents, dogs and families of all shapes and sizes cheering on the young athletes as they took part in what many would call a 'Kiwi tradition'. Cars filled every road and side alley, with many parking on grass berms and edging towards yellow lines and plenty of vehicles circling in search of a space to fill.
Food stations were open for business selling everything from organic popcorn to sushi and more. The Weet-Bix stand offered competing kids a healthy, filling breakfast before they began their day. It was a 7am arrival time for the athletes, with the TRYathlon starting at 9am, followed by prize-giving planned for about 12.40pm.
Once check-in was completed, kids donned their coloured swimming caps and wandered over to Baywave Aquatic Centre to begin the swim leg of their TRYathlon, where the pool is 25m in length, with a depth of 0.8m in the shallow end and 2.0m in the deep end.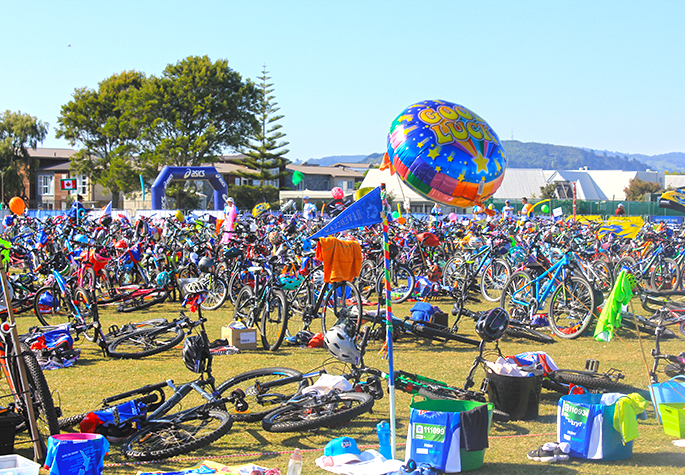 After completing the swim, they then jogged through to the transition area adjacent to the Baywave Aquatic Centre car park, where hundreds of bikes and helmets stood at the ready. The bike leg took participants around the streets surrounding Arataki Park, followed by the run leg which was around Arataki Park itself. Some road closures around the park were in place.
Along the way there were spot prizes to be won, and at the end – medals and some of NZ's top sporting stars to meet.
Since the very first TRYathlon event in 1992, which boasted just 800 entrants, more than 400,000 Kiwi kids have given it a TRY. The triathlon, which is now in its 28th year, expects more than 35,000 participants to take part from across the country, making it the world's largest U16 triathlon series.
The iconic sporting event introduces thousands of New Zealand children to organised sport, in a positive environment which encourages them to lead active lifestyles.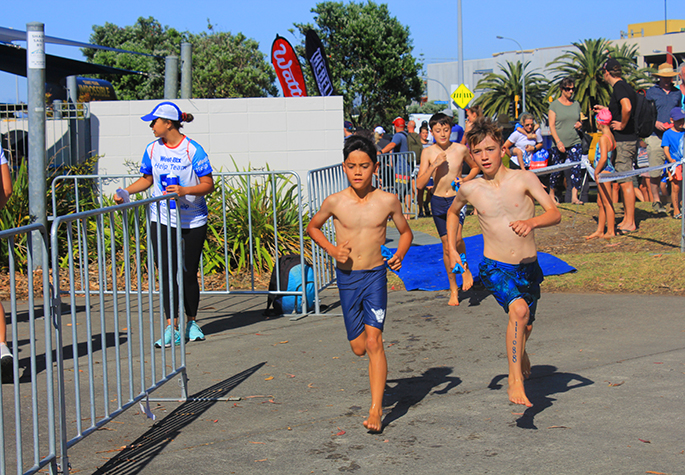 The Sanitarium Weet-Bix Kids TRYathlon is designed for Kiwi kids aged 7-15 years to help them stay active and healthy through a programme of participation. The series has been running since 1992 and is a rite of passage for Kiwi kids; to date over 300,000 Kiwi kids have given it a TRY.
Open to Kiwi kids of all sporting abilities the Sanitarium Weet-Bix Kids TRYathlon is a fun day out for kids, parents and families. Participants get to swim, cycle, and run their way around age appropriate courses, either as an individual or as part of a team of two.
Every participant who enters receives a Weet-Bix Kids TRYathlon medal, a downloadable certificate of achievement, an official Weet-Bix Kids TRYathlon tee-shirt, drawstring kit bag and swim cap, complimentary breakfast from the Weet-Bix Breakfast Tent, and the chance to win spot prizes and meet their sporting heroes.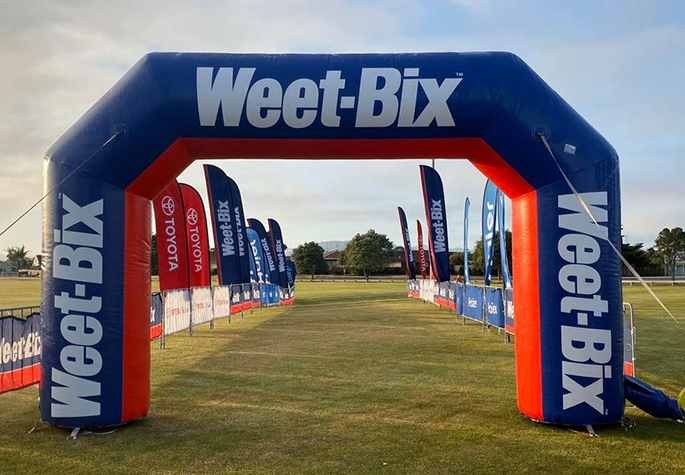 This year the company has created a new introductory event for six-year-olds, who are too young to take part in the TRYathlon. The new 'Splash and Dash' event will be run at some TRYathlon events this summer - including the Arataki event - with budding TRYathletes completing a 50-metre swim followed by a 1500 metre run.
The Sanitarium Weet-Bix Kids TRYathlon events are running throughout New Zealand from November 24, 2019 until March 29, 2020.
Visit: www.tryathlon.co.nz for more information.
More on SunLive...