Quiz master answers life's hard questions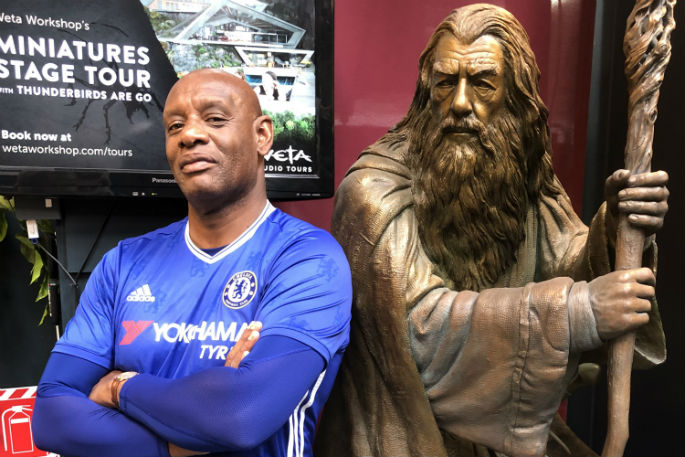 The Chase's 'Dark Destroyer' is using his sharp mind and his profile to help out the homeless in Tauranga this week.
Shaun Wallace is one of the stars of the popular British TV quiz show The Chase and told The Weekend Sun he spares his time to help various charities because he sees it as a personal responsibility.
"With fame comes responsibility, I have a platform which helps me raise funds for charities who never see the light of day."
He was due to address a crowd at the Bethlehem Shores retirement village at the special fundraising event for Street Kai on Thursday afternoon.
Street Kai feeds more than 100 vulnerable community members every Monday evening at the Willow St bus stop.
Shaun believes homelessness is a growing problem all over the world, and those who support homeless people need all the help they can get.
"People need to realise the forgotten people shouldn't be abandoned because they are less fortunate than others.
"It's important to use my fame to highlight that fact and try to help homeless people as best as I possibly can."
Shaun supports English not-for-profit Homeless Worldwide, saying when he returns home he plans to sleep rough for a night to raise awareness on the issue.
"It's good to have an altruistic attitude toward your fellow man. The pie of life should be eaten by everybody, and I am prepared to make sure everyone has a slice when they can.
"I would have slept rough in New Zealand to address the issue if I had more time. Next trip I will, no problem."
Shaun says there is nothing not to like about New Zealand, describing people he has met so far as "warm and friendly".
"The way I have been greeted since I have been here is nothing short of awe-inspiring. I mean who would come to New Zealand at their own expense for the second time in a year? I would, and I'll be back again."
It's the TV quiz star's second time touring New Zealand this year. During the 10-day-stint he has been promoting his autobiography at pubs across the country and sparing time to attend several events for charity.
He's also set to host the 20th annual New Zealand Pub Quiz Championships on Saturday in Auckland.
The Crown and Badger hosted 'An Audience with Shaun Wallace' evening last night where Shaun promoted his autobiography 'Chasing the Dream', followed by a Q&A session.
He comments on how much New Zealanders love The Chase, saying the country needs to create its own quizzing superstars.
"There are a lot of clever people here which I have found since travelling around New Zealand. Why can't New Zealand create their own Chasers? That's the question I am going to leave everyone with."
Shaun currently practices as a barrister and part-time lecturer. He is one of five chasers on the popular British television quiz show.
More on SunLive...