What's on - cricket, beach, art and markets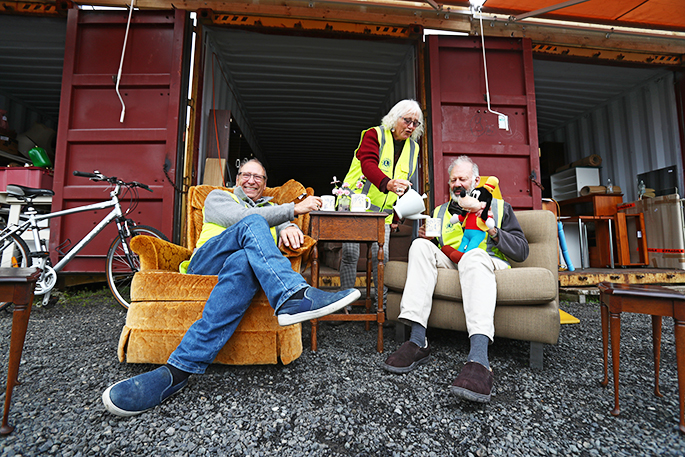 Kia ora and welcome to Saturday. I tenei ra ka awatea, ka wera.
Expect a fine day with some evening cloud, light winds and afternoon sea breezes. It's a one-layer-clothing day, with an expected high of 27 degrees and an overnight low of 14 degrees. Sunset is at 8.13pm.
Sunday is forecast to also be fine with light winds and afternoon sea breezes. For the remainder of the week, the temperatures are expected to reach the mid-twenties most days, with possible showers on Monday and Tuesday.
New Zealand is playing England at the Bay Oval, Mount Maunganui today. Take plenty of sunblock and go and enjoy a fine day of cricket. If you're unable to attend, follow our live updates on SunLive.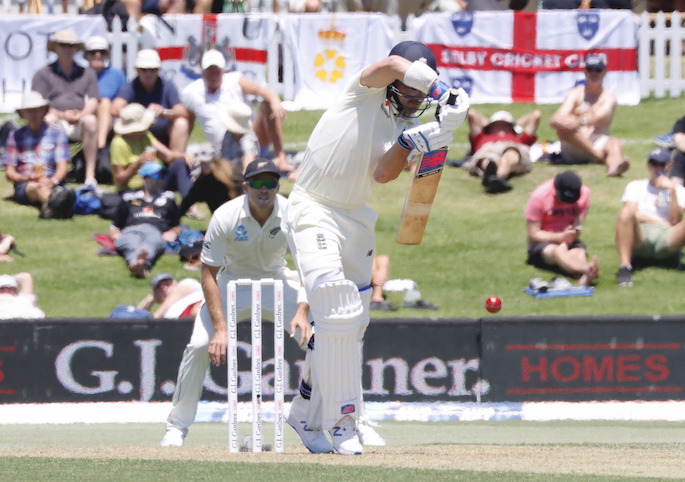 In Katikati this morning, the Katikati Lions are running their huge Christmas Clearance Garage Sale from 8am – 11am. Located behind the Caltex Station, Main Rd, Katikati, come and find beds, lounge and bedroom furniture, whiteware, tools, books bicycles and general bric-a-brac.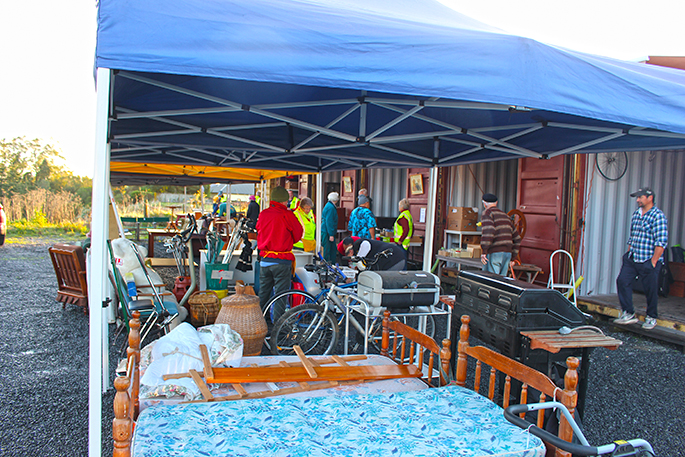 Also in Katikati tonight is Katikati'z Got Talent at the Memorial Hall. A great night out, it is also a fundraiser for helping Katikati local Louie Campbell record his first album. More here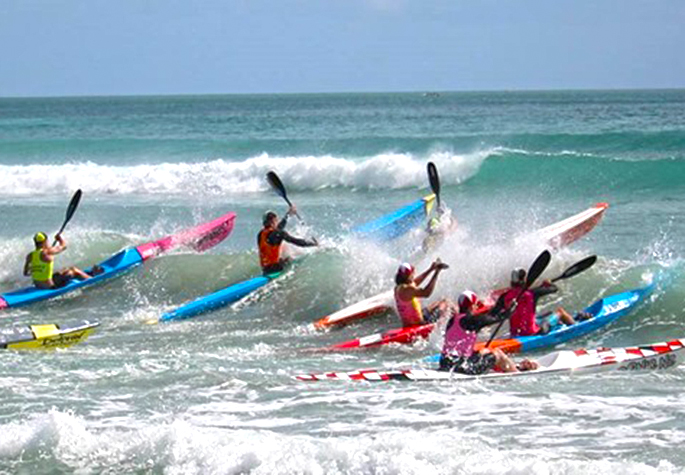 The 2019 Bay of Plenty Spring Series #2 is on today from 9am – 1pm at the Omanu Beach Surf Life Saving Club. The 2019 Spring Series is a competition looking to attract competitors and athletes throughout the Eastern Region to compete in a series of back-to-back medium distance surf sport events. The two rounds of the Spring Series will be spread between Mount Main beach and Omanu Beach. The series offers Beach Run, Ski, and Board events that test both their speed and endurance as the athletes build up for the up and coming summer season. The series also caters for a wide range of ability levels. More here
Come and have some inflatable fun at the Tauranga Memorial Pool, Memorial Park with More FM Bay of Plenty from 10am – 2pm. Come and test your skills making it across the inflatables in one go. More here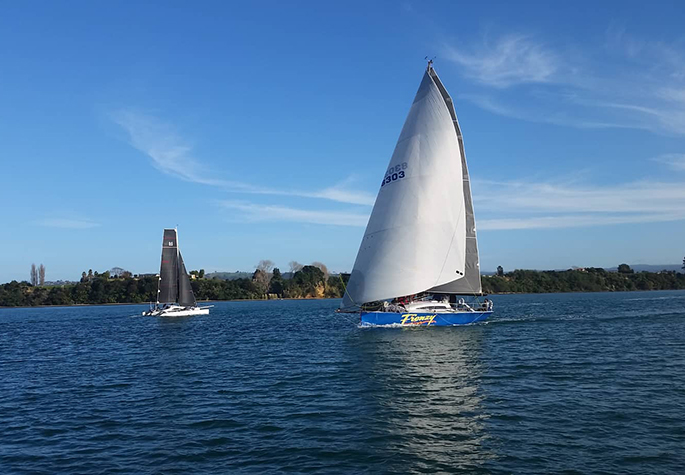 The Tauranga Yacht and Power Boat Club are running their Shorthanded Series today from 10am – 4pm from the club at 90 Keith Allen Drive, Tauranga
The Tauranga Food Wine and Music Festival is running from 12pm – 8pm today at the Wharepai Domain. More information here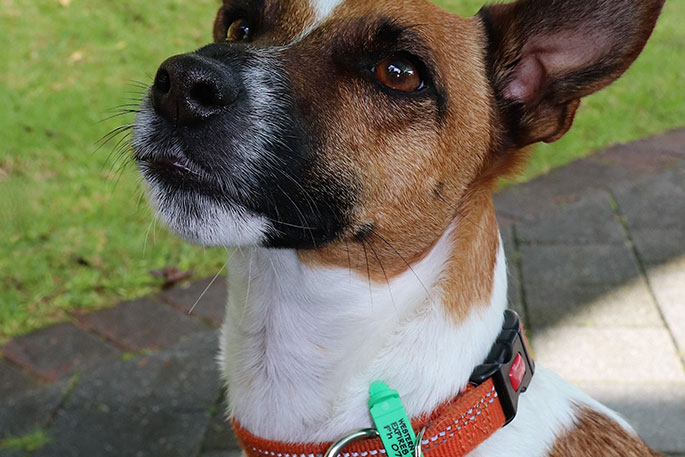 Alfie, the 'Spokesdog' for Western Bay District Council
Take your dog for a walk at the Te Puna Quarry Park, 108 Te Puna Quarry Rd, today from 10am – 12pm. This Wander Dog Summer Series Dog Walk event is open to everyone, and hosted by the Western Bay of Plenty District Council.
Also at the Te Puna Quarry Park today is a plant sale from 10am – 2pm.
The Harvestpoint Church in Te Puke have a Christmas High Tea event for the ladies today at 2pm at their church building in Jocelyn St. Bring along a plate of your favourite Christmas goodies and a $5 present for a fun festive game. All welcome.
The Matua Pre-Christmas Market is indoors in the Matua Community Centre at 110 Levers Rd from 1.30-3.30pm. All welcome. More here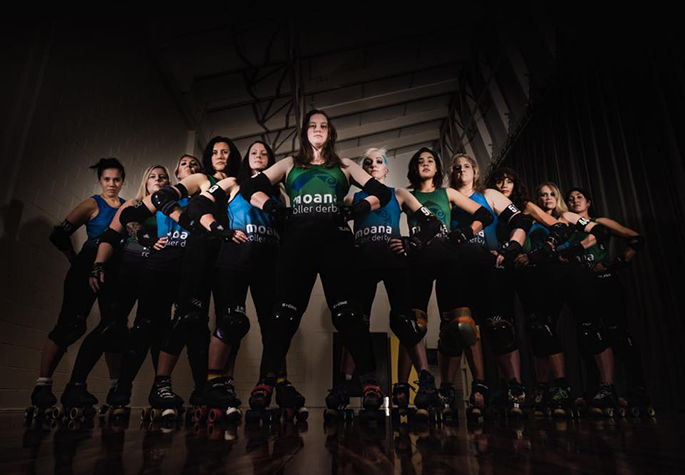 Moana Roller Derby. Photo: Photography by Amy.
It's the final game of 2019 for roller derby. Come join Moana Roller Derby and Hellmilton Roller Ghouls for full-on fun from 1pm – 5.30pm at the Queen Elizabeth Youth Centre, 11th Ave.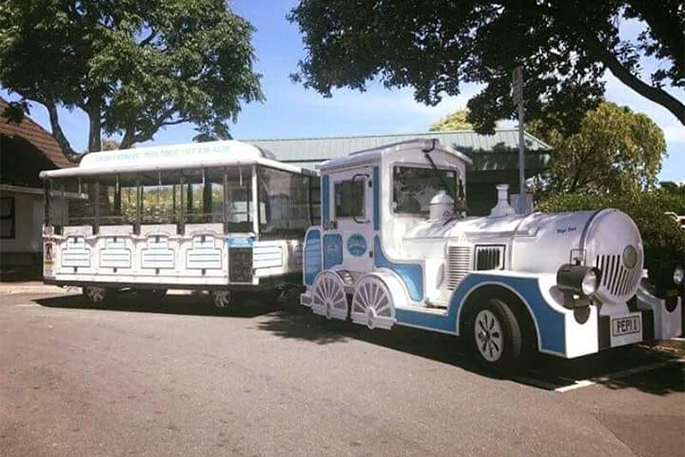 Next to Coronation Park is the Pepi Toot train which will be out about today and tomorrow from 10am – 2pm with 30 minute rides, leaving from Salisbury Ave outside the Spongedrop Cafe. All aboard! Toot! Toot!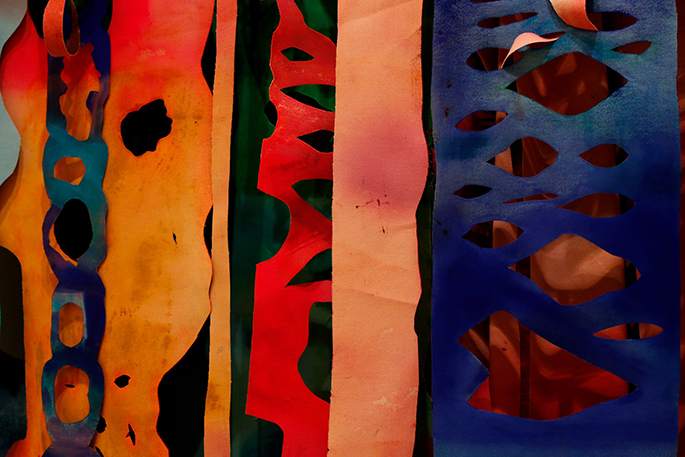 The Miles Art Award is now open for entries. Submissions are online. This is the sixth instalment of the biennial awards, with the exhibition to be held at the Tauranga Art Gallery from March 14 – June 7, 2020.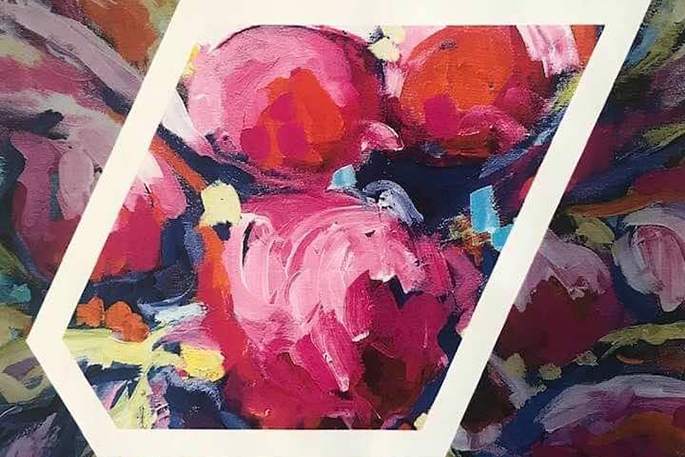 There are exhibitions on today at Tauranga Historic Village. Check out 'Passion with Paint', a group exhibition from Sue Mac Dougall, Suzy Cels, Jenn Brotherton and Melody Downie at the Incubator Creative Hub.
Over 70 skateboard decks are on display at The Incubator Creative Hub. Embellished and painted from artists around New Zealand, the exhibition launched on Friday November 1 and runs until November 26.
The Odd Couple is being performed tonight at Detour Theatre. The play runs until November 30. More here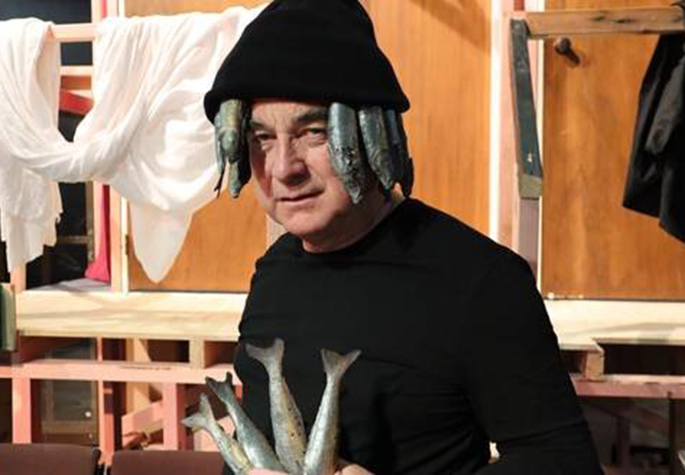 Greg Brownless in 'Noises Off'
More of Tauranga's actors are on stage tonight in the place 'Noises Off' at 16th Avenue Theatre. The show opened last night and runs until December 7. Hailed as one of the funniest plays of all time, the Olivier Award-winning 'Noises Off' gives us a window into the inner workings of theatre behind the scenes. More here
Help Stuff the Bus today in Tauriko from 10am – 1pm. Bring non-perishable foods, clothing and presents which will then be donated to local charities. More here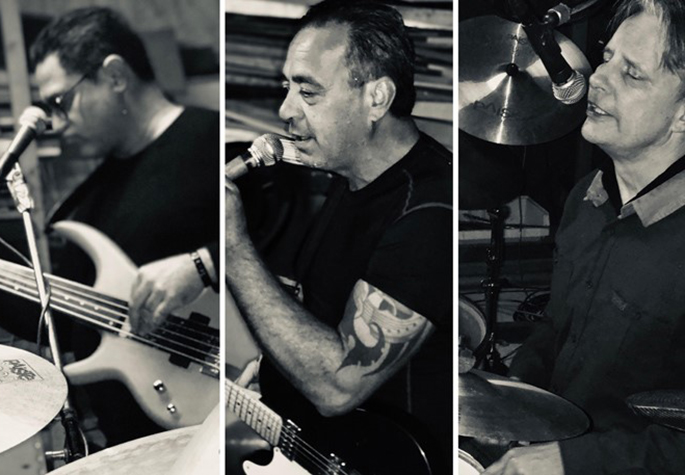 If you're into funk rock blues, come and hear the Grant Haua Trio live at the Hop House in Wharf St, Tauranga from 8pm tonight. No cover charge, come and boogie to some original music.
For more of what's happening around the Bay:
Art In The Park
Original art for sale. Coronation Park, Mt Maunganui. Weather permitting. 9am-4pm. Tauranga Society of Artists
---
Beginners Cold Wax Workshop
Inspiring & fun workshop for all levels of experience. 30th Nov 9am-12:30pm, $65. The Artery, Historic Village. Book @ www.theincubator.co.nz. Ph 07 571 3232
---
Beth-El Messianic Family
Celebrate the Sabbath (Sat) as Yeshua (Jesus) & all early believers did. All Welcome. 10am, Otumoetai Primary Hall. Joel van Ameringen 021 768 043 www.BethEl.org.nz
---
Chair Up Upholstery Workshop
Want to learn upholstery? Recover that stool with Paula Jones 10am-3pm. The Artery, Historic Village. Book @ www.theincubator.co.nz. Ph 07 571 3232
---
Christmas Craft Market
9:30am-1pm Bayswater Village, 60 Maranui St, Mt. Hand-made crafts, beautiful gift ideas, family festive fun, cafe & free entertainment. Free entry!
---
Christmas Social Dance
Dance Party on Sat 7 Dec, Bethlehem Hall, 239A State Highway 2, 7:30pm. BYO drink & nibbles. Strict tempo music. Everyone welcome. Ph 544 2337
---
Croquet
At Croquet Mt Maunganui, 45 Kawaka St; Mon, Wed, Sat; 9am for 9:30 start. Ph Jacqui 07 574 9232
---
Jigsaw Library
Welcome to the St Stephens Jigsaw Library 10am-12noon. Hire: $1 for 1000+ piece, 50c under 1000 piece. Cnr Highmore & Brookfield Tce, Brookfield
---
Katikati Lions Garage Sale
Christmas Clearance Sale. Behind Caltex Station, Main Rd Katikati. 8-11am. Beds, lounge & bedroom furniture, whiteware, tools, books, bicycles & general bric-a-brac
---
LOL Laughter Wellness
We don't laugh because we're happy, we're happy because we laugh. Come join us. Arataki CommunityCtr, Zambuk Way, Mt Maunganui 11-11:45am. Ph Trish 022 036 6768
---
Miracle Ways Cure Cancer
Meditation Workshop. Mindset to fight illness. Ways to recover from cancer. Greerton Library 1-3pm. Bookings Ph Mike 027 446 5357
---
North Island Croquet Championships
Croquet New Zealand 96th North Island Championships at Croquet Mt Maunganui, 45 Kawaka St. Spectators welcome. Ph Sue 575 4569 or Jacqui 574 9232
---
Otumoetai Tennis Club
Adult tennis. Start 1:30pm. Bellevue Park Windsor Rd (adjacent to swimming pool). New players & visitors welcome. Ph Victor 027 577 1818 a/hrs
---
Papamoa Tennis Club
Adult social tennis. Tue & Fri 9-11am, Wed 6-8pm, Sat 2-4pm. Gordon Spratt Reserve. New players & visitors welcome. Ph Andrew 021 0292 6934
---
Paul Madsen Superstar Show
Includes tributes to The Bee Gees, Queen, Eagles & Neil Diamond. At Mt RSA 8pm. Members $20, Guests $25.
---
Pétanque
At Club Mt Maunganui, 45 Kawaka St. Tues 4pm, 2nd game 5pm. Sat 1pm. Boules, coaching on site. Ph Maryan 552 4346 or 022 070 8200
---
ScandinaviaNZ Christmas Party
ScandinaviaNZ Christmas Party Christmas party 2:30-5, St Stephen's Church, Brookfield. Festive fun, crafts, sing & dance around Xmas tree. Secret Santa. $15 adult. Ph Hanne 07 570 6121
---
Taoist Tai Chi
Celebrating 50 years internationally & 30 years in NZ. New beginner classes today 15 Koromiko Street, Judea, 8:30-10am. All welcome, start anytime. Ph 578 6193 or visit www.taoisttaichi.org
---
Tauranga Farmers Market
7:45-12 Tauranga Primary School cnr Cameron Rd & 5th Ave. Fresh & artisan products direct from producers. Ph 0274 915 876
---
Tauranga Lions Book Sale
At Tauranga Racecourse 1383 Cameron Rd, 9am-4pm. Eftpos available. Bring own bags. Specials on childrens' books!
---
Tauranga Scottish Society Xmas
Sequence Dance, Wesley Church Hall, 100 13th Ave. 7-10pm, $7 supper & raffle, warm welcome. Ph 07 218 1318
---
Tauranga Synchronised Swimming Club
Friendly synchronised swimming club based at Baywave. Beginners train Sat mornings. First lesson free. Ph Jo 027 543 1697, www.taurangasynchro.co.nz or Facebook @taurangasynchroNZ
---
Tauranga Woodcrafters 2019 Show
10-4pm Mount SportsCentre. Carving, woodturning, toymaking & scrollsaw exhibition. Come have a go. Equipment, woodwork & food sales. Entry $5. U15 free.
---
Te Puna Quarry Park
Plant sale from 10am-2pm - due to Quarry fest cancellation.
More on SunLive...