Cost of eye tests keeping people away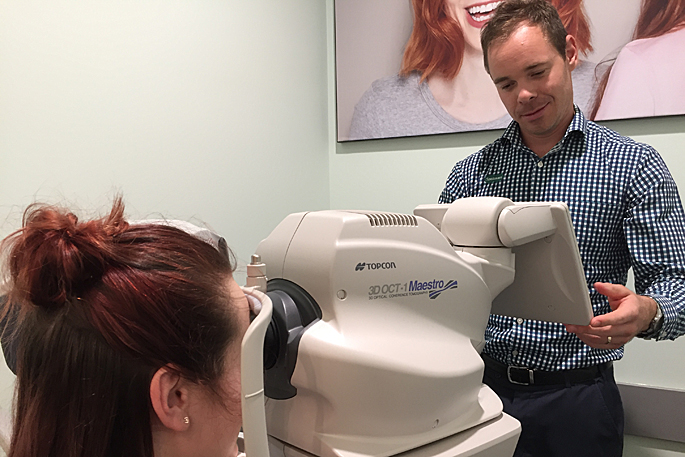 Research has shown that cost is the number one barrier keeping people from having routine eye tests.
Only 45 percent of people in the North Island claim to have had an eye test in the last two years, compared to 86 percent of Kiwis who say they visited the dentist in the past 12 months.
With prices for visits being similar, Specsavers Tauranga and Tauranga Crossing optometrist Sam Sharples says routine eye tests need to be more of a priority for locals.
"In the survey, almost three quarters, 73 percent, of Kiwis said they weren't willing to pay $60 for an eye test and those under 45 were less likely to be prepared to pay for one than those over 45.
"We need to break the idea that eye tests are a 'nice to have' for Tauranga residents. Eye tests are actually an important health check that don't just measure your vision, but also check the health of the overall eye and can detect early signs of eye conditions that can lead to vision loss or blindness if not found early."
Vision impairment is expected to emerge as the most prevalent health condition among older New Zealanders over the coming years, and a remarkable 90% of vision loss is preventable or treatable, with early detection and intervention of eye conditions being key to prevention.
The research identified that the main triggers for Kiwis to have an eye test are vision starting to go blurry, followed by struggling to read and not being about to see properly to drive.
Sam says, "As an optometrist who works and lives in Tauranga, I want to do my part to ensure that everyone here has the best eye health possible.
"The stats about what triggers people to have eye tests are concerning because if you have an eye condition, by the time you have symptoms like blurry vision, it can be too late, and a part of your vision may be gone for good."
In a bid to make eye care more accessible and to encourage routine two-yearly eye tests, Specsavers Tauranga and Tauranga Crossing currently offer free standard eye tests once every two years to all AA Members, one in three Kiwis are AA Members, and children under the age of 16.
Eye tests include an advanced 3D eye scan in every eye test at no extra cost.
"We acknowledge that the price of an eye test can be a lot for some families and we know the barriers that people have to prioritising their vision. So, to help encourage the community to protect their vision, we do what we can to make sure a significant part of Tauranga doesn't have to pay for an eye test and with complete glasses starting from $69, it doesn't have to be an expensive outlay.
"We also ensure that when locals do have their eyes tested, they have access to the best eye test possible, using the latest diagnostic technology. Despite this, not everyone who has access to a free eye test will take up the offer.
"Anyone who hasn't seen an optometrist for a few years, please book one in and protect your most precious sense," says Sam.
More on SunLive...