YMCA takes over Welcome Bay building set for demo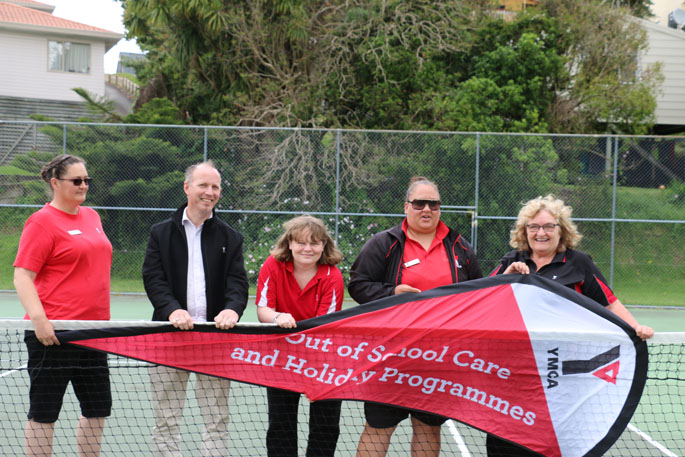 The YMCA is continuing to help out the community after taking over a building that was set for demolition in Tauranga.
The organisation has worked in the Tauranga community since 1980. That's nearly 40 years of helping out with running before and after school programmes, school holiday programmes, elderly fitness programmes, delivering food to lower decile families through Good Neighbour, working at school galas, sports events and extra activities in the community.
They do all this as a not for profit organisation – providing services for the community that they don't ask to be paid for.
For many years, the YMCA building has been based at 428 Devonport Road, but one of the decisions Centre manager David Norman, who has been in the role for four months, decided to month the YMCA from its original address at 428 Devonport Road to the Welcome Bay Tennis Club.
The Tauranga Special Needs School will move into the Devonport Road premises, which David says is a fantastic result because the building has resource consent to be used as an educational facility.
"So we didn't want to waste that resource consent and just rent it to an office block or anything like that. We decided as a community organisation that we would rent it to Barrie Wickens –who's the principal the school.
David says after deciding to rent the Devonport Road building to the Ministry of Education, the YMCA was left wondering where they were going to go.
"We decided that we would move into the Welcome Bay Tennis Club, which was actually scheduled for demolition by the council. So the YMCA decided to invest $118,000 into bringing that building up to Code of Compliance.
"The tennis courts and basketball courts that sit below the building were all fenced off and a lot of children and community couldn't use that area at all.
"There were actually kids jumping the fences to get into the tennis courts to use them, but they've opened that all up now and it has been well used by elderly citizens that were members of the tennis club, but also by a lot of youths who use the basketball courts down there.
"So we are working on that building. We've been working on the external parts so far and bringing it up to building codes so that it doesn't get demolished.
"The council have also said in turn that they will resurface the courts, which I think is a great result."
Looking at the building, the outside is freshly painted – with David saying the roof will be getting redone over the next few weeks. Inside – they are planning on knocking down a few walls, making the space bigger and more user-friendly.
David says the council has also given them a 30-year lease and he says it's fantastic.
"We just need to now build up our profile in that area. So there are lots of different things we can do in the next 30 years.
"We offer fitness classes to the elderly, so we can maybe bring that into the hall and run health-wellbeing classes and so forth from that hall.
"We're also looking for different ways that we can help out that area and that community. We're going to start a little community garden so that it's more than just giving stuff away. It's about getting them to come in and to actually do a little bit of work to grow something that they can then take home eventually."
More on SunLive...