Healthy smiles for Eastern Bay pre-schoolers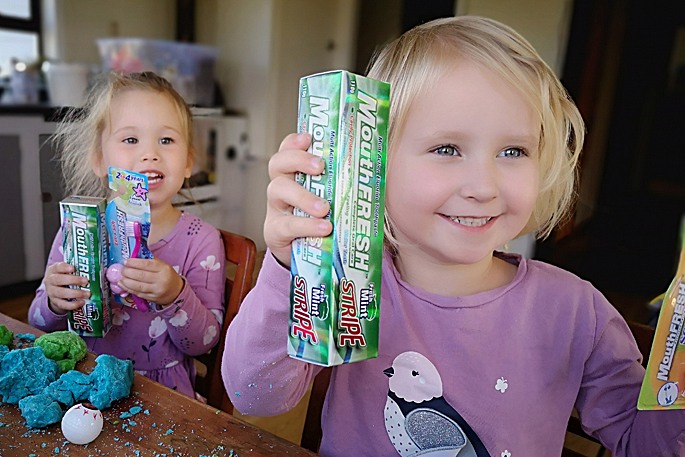 Beaming, healthy smiles are the future for an early childhood education centre in the Eastern Bay after it triumphed in an annual oral health challenge.
ECE centres across the Eastern Bay were invited to take part in the annual World Oral Health Day Challenge - organised by the Bay of Plenty District Health Board Oral Health Promotion team.
Whakatane's Little Moments Homebased Childcare came out on top.
"We're a new business, having started last year, so it was fantastic to win," says owner Yvonne Porter.
"We were really excited about it.
"Eating healthy food and connecting with the natural world is part of our philosophy and vision, so good oral health fits in with that and who we are."
Role modelling, giving healthy lunch alternatives, planting fruit trees, promoting water to drink and having fun with the messaging, all featured in the work Little Moments Childcare undertook.
"We had previously won the model of a big plastic mouth, so we also use that to help educate the children, when it comes to brushing their teeth.
"We visit a retirement home with the children and the elderly people there had a blast talking teeth with them.
"One of our grandmothers is a retired dental nurse, she came in for an extended mat time with the children, teaching them all about caring for your teeth. It was great having her with us."
Yvonne says they also enjoyed good engagement from their parents via social media.
Prizes for the winners included a big box of fruit and vegetables, water bottles, toothbrushes, toothpaste, certificates and laminated activities books.
Oral health promoter Hatea Ruru congratulates Little Moments, which has 55 pre-schoolers on its roll.
"Establishing healthy habits early are important, because they are likely to transfer throughout life," says Hatea.
"We thank all our ECE staff for their awesome work, supporting our tamariki, whānau and our communities."
The theme for World Oral Health Day 2019 was 'Say Ahh: Act on Mouth Health'. The message behind this theme was a motivational one for individuals to take charge of their own oral health, by taking specific action to prevent oral disease and safeguard their overall health.
The Eastern Bay's full results were:
Winners Little Moments Homebased Childcare
Second place Little Orchard Pre-school – Pohutukawa Room
Third place Bizzy Buddyz Homebased Childcare and Education Services
More on SunLive...