Child abuse charity founder admits theft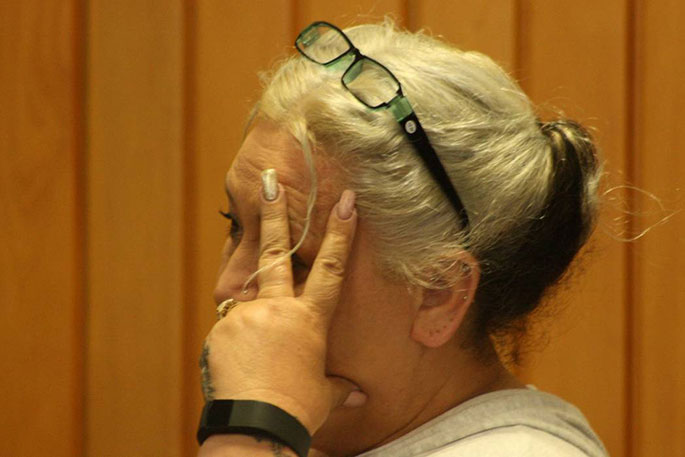 A former Oranga Tamariki staffer who spent months denying she ripped off an anti-child abuse charity she founded has entered a guilty plea to theft.
Tracey Livingstone, 54, appeared at Rotorua District Court on Friday and entered guilty pleas to two charges, theft by a person in a special relationship and making a harmful digital communication.
The charges relate to a group the Taupō resident established called Child Abuse and Prevention Awareness, which was not a registered charity.
Lingstone organised Taupō's March for Moko, helped set up a monument in the memory of babies who have died from non-accidental injuries and also held a vigil for killed UK tourist Grace Millane. She also organised the Taupō Shoebox appeal.
According to the Crown charge notice, between March 3 and April 12, 2018, Livingstone was "in possession of $1530 in circumstances that required her to account to the group Child Abuse and Prevention Awareness for the money, intentionally failed to account to Child Abuse and Prevention Awareness as so required".
According to the police summary of facts, Livingstone did not tell the complainant in the case she was going to include her personal bank account details on a CAPA invoice for money the group received for marshalling duties at a Taupō Ironman event.
"Nor did she tell the complainant that she intended to use the CAPA money for her own purposes," the summary said.
It was also revealed that on March 22 last year Livingstone entered a Taupō bank and used a deposit slip showing the complainant's signature, before signing the slip herself and withdrawing $1400 cash.
"The defendant then used the money to buy a present for her husband."
After the complainant alerted police, and Livingstone was arrested and bailed, she launched an online campaign that "caused significant distress to the complainant whom feared for her safety and that of her business".
In one of the online posts Livingstone said she was "placing a wairuatoa mana utu on the people most important in the troll's life young and old and will not remove it till the truth is spoken. Let the troll decide what's more important: lies or family?"
At an earlier hearing Livingstone sought, and failed, to have the harmful digital communication charges dismissed after her lawyer Annette Sykes claimed that her client was adamant that the "troll" referred to was not the complainant in this case, and that the meaning of the words were not necessarily threatening.
According to the summary, Livingstone told police the Ironman money was paid into her account, but she had "no idea what I did with it".
"The defendant later stated that she had withdrew $400 to pay nine individuals who helped with the marshalling (including several members of her whanau) and that she gave $1000 to the complainant as a loan."
"The complainant denies ever receiving money for a loan."
Livingstone was set to be sentenced on Friday after her plea change, but Judge Philip Cooper said the Crown had requested a victim impact statement from the complainant so postponed sentencing until December 12.
Cooper also revealed Livingstone is facing one charge of common assault at Taupō District Court, for which she has entered a not guilty plea.
More on SunLive...