Feedback on rules for earthworks near kauri trees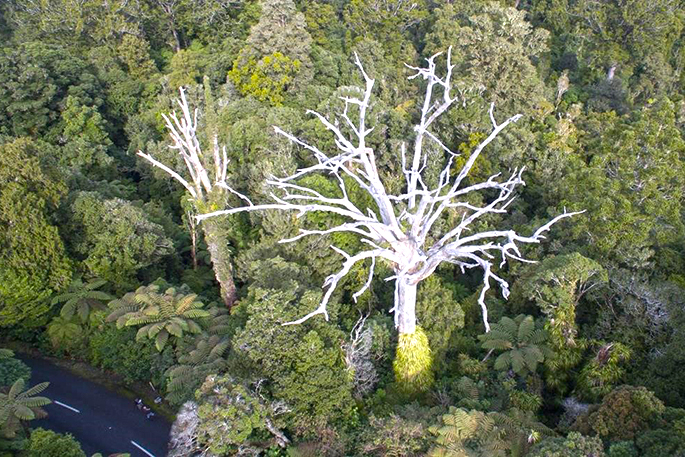 The Thames-Coromandel District Council is now taking feedback on proposed new rules to manage earthworks near kauri trees in urban zones of the district, in order to help prevent the spread of kauri dieback disease.
The proposed rules would require people carrying out earthworks within a 'kauri hygiene zone' to obtain resource consent.
A kauri tree's 'hygiene zone' is the area covered by its root system and is three times the radius of the tree's canopy.
Earthworks within a kauri hygiene zone are already a restricted discretionary activity in the Rural, Rural Lifestyle and Conservation zones of the Council's Proposed District Plan due to an Environment Court decision earlier this year following an appeal to the Proposed District Plan lodged by the Department of Conservation – DOC.
This decision and the new rules mean that earthworks within a kauri hygiene zone require a Kauri Dieback Disease Risk Management Plan to be prepared, approved by the Council and implemented.
The Environment Court also directed the Council to consult with the community on similar rules to the urban zones of the district, which were not included in the DOC appeal. This is what the council are now taking submissions on.
The consultation closes at 5pm on January 24 2020.
Outside a kauri tree's hygiene zone earthworks can be a permitted activity if standards are complied with and no resource consent or Kauri Dieback Risk Management Plan is required.
The management plan requirements are comprehensive and ensure that any soil and organic matter from the earthworks are safely contained.
Details of the proposed new earthworks rules for the regions urban zones are available on the council website at tcdc.govt.nz/s293kauridieback and the community can make a submission online. Or, on the same page a PDF submission form can be downloaded and returned to the council.
To help explain the proposed rules the Thames-Coromandel District Council are also holding drop-in workshops around the district and in neighbouring areas.
Consultation workshops:
The workshops will run from 3pm-6pm. Hamilton and Tauranga workshops will be from 3pm-5pm
Whitianga - November 28 2019, Whitianga Area office - 10 Monk St, Whitianga
Coromandel - December 2 2019, Coromandel Area office - 355 Kapanga Rd, Coromandel
Thames - December 4 2019, Council Chambers - 515 Mackay St, Thames
Hamilton - December 11 2019, Beca offices, Level 2, Waitomo House, 6 Garden Place, Hamilton
Tauranga - December 13 2019, Beca offices, 32 Harrington St, Tauranga
Auckland - December 16 2019 Brookfields Lawyers offices, Level 9, Tower One 205 Queen St, Auckland
Marae Consultation Workshops
Matai Whetu Marae - December 9 2019, 12 Ngati Maru Highway, Kopu
Harataunga Marae - December 17 2019, 1254 Kennedy Bay Rd, Kennedy Bay
What is kauri dieback?
Kauri dieback is a fungus-like disease that infects kauri trees of all ages and has killed thousands of kauri in the last 15 years. It is specific to New Zealand kauri.
It lives in the soil and infects kauri roots, damaging the tissues that carry nutrients and water within the tree, effectively starving it to death.
There's currently no proven cure or treatment and nearly all infected kauri die.
The disease is easily spread through soil movements, for example when soil is carried on dirty footwear, animals, equipment and vehicles.
It is present in several sites on the Coromandel, including DOC's Hukarahi Conservation Area, just north of Whitianga township, and on a DOC-managed land near Whenuakite; and at multiple locations on private land within the Whangapoua catchment.
To find out more about kauri dieback and track closures and changes go to the DOC website: doc.govt.nz.
The Thames-Coromandel District Council is part of the Coromandel Kauri Dieback Forum. The Forum is a community-based and community-led group established to help fight the disease locally by providing advocacy and educational workshops to both industry groups and the general public. Anyone who has an interest in protecting kauri in the region can participate, either as part of a group or as an individual.
The council have set up kauri dieback hygiene stations to clean footwear and other equipment at some track entrances which lead to kauri groves on council reserves. They've also built boardwalks on tracks near kauri trees so their roots are protected.
More on SunLive...