2000 eggs hatched at National Kiwi Hatchery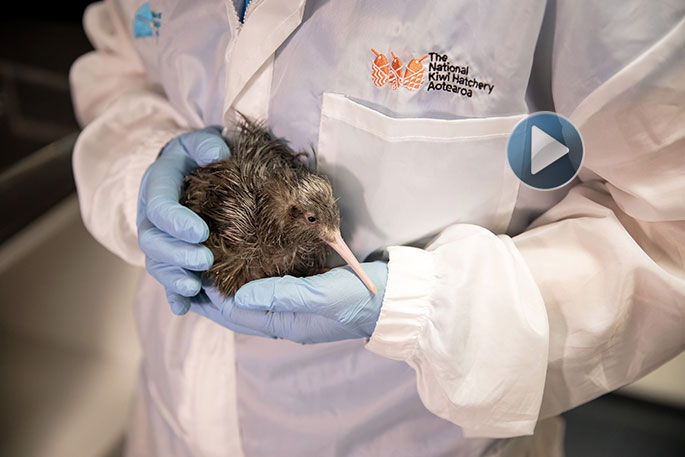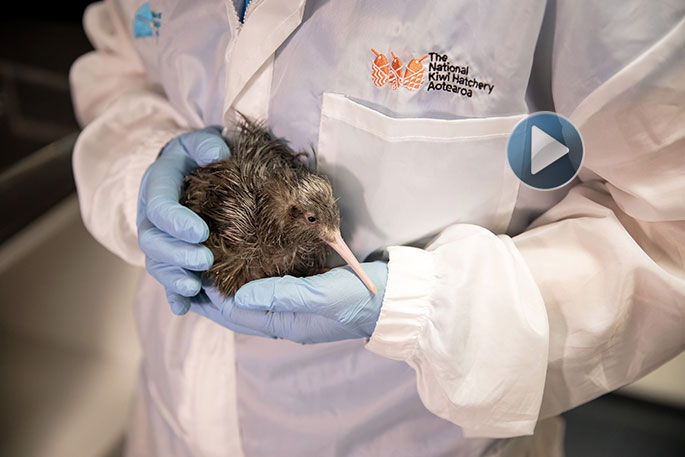 Click the image above to watch the video
The world's leading kiwi hatchery has reached an exciting milestone, with the arrival of its 2000th kiwi chick since the first egg hatched onsite 24 years ago.
The National Kiwi Hatchery Aotearoa celebrated the special occasion by livestreaming the chick's arrival to the world.
National Kiwi Hatchery spokesperson Helen McCormick says the 2000th chick, from Taranaki, kicked its way out in the early hours of Wednesday.
"The hatching went really smoothly and the chick is doing great, finding its feet and starting to fluff up nicely.
"We've come a long way – in our first year back in 1995 we received just one kiwi egg, now we hatch over 130 chicks a year and are hatching the grandchildren of some of those early chicks.
"The work we do here is really important because of every 100 kiwi eggs laid in burrows in the wild, only five kiwi chicks will make it to adulthood. By hatching the kiwi eggs in safety at the National Kiwi Hatchery and releasing them back into the wild when they are 1kg and strong enough to defend themselves against predators, their survival rate increases to 65 percent."
The National Kiwi Hatchery is hosted at Rainbow Springs Nature Park in Rotorua, one of 14 businesses owned by Ngāi Tahu Tourism.
Te Rūnanga o Ngāi Tahu Kaiwhakahaere Lisa Tumahai said the iwi was incredibly proud of the work being done by many to protect our national bird.
"The arrival of the 2000th kiwi chick is a milestone worth celebrating – not just for Ngāi Tahu Tourism and its National Kiwi Hatchery – but for all New Zealanders who are involved in conservation mahi to help protect this precious taonga for generations to come."
The 2000th chick will stay at the hatchery for a few weeks before being released to Sanctuary Mountain Maungatautari, where it will help to grow a founder population of kiwi. Its chicks will then be taken back to its home forest in Taranaki.
The National Kiwi Hatchery received its first egg in 1995, when it joined the Operation Nest Egg programme.
In the 2018/19 season, the hatchery released 145 kiwi chicks, this included kiwi that were taken to the hatchery as eggs, as well as chicks that had hatched in the wild and spent time at the hatchery. This is a 9 per cent increase from the 133 chicks released in the previous season.
Helen says the 2019/20 hatching season was already off to a roaring start, with 74 chicks hatched so far. The season usually starts in October and winds down in March/April.
The hatchery has seen important additions recently, enhancing the care and hatching capabilities significantly, with the latest being the kiwi hospital – a rehabilitation facility donated by Mercury in October 2019.
Kiwis for kiwi also donated a brooder facility last year, as well as funding for extra staff and brooder boxes, meaning the National Kiwi Hatchery can now raise up to another 70 chicks per hatching season and the goal is to reach 200 chicks a year.
To donate to help save kiwi, go to www.nationalkiwihatchery.org.nz. There are several donation options – from feeding a kiwi chick for a month ($35) to hatching and naming a kiwi chick ($2787).
More on SunLive...