Monochrome threads show support for staff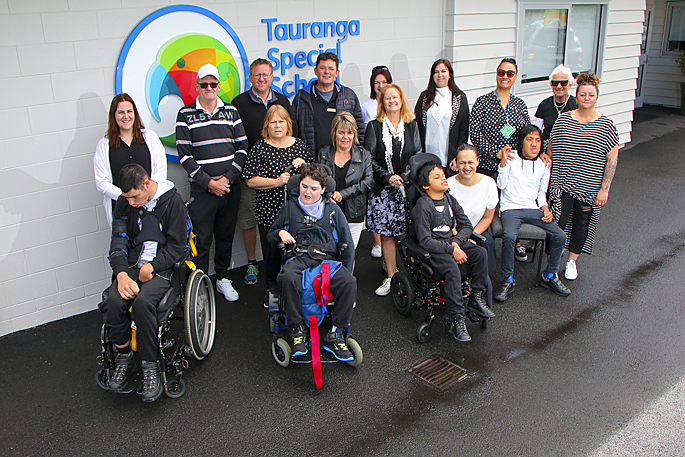 It was a sea of black and white at Tauranga Special School today, but the monochrome mood is for a good cause.
Staff and students donned their black and white best to show support for school support staff who are advocating for pay equity and greater job security.
Today is the final day of the support staff's week of action and this afternoon they're gathering at the Labour Member of Parliament offices in Greerton to picket.
A Tauranga Special School teacher aide says special school teacher aides deal with a lot more than an aide from a mainstream school.
"One class we have people with kids that are very severely disabled, that are in wheelchairs and you're spending all your time lifting, you're doing your day to day care as well.
"It is a lot different than a mainstream school, we're dealing with kids that if staff didn't know how to deal with them they could die."
She say many teacher aide haven't had a pay rise in years because the budget doesn't allow for it.
"A lot of us have been here for a long, long time, and we haven't had a pay rise. I haven't had a pay rise for eight years."
Support staff are paid from each school's operations budgets which covers things like power and office supplies.
TSS Principal Barrie Wickens says support staff are the glue that keep the school together.
"Our support staff are absolutely critical for our school, without them we would have to close. We just could not stay open without the 45 plus support staff.
"Most principals would simply say that they've been grossly underpaid for many years. So we want to see pay equity."
He says special schools have a higher staff ratio and at his school over half are support staff.
Barrie would like to see support staff paid for 52 weeks of the year rather than 40 weeks they are paid for the hours they do during term time.
"We really want to see this pay equity delivered from the government that will make a significant hourly rate difference.
"But associated with that we want to make sure that in our school, we would like support staff paid all year.
"On a wage that runs through 52 weeks of the year and the school gets a guaranteed staffing money to employ them on permanent basis that would be echoed across mainstream schools."
He says that full time hours for support staff at the school is between 25 and 28 hours because the budget doesn't allow for more.
"There's not enough money to pay 35 hours. Schools would really love teacher aides and support staff to actually start at eight o'clock and finish at four."
He agrees that special school support staff deal with a lot more than those at mainstream schools.
"There's considerable high risk in special schools around some challenging students, not all students are challenging, but there's a lot of personal care that goes on.
"You're talking about the real basics of life, nappies, toileting, feeding all sorts of things.
"These folk have hearts of gold they do way beyond their hourly rate, they are dealing with at times, very, very, extremely challenging kids right through to the age of 21."
More on SunLive...