Emergency surgery after swallowing fishing hook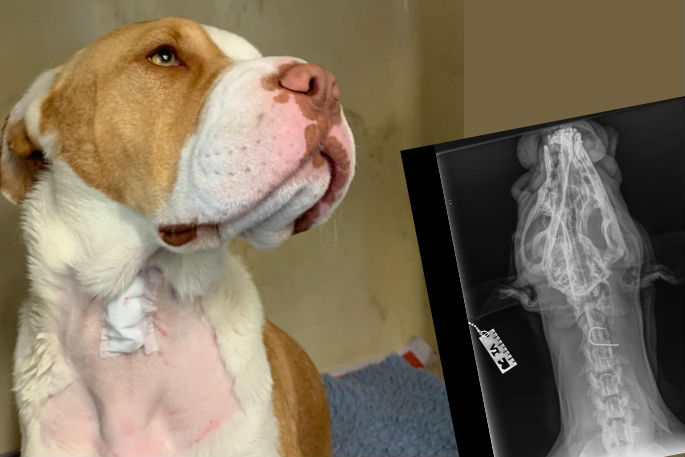 A dog owner's morning turned upside down on Wednesday after her beloved pup went into major surgery from swallowing an old fishing hook left at Arataki Beach.
Tatiana Manion, who goes to the beach with Rosie daily, says she often picks up hooks, lines, and fish skeletons that have been dumped in the dunes.
Now she is urging fisherman to be more cautious and clean-up after themselves.
"We live in a country where there is a rubbish bin located at every beach exit. Because of your unconscious stupidity, you have left my family heartbroken hoping for the best outcome for our dog," Tatiana's post read on a community Facebook page.
The hook lodged itself in 1-year-old Rosie's throat, perforating the esophagus and leaving her in a great deal of pain.
Tatiana says it was just a regular morning at the beach until she noticed a fishing line hanging out of Rosie's mouth.
"I went to the put dog poo in the rubbish, and she had eaten the fishing line and hook when I got back."
Rosie was trying to get the fishing line out with her paws, Tatiana says.
The adopted pup was taken straight into surgery at Beach Road Vet Clinic in Papamoa.
"They didn't know if she was going to survive because it was stuck in her throat, the kids and I were so sad," says Tatiana.
The vet who operated on Rosie, Brett Kirkland, says the dog had to undergo major surgery to get the hook out. Despite complications, he says at this stage she is "doing fine".
"We might get an infection from the hole in her esophagus, but I expect her to recover."
Brett attends to about two animals that have consumed fishing hooks each month, saying it can be life-threatening and is "a far too frequent occurrence".
His advice to pet owners? "Watch what your animals are doing on the beach; if they find a baited hook they will eat it.
"Do not pull it out, cut the trace as short as possible to avoid pulling or snagging and seek advice from your vet as soon as possible."
Friendly, shy but very playful is how Tatiana describes the family pup.
"Please pick up your rubbish, to save another dog from going through what our Rosie did."
More on SunLive...