Week of action for school support staff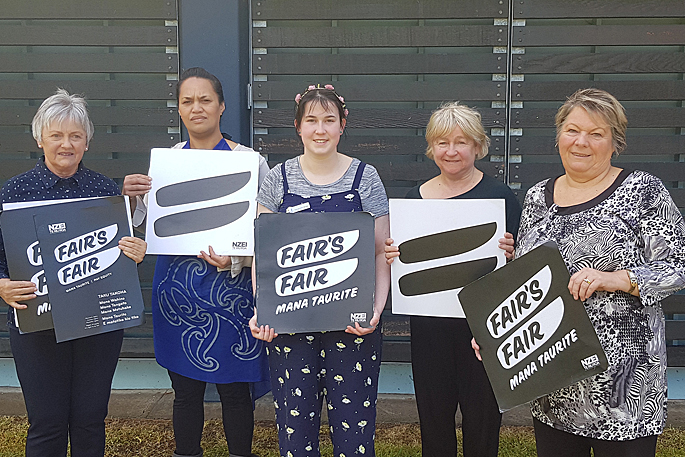 School support staff are in the middle of their week of action advocating for pay equity and better job security.
Support staff at local schools are dressing in black and white to show their support and on Friday everyone at Tauranga Special School will be wearing monochrome outfits.
Throughout the week hundreds of letters and emails have been flooding local members of parliament and Education Minister Chris Hipkins' inbox.
School support staff encompasses a wide range of roles at schools, including librarians, administrators, lab technicians, as well as teacher aides.
The New Zealand Educational Institute is the union for school support staff and it's negotiating with the Ministry of Education.
Barbara Turley is an administrator and enrolment officer at Tauranga Primary and has been an NZEI member for 20 years.
She says the week of action has been really good and different people are doing different things.
On Friday afternoon, support staff are picketing outside the Labour Member of Parliament offices in Greerton.
The goal is to raise awareness about the important role support staff play in schools and to get action from the ministry, says Barbara.
"We want to try and get people to understand that these people you see in the school, outside of being a teacher, are hugely valuable for the school and just need a little bit of job security and a little bit more money."
Currently, support staff are paid from each school's operation grant, which covers operational expenses such as power and toilet paper.
Barbara says if there is over spending in other areas of the operations fund, then support staff hours can be reduced and there's no room for pay increases.
Support staff want to be paid from central government funding so there is greater job security and better pay, she says.
Often support staff, especially teacher aides, are unsure how many hours they will get each week.
Over the next month, teacher aides will find out if they have a position at their school next year because schools are reviewing funding.
"Several have been given notice that they won't be [getting hours]. There's been some very harsh decisions made by some schools and some of the teacher aides have passed it on to the ministers about not having a job next year."
Barbara says they are not asking for a big increase just 2.9 per cent and increased job security.
"We're not going for a huge amount. We know that unless the funding changes, the schools' can't afford a huge amount."
Currently, 72 per cent of teacher aides earn between $17.70 an hour and $20.69, 18 per cent earn the minimum wage of $17.70, nine per cent earn between $20.69 and $24.70.
Negotiations between the union and ministry have come to a standstill and no progress has been made, she says.
"We haven't been invited back to the table so there's nothing come from it yet. So that's frustrating."
Barbara says there are two negotiations happening one for pay equity for teacher aides and the other is their current contract.
She says, the pay equity negotiations are more complex so she understands why that is taking longer but they want action on their current contract.
"Our general contract, the one that we work on, that we get paid by now, that we are asking for an increase on needs to be settled because that's not just the teacher aides that's for all support staff."
The collective agreement for support staff ran out on June 16.
More on SunLive...