Timetable clash nurtures new direction for James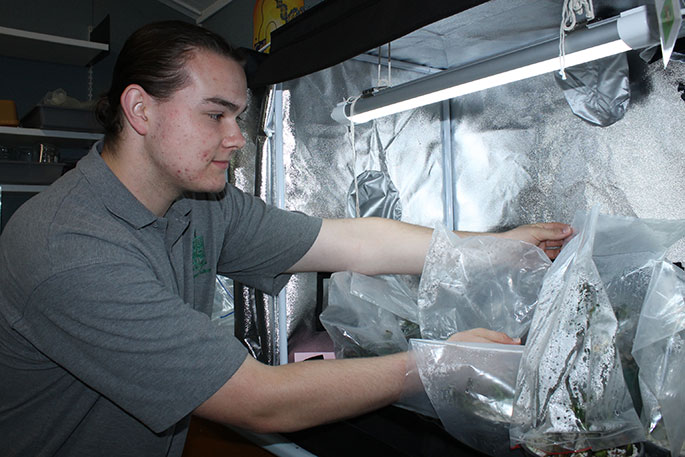 A timetable clash led James Evans to accidently discover a subject which looks set to take him on a completely new career path.
"At the start of the 2019 school year I found some of the classes I wanted to take clashed, so I almost randomly decided to take horticulture," says the 15-year-old Katikati College student.
"Now I'm really pleased I did and have decided to study for a degree in plant biology at Massey University instead of concentrating on biology," says James who has achieved NCEA Level 1 with excellence this year.
"I'm sure taking horticulture has helped me achieve that result. I intend to take horticulture again next year and the year after."
James is not alone in discovering the appeal of the college's Innovative Horticulture Programme.
Under teacher Hilary Johnson, student enrolments have grown from 19 in 2018 to 48 in 2019 with an anticipated 70 taking part in 2020.
The course Hilary has structured offers students a modular, flexible and future-focused programme of learning which caters for both those who want to learn the hands-on, practical areas of the subject and those who wish to pursue its more scientific aspects.
"Once I started horticulture, I found plant biology was much more interesting than biology and I think it offers exciting prospects for the future, including if marijuana becomes legalised for medicinal purposes and if public attitudes to gene editing change."
The Katikati College Horticultural department currently operates from small facilities adjacent to an area with raised gardens and a tunnel house.
However, it has a range of sophisticated equipment, much of it donated by local companies and organisations which enable students to carry out experiments.
This includes equipment to monitor and record the respiration of kiwifruit and 'Jungle Tents' which create controlled conditions for experiments.
James is looking forward to mid-next year when it is hoped a planned new purpose-built facility will be commissioned to house the Katikati College's Innovative Horticulture Programme.
The $500,000 building will also be a venue for training providers to run courses for young people not in education, employment or training and assist them into employment, as well as adults seeking to upskill in horticulture.
The Katikati Innovative Horticulture Trust has engaged with major industry and regional stakeholders, all of who have shown overwhelming support for this initiative.
With a full business plan, the trust has support from Zespri, New Zealand Kiwifruit Growers Inc, Priority One, industry leaders, Katikati horticultural businesses – and financial pledges of $200,000 for the new facility. To donate or learn more go to: https://givealittle.co.nz/cause/innovative-horticulture-is-the-future https://www.facebook.com/kihproject or contact kkhort_trust@katikaticollege.school.nz
More on SunLive...