More typical springtime weather on its way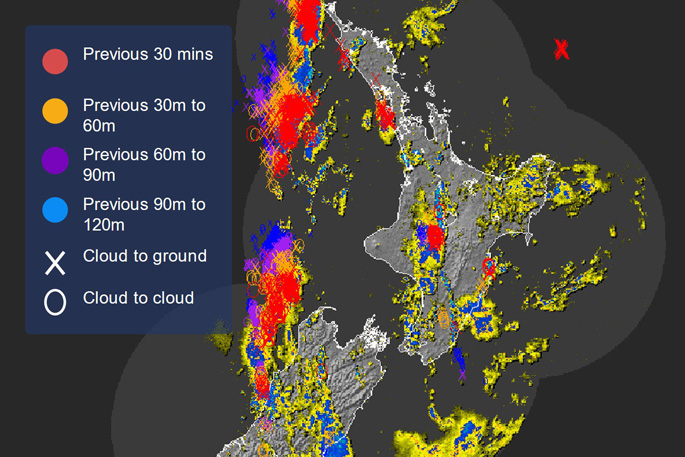 More than 3300 lightning strikes have been detected in New Zealand overnight.
Bay of Plenty are reporting hearing a thunderstorm roll through the region on Sunday.
The MetService is reporting more than 3300 lightning strikes has been detected over NZ at 4.21pm, yesterday.
Meteorologist Tui McInnes says in the past 12 hours, 136 lightning strikes were recorded over the Bay of Plenty region.
He says the weather for the rest of the week is a "typical spring time set up, which isn't too bad for Tauranga as a whole".
"What we're looking at is remnants of the system from yesterday. So forth, it's kind of on its way out as it moves away to the east from the country, which speaks to most of the North Island."
For a Monday, Tui says the weather isn't looking too bad.
"There's little chance of a few showers from a front that's sitting up around Northland at the moment that looks like it might pass down and go over the Bay, although it looks offshore at the moment, which would mean for quite a pleasant day.
"As we go forward into Tuesday, we've got quite nice weather, there's a risk of some afternoon showers, although most of those look like they'd be held back in the Central Plateau, and it leaves things looking quite nice through Wednesday.
"It's not really until Thursday that you're looking at getting the next wet period. Another springtime front passes over the country on Thursday, which will migrate up northwards, and go through the Bay of Plenty, which will make Thursday a bit wet, and possibly sort of showery on Friday as well.
"But once that passes, once again things start to fine up a little bit more, before the next front to come through which could be later in the weekend or at the start of the next working week."
Temperature wise, Tui says they are looking pretty steady at the moment.
"You're looking around the late teens, early twenties for the daytime max temperatures, and the mins overnight they drop down to maybe the high single digits or the low teens – which is actually really not too bad. They look very typical with what you'd expect for spring."
More on SunLive...