Popular Te Puna Quarry Fest cancelled due to rain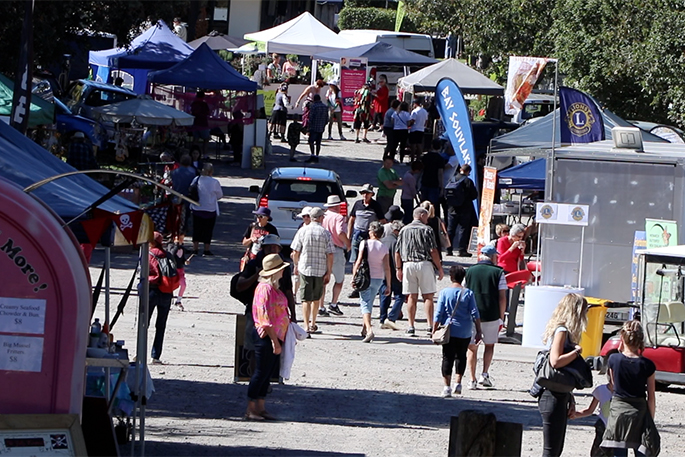 The Te Puna Quarry Fest has been cancelled today due to the weather.
"Unfortunately there's already quite a bit of mud there overnight, and with more rain expected mid-morning, it's going to turn it into a mud bath," says Bethlehem Te Puna Lion member Bernie Allen.
The club is endeavouring to contact all stall holders and will be offering them the opportunity to have their stall holder fees transferred to the Autumn Quarry Fest in April 2020.
The Lions had originally planned to go ahead with the Quarry Fest today whether it rained or not, but the recent dry conditions along with the rain overnight has made the terrain unsatisfactory for running the event.
Five bands, over 100 stalls, new sculptures as well as plenty of food, entertainment and fun were part of what the organisers of this year's Quarry Fest had planned for the thousands of people who were expected at the Te Puna Quarry today. Paddocks for parking as well as shuttles to run people up the road to the park and back to their cars was also organised. Some stall holders were planning to come down from Auckland to the event which has been growing in popularity each year.
The park also has a new sculpture recently installed near the old digger providing an additional attraction for those who love to go see the art works on display around the quarry.
The Quarry Fest is held in November each year and features craft stalls, food stalls, and entertainment. This is the Te Puna Quarry Park's main fund raiser for the year.
"All that money that would have been raised today by the Bethlehem Te Puna Lions through the Quarry Fest would have gone straight to supporting the Te Puna Quarry," says Bethlehem Te Puna Lions member Ian Calvert.
"The committee have been up there getting ready for Sunday, they are all volunteers and do a sterling job with the park."
Any enquires please contact Ian Calvert on grentrust@xtra.co.nz, or phone 07 5791629 or 0274 874 807
More on SunLive...