What's on today – Markets, cricket, the Gypsy fair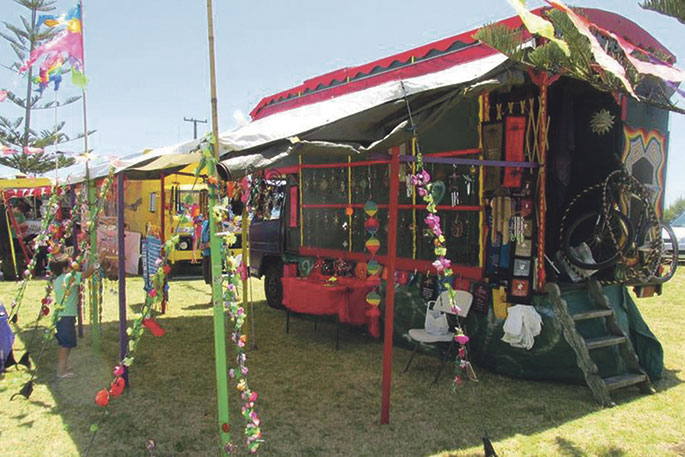 Good morning.
Welcome to the weekend, there's plenty to do in the Bay today including international cricket and a Gypsy fair.
The temperature today is slightly cooler than yesterday with a high of 19 degrees and a low of 16. It will be mostly cloudy with showers later on this evening so make the most of the day before the rain arrives tomorrow.
Head to Blake Park today to watch the New Zealand Blindcaps take on Bangladesh Blind Cricket in a T20 match at 9:30am and 2pm, there's also a game tomorrow at 11:30am. It's incredible to watch these vision impaired players compete.
Check out some great local small businesses and start your Christmas shopping at The Little Big Markets at Coronation Park from 9am to 2pm.
Tauranga Farmers markets are on as usual at Tauranga Primary school until midday.
For something different head to The Original Gypsy Fair at Simpson Reserve, Papamoa from 9am to 5pm. It's a fun filled day for the whole family with something for everyone, and entry is free.
Other events happening today are:
Maniacs United Professional Wrestling: Tauranga
---
Tease on Tour
Jasmine Tease has teamed up with producers from all around the country to bring you "Tease on Tour"; a spectacular night of burlesque, dazzling dance & comedy. R18, 8pm-11pm Our Place, 91 Willow Street.
Baypark Speedway and Fireworks
Racing this weekend are Sprint Cars, Super Saloons, Stock Cars, Mini Stocks and Midgets. To celebrate Guy Fawkes Day, Speedway will finish with a spectacular display of Fireworks to light up the sky. 7pm-10pm at Trustpower Stadium.
---
Art & Craft Expo
Pacific Coast Village 210 Maranui St Papamoa. 9am-3:30pm. Free entry. Quality art & crafts for sale. Great ideas for Christmas gifts.
---
Art In The Park
Original art for sale. Weather permitting. 9am-4pm, Coronation Park, Mt Maunganui. Tauranga Society of Artists
---
Bay Network Social Singles
Single, over 50? For weekend dinners, barbecues, pot lucks etc. & an annual trip away, Ph Jonathan 572 2091, Maureen 021 112 3307
---
Bayclay Exhibition 2019
Presented by Bethlehem Pottery Club 10am 4pm at Baycourt Exhibition Hall, 38 Durham St, Tauranga. www.facebook.com/bayclayexhibition
---
Beth-El Messianic Family
Celebrate the Sabbath (Sat) as Yeshua (Jesus) & all early believers did. All Welcome. 10am, Otumoetai Primary Hall. Joel van Ameringen 021 768 043 www.BethEl.org.nz
---
Bromeliad Display and Sale
8am-12 only. Matua Hall, Levers Rd. Bromeliad plant display & sales tables. Growing advice. Raffles & some door spot prizes. Free entry.
---
Coffee n Chat 60+
R u interested in meeting up with a friendly group for a coffee n chat 10am. Marlene 027 342 0698 or marlenehurle@xtra.co.nz
---
Community Yoga Class
9am. Bring your friends. Enjoy community chai after class. $5 or free to LightRoom Members, 325 Maunganui Rd. Ph Rayna 027 464 0691 rayna@thelightroom.studio
---
Garden Ramble
Katikati Rotary's biennial event: Up the Garden Path. 9am-5pm. Weekend tickets $20, available from Katikati information centre, or gardens on the day. Wet or dry.
---
Genealogy Informal Group
Stuck with your family research? Come along for helpful ideas. 1:30pm Brain Watkins House, cnr Elizabeth St/Cameron Rd. Janet 576 8835 evenings.
---
Honest Liars Comedy Show
Improvised comedy, no script. Everything made up on the spot! Suggestions from the audience inspire the scenes. 7pm Litt Park Theatre, Park Lane, Te Puke. Tickets & info at www.honestliarsimprov.co.nz
---
Jigsaw Library
Welcome to the St Stephens Jigsaw Library 10am-12noon. Hire: $1 for 1000+ piece, 50c under 1000 piece. Cnr Highmore & Brookfield Tce, Brookfield
---
Katikati Lions Moggies Market
8am-noon. Katikati Memorial Hall, Main Rd. Plants, veges, crafts, raffle, food, xmas gifts & more! Ph 549 3598
---
Mount Scottish Society Dance
Sequence Dance 7:30pm Arataki Community Ctr, Bayfair. Last dance vote, Sheldon's Dance Band. $7. Organized by Mt Maunganui Scottish Society. Ph Erica 576 0578
---
Otumoetai Tennis Club
Adult tennis. Start 1:30pm. Bellevue Park Windsor Rd (adjacent to swimming pool). New players & visitors welcome. Ph Victor 027 577 1818 a/hrs
---
Petanque Tauranga BOP
At Club Mount Maunganui Tuesday play starts 4pm, second game 5pm. Saturday play starts from 10am. Maryan 07 552 4346 or 022 070 8200
---
Sign Bomb
Let's talk about/with NZSL (NZ Sign Language)! Espresso Garden Cafe at Mitre 10 Mega 10-11:30am. More info Yuko email:hunyako3@gmail.com or FB: Visual Voices
---
Spiritual Healing Day
Come Pamper Yourself. Therapeutic massage, energy healing, crystals, card reading, intuitive body alignment, numerology, refreshments. $20pp. Ph 0210 252 8641
---
Taoist Tai Chi
Celebrating 50 years internationally & 30 years in NZ. New beginner classes. 15 Koromiko St, Judea 8:30-10am. All welcome. Start anytime. Ph 578 6193 or visit www.taoisttaichi.org
---
Tauranga Fuchsia Group
Annual show Art/Craft Ctr Elizabeth St West. Sat 30 Nov 1-3:30pm & Sun 1 Dec 9am-3:30pm. $3pp. Fuschsia plants sale. Pat 579 1655 or Noeleen 578 4643
---
Tauranga Synchronised Swimming Club
Friendly synchronised swimming club based at Baywave. Beginners train Sat mornings. First lesson free. Ph Jo 027 543 1697, www.taurangasynchro.co.nz or Facebook @taurangasynchroNZ
---
More on SunLive...