Katikati trial aims to improve traffic flow on SH2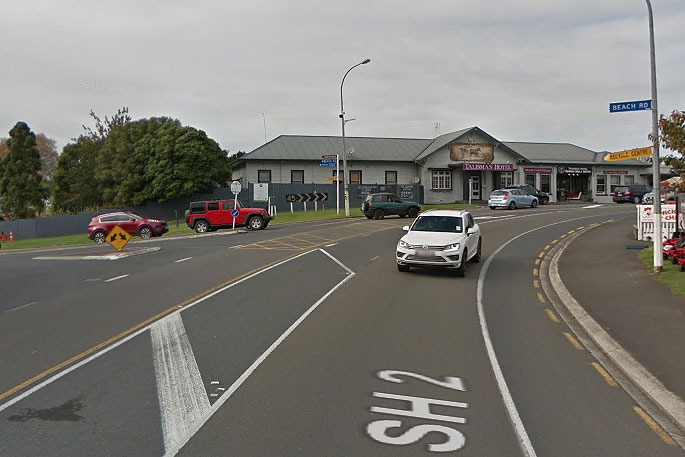 A temporary trial by Waka Kotahi NZ Transport Agency aimed at improving traffic flow on State Highway 2 through Katikati will get underway later this month.
The trial, on Friday, November 22, and Sunday, November 24, will test a possible method for reducing delays experienced during the peak Christmas and summer holiday season.
Acting Director Regional Relationships Ross I'Anson says the trial will be focussed at the SH2/Beach Road intersection, which has historically had an impact on traffic flow during holiday periods.
"The trial involves implementing a no-right-turn into and out of Beach Road, which means access to and from Beach Road will be left-turn only into and out of SH2 for the duration of the trial.
"The alternative route is only for traffic that would otherwise be turning right into or out of Beach Rd. Traffic heading straight through Katikati on SH2 will not be impacted and will remain on the state highway for the duration of their travel through the town.
"This will allow us to test if removing the right-turn option helps improve traffic flow through Katikati.
Once complete, the trial will be assessed and – if traffic flow is improved – may be replicated over the Christmas and summer holiday period, says Ross.
The trial will be active on Friday, November 22, from 1pm-7pm and Sunday, November 24, from 1pm-7pm.
"Traffic data shows that the northbound and southbound peak afternoon/evening period on these days is the best time to test the effects of the trial on state highway and local traffic."
VMS boards will be placed 2-3km north and south of Katikati township, advising motorists of the local traffic detours and likely delays. Detours will be clearly signposted.
Ross says contractors will be on-site during the trial period to assist with directing traffic and monitoring the intersections at Beach Road, and Jocelyn and Fairview streets.
If required, these contractors will be able to make adjustments to improve traffic flow during the trial.
The following detours will be signposted during the trial:
Alternative access for right turn into Beach Rd
Northbound traffic wanting to access residential Katikati, that would usually turn right into Beach Road, will be redirected down Fairview Road.
Alternative access for right turn out of Beach Rd
Traffic coming from Beach Road heading north (towards Waihi) will be redirected down Carisbrooke Street, right into Jocelyn Street and right onto SH2.
Minor delays are expected at the detour routes.
Any questions or feedback about the trial can be emailed to katikati.trial@nzta.govt.nz
Plan ahead for a safe, enjoyable journey this summer. Keep up to date with:
Phone: 0800 4 HIGHWAYS (0800 44 44 49)
More on SunLive...