Tauranga City AFC take out U19 tournament win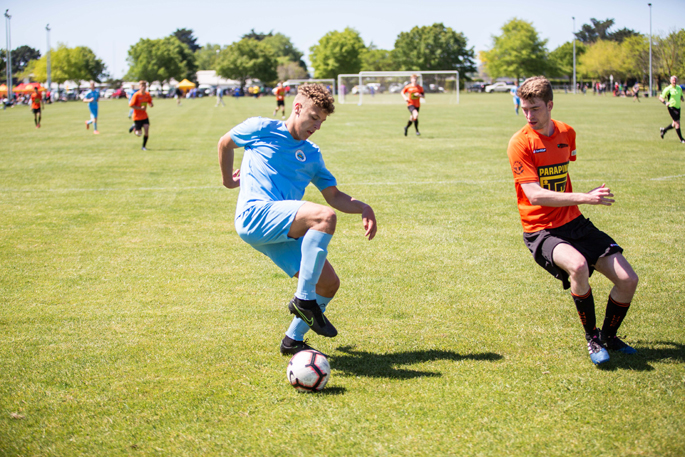 Labour weekend was extra special this year for Tauranga City AFC with their U19 men's squad taking out the national tournament in Napier.
This caps off a great tournament season overall for the club who also had success in the prestigious McCartney tournament in Taupo for their U12, U14 and U15 federation boys teams who all won their respective grades.
This is the first time Tauranga City has won the U19 tournament, in only the second year they've competed in the premier division, which head coach Cameron Grieve attributed to the level of preparation and dedication of the players and supporting staff.
"We opened trials in September and while already familiar with a few of the guys who play in our NRFL first and reserve teams, we were blown away with the numbers and quality of talent on show from our younger players," he says.
"We reduced the squad down to 20 players who then trained for a further six weeks. We had three good performances in pre-tournament friendlies. The boys were in a confident mood in the lead up to Napier."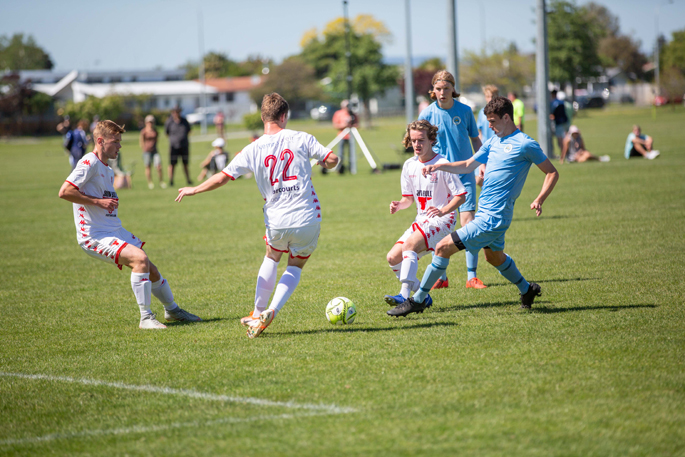 On day one, City got off to a positive start with wins against Melville & Wellington Olympic but lost their third game to Three Kings.
Day two started with another close loss to Birkenhead followed by a deserved win against Upper Hutt, earning a place in the quarter final against Miramar Rangers. Miramar proved to be a very physical contest but City showed their quality and progressed after winning 2-1.
"After the 2 losses the boys really showed their character coming back to win the quarter final in a testing contest," says Cameron.
A well organised Bay Olympic team waited in the semi-final and despite playing better football, City found themselves trailing 1-0 just after half time. A penalty drew them level and a well-constructed goal in extra time setup a meeting with group winners Birkenhead.
This time though City stuck to their game plan and won the final 3-1.
"We approached the game full of confidence that we could achieve the right result," Grieve says of meeting Birkenhead again soon after losing in the earlier round.
"The boys left their best performance to last and put in an accomplished display which they deserve a lot of credit for doing, playing some excellent football," he says.
Tauranga City's Director of Football and first team head coach Barry Gardiner was also at the tournament in a supporting role alongside Jim Burtenshaw, Nic Millichip, Tom Pamment, and Alistair Davidson.
He was impressed with the collective work that has been done leading up to and during the tournament.
"It's really pleasing for the club to have successes like Napier and Taupo [McCartney Tournament], but I also believe that it is exciting for the whole of the Bay of Plenty as there are many people in the area that have helped developed this group of young men on and off the field over the years. It's something we can all be proud of.
"I am especially pleased to see such good progress from the talent pathway we have put in place at the club. We're working hard to provide our junior and youth players with the right environment and we're happy with our progress."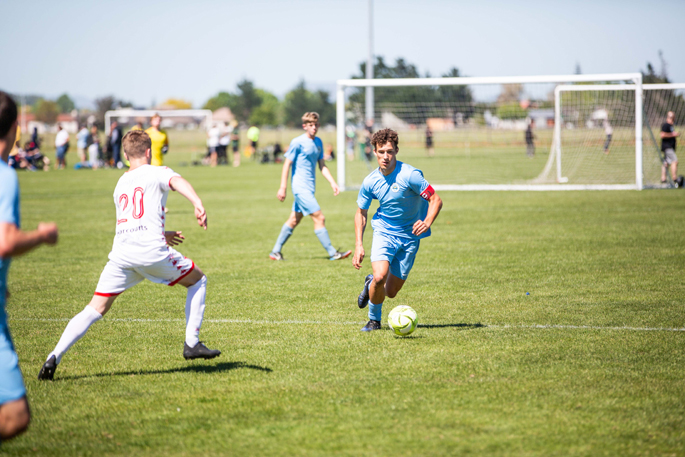 Gardiner, Grieve, Maia Ririnui and Nic Millichip have fronted the club's development programmes this year alongside the Federation Junior and Youth, Tournament [McCartney, U19 Napier and U17 Auckland] and NRFL teams, which also provide a great environment for coach development.
"We focus on development but the results we've had reinforce that our player & coach development programmes are on the right track. We've had a lot of positive feedback recently and I'm looking forward to improving and building on the good work that has been done by many people connected to the club," says Barry.
It's been an impressive rise for the club in the last two years following the merger of Mount Juniors and Tauranga City United. Club chair Brendon McHugh attributes the improvements to the football pathways.
"There's a lot of good people behind the scenes making things work and we had already started building our pathways in 2018, but we knew there was an opportunity to do more. When Barry approached me last year with a draft plan, it was a no brainer to work with him on putting something in place," says Brendon.
"I was looking for a club which had the foundations where I could implement a plan I'd been working on with a group of like-minded coaches. After speaking to Brendon, City was the obvious choice. Brendon's always the first to credit others, but his leadership and vision along with the great team around him has enabled us to make much better progress than either of us had planned," says Barry.
A big focus for City has been the NZ Football aligned development programmes which give players and coaches' opportunities to reach their footballing potential.
"It's about creating pathways across the club, for any role, ability or gender. We want to provide great environments whether it's social or competitive, playing or coaching," says Barry.
"We felt that clubs, including ourselves, were offering reasonable football programmes but we knew there was an opportunity to take it to another level. We also decided early as a club that we didn't want to partner with any private football programme at this stage as they often don't have the coaching qualifications required to obtain the necessary New Zealand Football Club Licensing," says Brendon.
"We're very lucky to have the quality of coaching we do, it's important for our development programmes. Our players and coaches probably don't realise how lucky they are and you can see the results on the field and the enjoyment they are getting."
City are gaining a reputation for their achievements in the last two years with compliments coming from a number of clubs locally and nationally.
"It's the best compliment … for clubs, some of the best in NZ, to go out of their way to complement the work we're doing and the way our players and coaches are representing themselves and the club is awesome. We even got a message of congratulations from Danny Hay [All Whites Head Coach] after Napier. That's pretty cool," says Brendon.
It's not just the NRFL and Development Programmes that are thriving at Tauranga City. With increased membership numbers this season, noticeably in girls' football, Brendon is impressed with where things are at.
"It's exciting to watch the teams develop, especially girls football. You can see the numbers increase each year and we now have girl only Mini Blue (ages 4-6) teams whereas two years ago it was mixed to make up numbers. We're pretty proud of our girls and women's teams across the club".
Tauranga City's Women's first team just missed out on winning another league title but City's U10 and U13 girls teams both won their respective leagues this season so the future is bright.
"Our U13 'Black Mambas' have now gone undefeated in three seasons! They've won titles across the North Island and are awesome to watch, while our U10 Taniwhas are following their lead. Their training sessions align to the NZF Skills Centre curriculum, which focuses on developing core skills," says Brendon.
In the Senior Men's space, Tauranga City added a new team to its ranks this season to bridge the gap between the BOP League and NRFL. Coached by Jim Burtenshaw, they finished a credible third in their first season.
"We needed to increase the pool of players coming through for NRFL and we're looking forward to growing our presence in the WaiBOP leagues next year," says Brendon, "Don't underestimate the quality of our Bay Men's teams either, both teams won their divisions this season with our Bay Relics then going on to win the Miller Cup to clinch a double."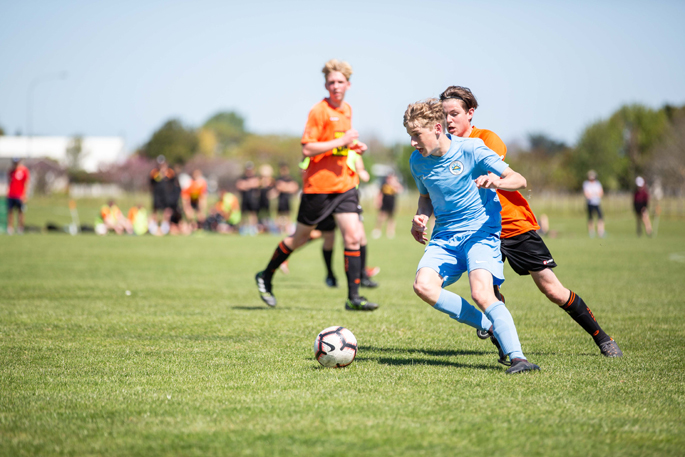 Focus now shifts to the summer season and while a lot of winter sports start to shut down, football continues all year round with development programmes continuing and Futsal underway.
"There are no breaks anymore," says Brendon.
"There's always been a form of football over summer but Futsal is part of the NZF curriculum with officially run leagues for social and competitive teams. It's a form of football that's very popular internationally and we wanted to increase our offering this year so we've brought onboard Kieran Mischewski as Head of Futsal Development.
"Kieran has his NZF Futsal C License, the highest in the region and one of a handful in NZ, so we're very lucky to have him as part of our development programmes. In the winter he coached our Federation girls' teams within the Talent Development Programme."
Tauranga City are definitely a club going from strength to strength but Brendon believes as a region we can do more.
"I talk a lot with the other clubs in the region and there's a shared view that we need to work together more, pooling our resources so that we're able to compete at a higher level. We have the talent here, but we often lose these players to other clubs who can offer that next step.
"With the recent changes to the National League format there is scope for the region to compete at the very top level. However it will require a collaborative approach. What we've started as a club aligns itself perfectly to these (National League) changes so we're definitely moving in the right direction. We can be happy continuing on as we are or take the next step".
More on SunLive...