Omanawa Hall bookings in doubt after fire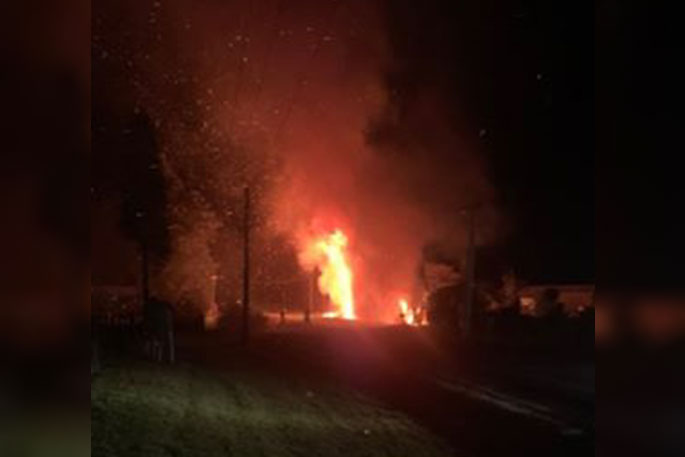 Any future bookings for events at the Omanawa Hall are in doubt today following a dishonest booking, disorderly behaviour and a nearby shelter belt fire on Saturday night.
Police were called to a disorderly gathering outside the Omanawa Hall at 11.30pm.
Fire Emergency New Zealand also report the Greerton Volunteer Fire Brigade were called to a shelter belt fire at 11.30pm, located near the hall.
Although the fire was put out within about 30 minutes, the irreparable damage to the nearly 100m line of trees, as well as the behaviour from those hiring the hall has left the local community angry and frustrated.
"We know that the shelter belt was hit by a firework, and that the young people in the hall were responsible. Police and fire services were called," says a local resident speaking to SunLive on Sunday.
"Apparently the hall was hired to adults who said they were hiring it for a 40th birthday function, but they left youth there for a free-for-all.
"The local community, who volunteer to help run the hall and organise community events, are feeling quite angered this morning. The hall is a mess, with broken glass outside, and the volunteers who run the hall are down there having to clean it all up."
Omanawa Hall committee treasurer Robbie Inglis was one of the first people at the scene on Sunday.
"One of the parents actually showed up. Her daughter had been one of the organisers. She was very disappointed and frustrated, I'll go so far as to say angry at the way the property had been treated," says Robbie.
"What came to light, and something that I am really frustrated with is the intention was always for it to be a young person's party, even though it was booked as a 40th birthday party.
"We have a volunteer who manages the hall bookings. His trust was completely betrayed. He met with the person who wanted to have his 40th birthday party there. That person filled out the hall hire application form on the basis of it being for his 40th birthday party and then he proceeded not to be there.
"It was an organised event, and I got the impression from conversations that the organisers thought it was going to be a regular occurrence but of an entrepreneurial undertaking," says Robbie.
"The whole hiring and engagement was done in a dishonest manner because it was never intended to be a 40th. It was always going to be a young person's gathering with a door fee charged.
"Having a charge on the door is effectively subletting, which again is something else that's not permitted under the hall hire agreement. I believe an amount of about $1000 was taken through the cover charge."
Robbie thinks the money taken at the door by the youth party organisers should be handed over to the hall committee to help with ongoing hall costs, power and maintenance.
"We do numerous fundraising events to maintain the hall, so that there is a community facility here. There was an exercise undertaken by the hall committee a couple of years back to fully reclad the hall as part of its maintenance, and that took a lot of fundraising.
"We have lots of volunteer work with working bees for the gardens. Someone down the road has a Jim's mowing service franchise and does the outside maintenance of the lawns as a goodwill gesture. We have to raise money to maintain the hall, that's why we hire it out. I don't think it would be appropriate for the party organisers to profit out of Saturday night.
"There are a number of holes punched in the interior walls and other panels kicked down in the men's toilets. Some of the exterior cladding was also broken."
Robbie had to travel out of town on Sunday, and heard later that some of the adults associated with the teenagers had showed up and tried to undertake repairs themselves.
Before leaving the hall on Sunday, he met one of the girls there who was involved in organising the event.
"She said that the people who were firing the fireworks around weren't directly associated with the gathering or the group. She says they were actually people who tried to gate crash and were turned away and that their response was doing a few drive passed to fire off fireworks or something at some of the people that were still outside. So she sort of felt that she wasn't responsible for that. "But you know, if they weren't there that wouldn't have happened."
The Omanawa Hall committee have already liaised in the past with the hall neighbours to ensure that events held did not impact adversely on the nearby community.
Robbie feels recent events have potentially put the hall/neighbour relationship under strain.
"We feel as a committee for the neighbours because there were a couple of hire activities earlier on in the year where there were younger people involved. The view of the committee initially was to give them somewhere where they could gather safely with the right adult supervision.
"However, there's only so much influence an adult can reasonably exert. At that time there was some minor damage done, some disrespect and the place was sort of messed up with the floor sticky and so on.
"So at the last AGM it was agreed that they would be no hiring to for any sort of events or parties for under 25-year-olds, unless it's like a five-year-old's birthday party on a Sunday."
The committee passed the motion and published to their Facebook page that the hall wasn't to be approached for young adults or young people's parties.
After Saturday night's behaviour, the committee is thinking about shutting down evening events altogether over summer.
They will first hold a meeting with the immediate neighbours to provide an opportunity for everyone to voice frustrations and for the committee to respond to the concerns raised.
"The people across the road – we're off their water bore, so we rely on their goodwill to provide water to the hall. There's the damage to that shelter belt. I don't expect that it will recover or regrow.
"There's another example further down the road from a couple of years back where a shelter belt caught on fire and those trees never recovered."
Robbie estimates that about a 100m stretch of shelter belt of established trees has been affected.
"They would need to be cut down and replacements planted and then obviously it takes time for those to re-establish themselves."
"One of the things that we would potentially look at is, apart from qualifying existing bookings, is potentially not having any evening functions for the next six months. I think the hall has developed a reputation as a party venue and we don't want that."
The hall is used for a Wednesday dance fitness class, education classes for kiwifruit workers, market days, and a wedding has recently been held there.
There are also monthly community 'catch-up' gatherings.
"We've got plans as a committee for further native plantings, and possibly development of some of the area out the back. We've even looked into putting in a playground to make it more of a facility for the community. There's always ideas being put forward. Last year we had grazing with a couple of beef, then we did some hay – and that's usually done by goodwill of professional contractors. We then sell the hay for funds to try and maintain the upkeep of the hall."
"It's all part of the community. Everyone was really pissed off yesterday and quite raw.
"If they hadn't been having the party there, then they wouldn't have attracted the drive-bys. We need to understand the consequences associated with decisions."
"There's obviously some lessons to be taken out of this. Maybe we should be looking at a process for lodging a bond or for qualifying people, but we try to be trusting, and try to assume the best of people from the outset."
More on SunLive...