Saffi Vette through to final day of World Champs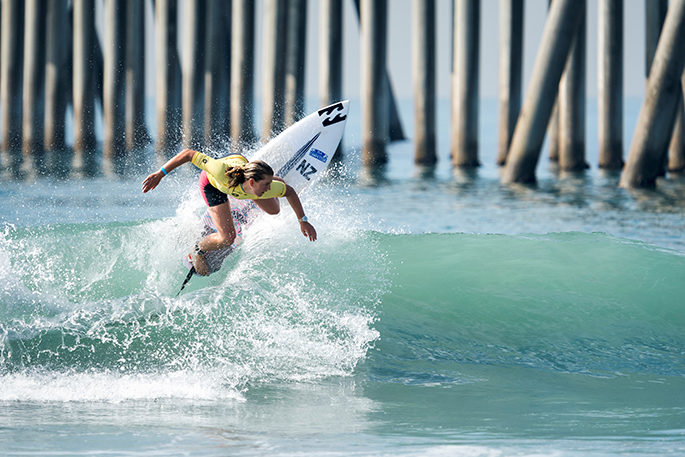 Another arduous day of competition has seen 17-year-old New Zealand ripper Saffi Vette advance through to the final day of competition at the Vissla ISA World Junior Surfing Championships in California, keeping Kiwi hopes alive for a podium finish.

New Zealand now sits in twelfth place overall with results on the final day potentially swinging the final ranking by as many as three places up or down the rankings.
A podium finish by Saffi would be the first since 2016 when Elin Tawharu won bronze in the Under 16 Girls Division.

Saffi surfed through three rounds on the penultimate day of the event being held at Huntington Beach, the small waves under 1.0m in size doing little to hinder the natural-footers performances.

Saffi posted heat totals of 12.0, 9.2 and 8.04 in her three heats.

In the final heat of the day, she had to come from behind after sitting in third place to clinch second and advance after surfing her two best rides in the last three minutes of the heat.

"There were small waves coming through and it was super lully so staying patient was the key. I knew that a wave would come to help me progress and I believed that Tangaroa would send me it and a fun left came through and I got the score" says Saffi of the scenario that looked like ousting her out of the event.

"I have had to adapt to every heat as the waves change regularly here. I have reset between every heat, I'm staying well rested and hydrated, energised and focussed on the job that needs to be done."
She added that her successful approach has seen her contest six heats in the last two days.
With a further two heat progressions required to qualify for the final, Saffi has nothing but that in her sights.
"Let's make it to the final, the team chant is my fire up and the team has been doing a great job supporting me, they are amazing and I'm stoked that I'm making them happy by making heats," says Saffi.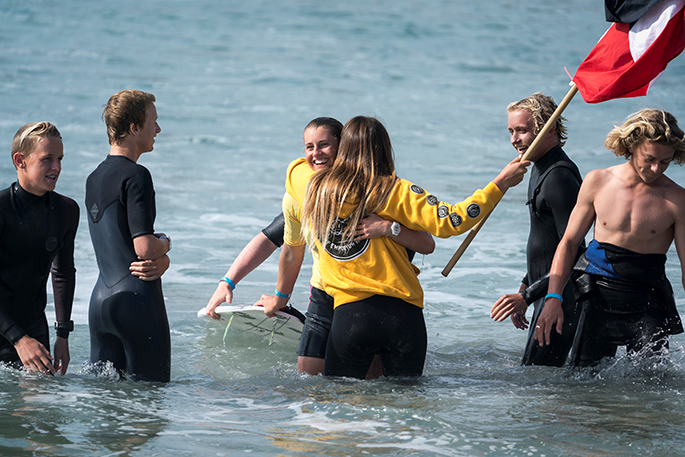 Saffi getting greeted by the team after her final heat. Image courtesy of ISA / Reed
Saffi will be in action at 3.40am on the final day of the event and will face off against Sara Wakita (Japan), Sanoa Olin (Canada) and Nyxie Ryan (Australia).
Results from day seven of the 2019 Vissla ISA World Junior Surfing Championship being held at Huntington Beach today, Sunday November 3:

Under 18 Girls Division Repechage Round 6
Heat 3
Saffi Vette, NZL, 12, 1, Alyssa Spencer, USA, 11.34, 2, Rachel Presti, GER, 6.77, 3, Kalea Gervasi, PER, 3.47, 4

Under 18 Girls Division Repechage Round 7
Heat 2
Sara Wakita, JPN, 14.34, 1, Saffi Vette, NZL, 9.2, 2, Mathea Olin, CAN, 8.76, 3

Under 18 Girls Division Repechage Round 8
Heat 2
Sanoa Olin, CAN, 10.57, 1, Saffi Vette, NZL, 8.04, 2, Mafalda Lopes, POR, 7.26, 3

Day 5 schedule, in New Zealand times:
Podium 1 (Live webcast)
3:40am – Saffi Vette – Under 18 Girls Repechage Round 9
6:20am – Under 18 Girls Repechage Round 10
7:50am – Under 18 Girls Grand Final

The team is competing at the 2019 VISSLA ISA World Junior Championship being held at Huntington Beach, California, USA from the October 26 – November 3. In 2018 the New Zealand Team placed twelfth overall. Japan stunned the event winning the team title over USA and Australia.

The championship is the largest junior surfing event in the world playing host to over 340 surfers from 44 nations in 2019.

More on SunLive...