Deeply respected theologian visits Te Puke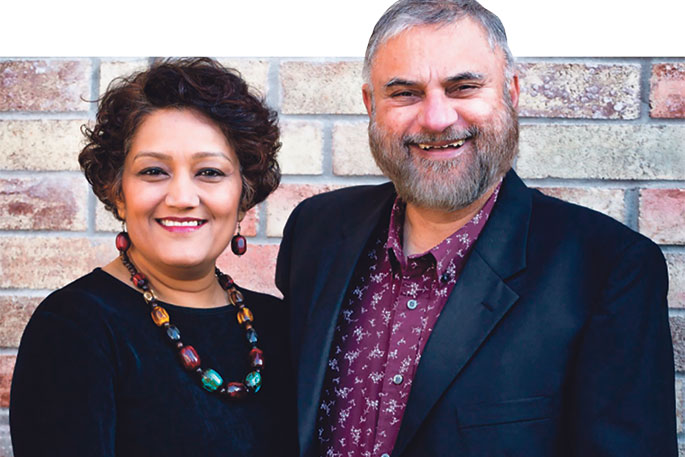 He could be a bridge to better understanding between the Sikh and Christian faiths in the orchard town of Te Puke … a town in which Punjabi is said to be the second most spoken language, a town where Sikhs contribute greatly to the economy, a town which hundreds of Sikhs call home.
"We Christians don't necessarily know a lot about their faith, and Sikhs don't necessarily understand our faith either," says Karen Reeve of the Orchard Church in Te Puke. "It goes both ways."
The Orchard Church is just up the road from the Sikh Temple and the Sikhs even use Orchard facilities for cultural events.
Neighbours, but not close neighbours. And the Orchard Church is hoping the "he" will help improve the awareness between the two faiths. He is Dr Sukhwant Singh Bhatia …. a man raised as a Sikh in the Punjab in the northwest of India, but then later became a Christian.
"Dr Sukhwant Singh Bhatia is a deeply respected man and he can help improve our understanding of Sikhs and their faith," says Karen Reeve. "And we are hoping that through Dr Sukhwant's visit, we can better engage with the Sikh community in Te Puke. And he can talk from both perspectives."
He became the first Sikh convert to Christianity to study at the Dallas Theological Seminary where he earned his Master of Theology. And while pursuing his studies, he made a commitment.
"I made a commitment to contribute to the spread of the Word of God by making it understandable to the north Indians."
The Dallas Theological Seminary magazine talks of the difficulties Dr Sukhwant encountered when he changed faiths.
"On the day he removed his turban, cut his hair and was baptised, his mother screamed and his father threatened him. But eventually his family accepted his decision."
Now Dr Sukhwant Singh is headed to the Orchard Church in Te Puke to share his life's experiences.
"This is something quite big for us, in the hope of better understanding our Sikh community," says Karen Reeve.
Dr Sukhwant has spent most of his lifetime seeking to understand the truth about God, Jesus Christ and the Bible and what that means for a person who grew up as a Sikh in Punjab. And while pursuing his studies, he made a commitment – "to contribute to the spread of the Word of God by making it understandable to the north Indians."
Dr Sukhwant Bhatia is the founder of Seek Partners International. It supports Christian initiatives, helping get the Christian message to the least Christian regions of the world.
He is also consultant for Biblica, the international bible society, and chief editor for its Hindi Study Bible project and Punjabi Standard Bible Project of the Asia Bible Society.
"I am in the ministry not because I fear that God's work won't be done - but because I fear that if I were not involved, it would be done without me."
Dr Sukhwant and his wife Vinita Bhatia will visit Te Puke for a week. On Sunday November 10 he will speak about his lifetime search for truth and understanding. On Wednesday November 13 he will attend a breakfast to discuss issues of faith and life, and on Thursday November 14 at 6pm he will attend a community celebration. There will be a shared family dinner and Dr Sukhwant will share his life story.
For more information go to www.theorchardchurch.co.nz or call The Orchard Church on 07 573 8961.
More on SunLive...