250 years ago today a tall sailing ship went by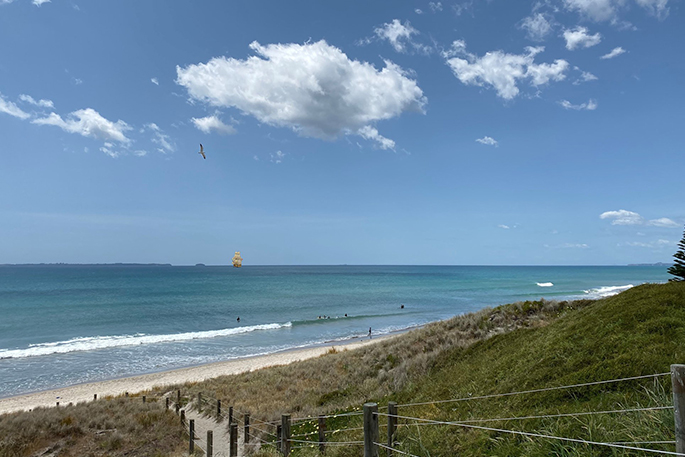 Papamoa's Steve Morris headed down to Papamoa beach about 2pm this afternoon to gaze out to sea.
Steve has been researching his own family history or whakapapa over the last few years, and has learned that according to oral tradition his 23rd great-grandfather captained the Tainui canoe into Tauranga harbour circa 1300, over 700 years ago.
Although hailing from the Waikato, it's nearly possible to imagine the whanaunga of Steve's Maori ancestors standing on the Papamoa beach sand, 250 years ago, watching as a tall sailing ship sailed by.
"It was on this day, at this time, a quarter of a millennium ago that HMB Endeavour could be seen off the Papamoa Coast between Moutohora - Whale Island, and Motiti - Flat Island," says Steve. "Tomorrow, 250 years ago, she sailed passed Mauao and up toward Tuhua - Mayor Island."
Captain Cook and his crew never sailed into the Tauranga harbour, but looking up his diary, it's possible to read his reflections and thoughts as he sailed by.
This except from a journal entry for November 1 1769 records Lieutenant Captain James Cook's first impressions of the Bay of Plenty:
"Wednesday November 1st. 1769. PM as we stood along shore, (having little wind and Variable) we saw a great deal of Cultivated land laid out in regular inclosures a sure sign that the Country is both fertile and well inhabited; some Canoes came off from the Shore but would not come near the Ship. At 8 brought too 3 Miles from the shore, the land seen yesterday bearing west and which we now saw was an Island bore sw1 distant 8 Leagues. I have named it white Island because as such it always appear'd to us. At 5AM made sail along shore to the sw having little wind at ESE and Clowdy weather. At 8 saw between 40 and 50 Canoes in shore, several of them came off to the Ship and after being about us some time they venterd along side and sold us some Lobster Mussels and two Conger ells.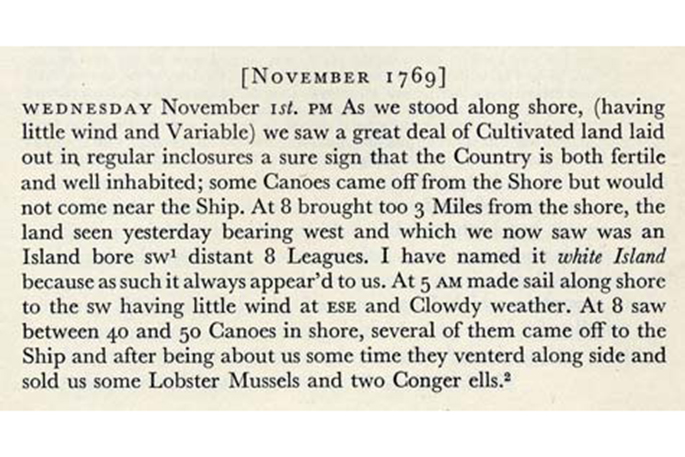 "After these were gone some others came off from a nother place with mussels only and but few of these they thought proper to part with, thinking that they had a right to every thing we handed them into their boats without makeing any return... At 2 P.M saw a pretty high Island bearing west from us and at 5 Saw more Islands and Rocks to the westward of it; hauld our wind in order to go without them but finding that we could not weather them before dark, bore up and run between them and the main. At 7 was close under the first Island from whence a large double Canoe full of people came off to us, this was the first double Canoe we had seen in this Country. They stayd about the Ship untill it was dark then left us, but not before they had thrown a few stones: they told us the name of the Island which was Mowtohora [Motuhora or Whale Island]... on the main land, seemingly at no great distance from the sea is a very high round mountain which I have named Mount Edgcomb."
Noted historian Buddy Mikaere comments that Captain James Cook was appreciative of the established society he observed here in the Bay of Plenty, as compared to what he would have experienced when he first arrived in Port Jackson.
"Captain Cook named Maketu 'Town Point' because of all the fires and villages that he could see," says Buddy. "Clearly he thought it was an established town.
"The Maori saw his ship sailing past, so they raced out to contact him, but in Australia when he arrived in Port Jackson, the Aborigines on the shore just looked up and carried on doing what they were doing. Clearly there was a desire by Maori here to meet with him or see what this ship was about, and they went out and traded the international currency of the time which was food. There was genuine human curiosity."
After sailing past Tauranga, and naming White Island and Mayor Island, James Cook and his Endeavour crew continued on, arriving at Mercury Bay on November 4 1769, on this his first voyage to New Zealand.
On November 9, scientists on board the Endeavour observed the transit of Mercury at Cooks Beach in Mercury Bay.
James Cook was inspired to name this area the Bay of Plenty due to the large areas of cultivated land and the friendliness of local Maori.
More on SunLive...