Blue mats hit the beach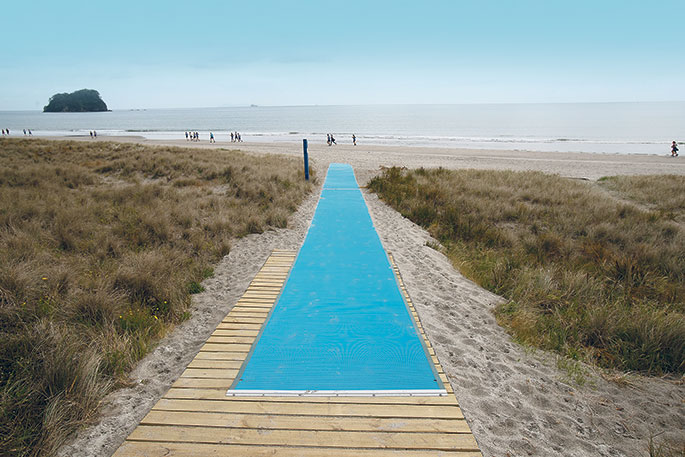 Bright blue mats were rolled out across Mount Maunganui beaches on Labour weekend.
The portable, roll out mats located at Pilot Bay, the Mount Maunganui Cenotaph and Marine Parade assist people who can't easily get onto the sand.
Tauranga Disability Advisory Group co-chair Paul Curry, who has been in a wheelchair for 50 years, says the mats bring about a sense of belonging for people with disabilities.
Beach access mats provide a sturdy path for people that use wheelchairs, walkers, mobility scooters and strollers.
"The beach mats make you feel like you belong on the beach, just like anybody else."
"It means they can get down onto the beach and enjoy the camaraderie of their family and friends," says Paul.
He says these mats are absolutely necessary for the region, as beaches play a big part in everyday life here.
"As the Bay of Plenty, as a sunshine place and as a holiday destination - it's awful when you have to sit on the bank and your family, friends and children can play on the beach."
"People with disabilities feel excluded, the beach mats remove another barrier just like the accessible picnic tables."
In Tauranga, 28 per cent of people identify as living with a disability.
Paul believes the mats exemplify the hard work Tauranga City Council is putting in to include people with disabilities.
He would like to see the mats rolled out across other Bay of Plenty beaches, particularly Papamoa but acknowledges they do not come cheaply.
"The more of these mats we get across the region, the better. It just provides another opportunity for families to be together, and do very normal things that people do," says Paul.
The council will not be putting the mats out in any other locations this year. The beach mats will stay in the three current locations until April 2020.
The cost of beach matting is $20,000 for 60 metres.
It was first trialled at Mount Maunganui Main Beach in 2016.
More on SunLive...