When Dean fell for Foster's Favourite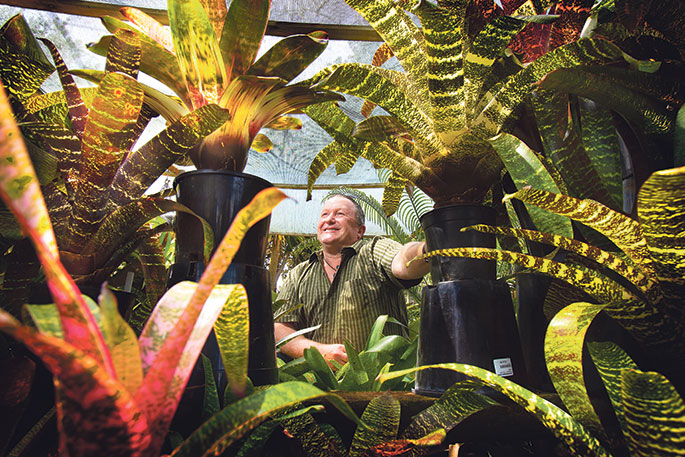 "Mother Nature is my girl, and these are my babies."
Dean Morman, a 50-something-year-old horticulture landscape designer musing on his Papamoa backyard. It's a sea of bromeliads, or 'brom's' to the aficionados, his babies. And Dean is a happy man.
"I get struck by their beauty, the forms, the colours. From black to white, and everything in between."
A picture's worth a thousand words and the gesturing starts.
"Check that one out. That pink one there. Quirky Rose, vriesea splendens, stunning."
Dean's girl, Mother Nature, has painted that plant a brilliant magenta – that mauve-crimson colour. There's certainly a wow factor.
Dean is putting together his 'For Sale' table – some select specimens for the Bay of Plenty Bromeliad Club's display and sale day, to be held at the Matua Hall on the corner of Levers and Hall Roads on Saturday, November 8 from 8am to noon.
Dean Morman was smitten by a 'brom' for the first time in his twenties. Her name was Foster's Favourite with narrow, glossy, wine-red leaves.
"I was wandering through Balmoral in Auckland and saw a sign for a bromeliad sale outside a local hall."
The brom had her own distinctive lantern-style flowers. And a life-long fascination, bordering on obsession, began right there.
It was always going to happen. Dean's Mum was a Taupiri farmer. He inherited green fingers and got a degree in horticulture landscape design.
"Then it was just a case of finding the right plant."
He started off with a cactus and succulents until he met Foster's Favourite, saw the beauty of the bromeliad and how easy they were to propagate and grow from pups.
And he enjoys the fact bromeliad growers have fun with names. There's even a collection of Neoregelias all named for that dark psychological thriller 'Silence of the Lambs.'
"There's Hannibal Lecter and there's Clarice. All good plants but spiky and quite nasty looking – quite aptly named."
Expect some plants named after rock stars or rock songs down the track. In a previous incarnation, Dean Morman was a lighting director for 20 years, ran his own business.
"I did shows and bands at places like the Power Station and the Glue Pot, with all the top New Zealand bands."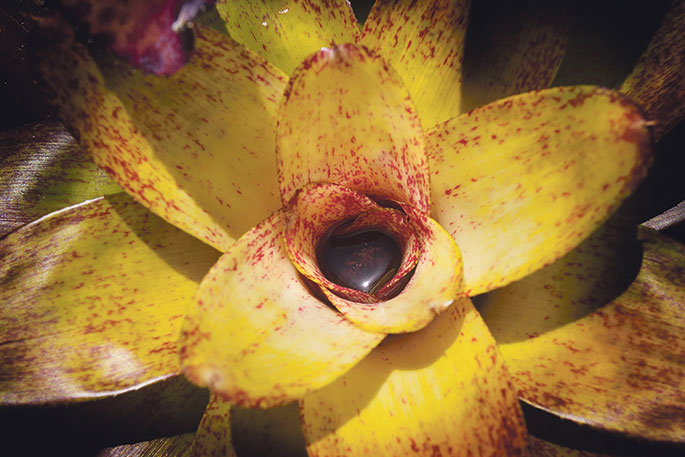 He also shook hands with Paul McCartney, had dinner with U2 and smoked a joint with Bob Marley.
"It was one of my first shows, brilliant!"
When Dean Morman was touring he would stop off and buy a bromeliad or three and throw them in the back of the truck.
"The job was wild and scary. Too much time on the road. Then a friend died while on a tour I was meant to be on. If that wasn't a sign, I don't know what is?"
So he gave it all away for horticulture landscaping. And bromeliads.
Dean Morman figures that after 30 years messing with Bromeliads he is at a "halfway point."
"I am going to hybridise when I get older and I will need the stock to do it. Until now I have been collecting stock."
Dean taps into the wisdom of some wise old heads at the BOP Bromeliad Club.
"Some of them have been collecting since before I was born."
That same wisdom will be on tap for everyone when the club holds its sale and display at the Matua Hall in Levers Road on November 9. There will be displays, sales, special plants not available at nurseries, information and advice, raffles, spot prizes and free entry.
Interesting bromeliad fact – blooms last a very long time, for many months, but they only bloom once. But the mother plant will produce new plantlets called "pups" allowing the bromeliad to be constantly in bloom, even when the original plant is done flowering.
More on SunLive...