Sweating it out to build funds for kids in need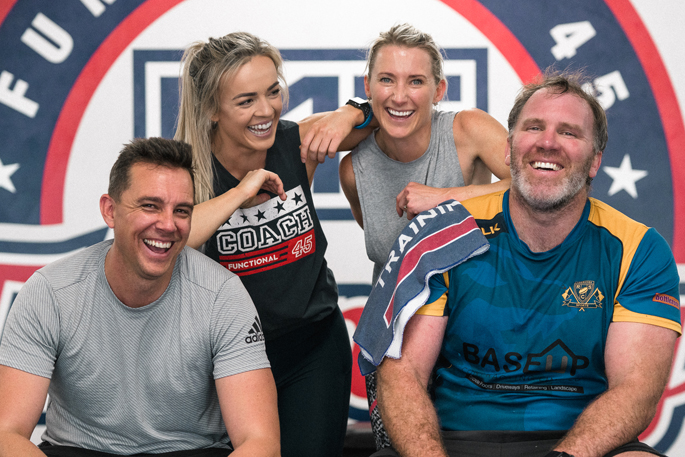 It's been described as a challenge from hell - 13 repetitions of a F45 class in one day.
Four Tauranga locals have spent months building up stamina for this classic challenge, about to be tackled as a fundraiser for a great cause.
The four are all Classic Builders Tauranga staff who have the backing of Tauranga's F45 studio to help raise $20,000 for Homes of Hope.
Between 5.15am and 5.15pm on Friday November 8, the four will tackle what they're dubbing the "585 For Hope" challenge. They've worked out exactly how many minutes they'll be going hard.
Putting their bodies – and mental resilience – on the line will be: Classic Builders BOP senior construction manager Callum Armstrong; construction manager Jade Murray; regional manager Nathan Watkins; and Classic Group national marketing manager Kathryn Scholes.
All are members of Tauranga F45 studio – local home of the exercise craze that marries high intensity interval training, circuit training and functional training into one 45-minute sweat session.
Five of the 13 classes on D-Day will be existing member classes, while eight extra classes have been added to the day, thanks to sponsorship support from Classic Builders' local suppliers and subcontractors.
Sponsorship has already netted $10,000, Kathryn confirms, so the target has been boosted to $20,000. Members of the public are being urged to support the challenge via the event's givealittle page.https://givealittle.co.nz/cause/585-for-hope
"It's a big target for such a valuable community organisation and as parents, the four of us are 100 percent committed to reaching our target – both physically and financially" Kathryn says.
Homes of Hope is driven by a desire to deliver the very best foster care service. The organisation prevents brothers and sisters from being separated and ensures stability of their care for as long as it is needed.
Tauranga Homes of Hope communications and funding administrator Pam French says she and her team are "over the moon" about what Classic Builders and F45 are setting out to achieve.
"They are going above and beyond the call of duty to do this for our children – the ones who don't have a voice. They are just wonderful people, it's absolutely incredible."
Pam says the money raised will be used for therapeutic care specific to the children's needs.
The fundraising idea was dreamed up by Jade. The idea came to him one sleepless night. He said he knew whatever they did had to be extreme and intense to encourage people to get their wallets out and make a significant difference.
It appears Jade's "extreme and intense" challenge box will be ticked. The four understand their challenge will involve more work, more calories burned and longer time at peak intensity than running two marathons back to back.
Callum confirms the training has been solid, with "a good chunk" of their weeks spent sweating it out at the F45 studio. Training started months ago and has continuously been ramped up, he says.
As for the chosen charity?
"Children are the only truly innocent and the work that Homes of Hope does is truly inspiring. We are proud to be involved with them and even more proud that we will be helping to give these abused and disadvantaged kids a little positive change," Callum says.
F45 Tauranga studio manager Jess Addis says it's a very ambitious aim, for a very good cause.
"We are so excited to be backing them in this. I don't know of anyone who has tried this and when I first heard of it, I did question their sanity. The maximum number of repetitions I have known anyone to do in a day is five, which these four achieved last week. It will be very challenging, and I'm picking they will need an ice bath afterward," Jess says.
She says the workout will be cardio based. While the exact activities have yet to be determined they could face bench hops, kettle bell burpees, time on the rowing machine and agility ladder and maybe a slides bear crawl shuttle run.
"They are in for a treat. It will definitely get their heart rates up."
Jess has been involved in coaching Jade, Callum, Kathryn and Nathan, and plans to join in for some of the hard yards on the day… just not 13 repetitions.
Getting involved in a big charity event is a first for F45. They are running the 13 classes, providing the venue and using their platform to get the word out about Homes of Hope.
"We are getting our members on board. Some of the people who come to our studio have started bringing gifts in for the children. When you think what some of those children go through – it's such a great cause to get behind."
A final thought for the fearless four? Jess thinks they'll have fun!
Many thanks to the day's sponsors so far: Moon Drainage, ABS Electrical, Tauranga Hardware and Plumbing, Ilume,Colliers International, Cooney, Lees & Morgan, Amp't Electrical, New Zealand Windows, BaseUp, CBK, Direct Group Ltd, Carters, Harvey Norman, and Plumbing World.
More on SunLive...