New backcountry hut for Kaimai Range users
A new back country hut that's now available for public use in the southern Kaimai Range is the first in a plan to establish a network of huts along the Kaimai Ridgeline from State Highway 29 to Karangahake Gorge.
The Kaimai Ridgeway Trust, an affiliation of tramping, walking and deerstalkers groups last month officially opened Te Whare Okioki – 'The Resting Place' – the name bestowed by local iwi Ngati Hinerangi.
The 12-bunk hut sits on the Kaimai North South Track within the Kaimai Mamaku Conservation Park administered by the Department of Conservation – and is between three-six hours' walk into the forest from one of seven southern Kaimai entry points.
Following an opening blessing by Ngati Hinerangi, an opening celebration last month was attended by 80 people – more than half walking in and the remainder arriving by helicopter.
Speakers included KRT trustees, Godfrey Mackersey, Peter Wilson from Federated Mountain Clubs and the Backcountry Trust, David Thompson from Ngati Hinerangi, and Ken Raureti from the BOP Conversation Board.
KRT chairman Roger Montgomerie says everyone present was very impressed with the new hut and the opportunities it provides as a great place to stay while exploring the Southern Kaimai.
The project was brought to fruition by KRT to promote a national iconic walkway through the park where people can find a place to stay every six hours of tramping. "There are 28 entry and exit points into this forest – so the possibilities are fantastic," says Roger.
"The idea is people can walk into the park, stay the night then keep walking and link up to the next hut – and so on."
Unique
Roger says construction of Te Whare Okioki is unique as it is built using aerated concrete to prevent fire risk. It also features a large covered deck, wood burner and solar-powered lighting. "You walk in the door and flick a switch and there is light – this is still very new in a backcountry hut."
"There's a 5000L water tank, a washing sink on the deck, taps and picnic tables outside, and a proper toilet. People can cook inside but we encourage them to eat on the covered deck."
The hut is built to DOC Serviced hut standards and Matamata Piako District Council building regulations.
The NZ Deerstalkers Bay of Plenty Branch, led by KRT trustee Stan Lowe, took the lead role in the hut's construction. "It includes a meat safe and dog kennels for hunters with DOC hunting permits," says Roger.
The hut's location was previously covered in ponga fern. Whakamarama residents may recall a flurry of helicopter activity in winter 2018 as everything to construct the hut was flown in – even a 1.5 tonne DOC digger to clear the site, which saved many hours of hard labour.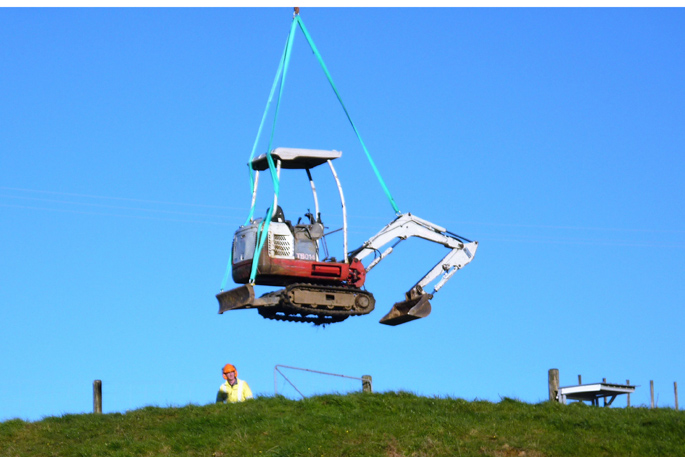 "Used through construction, behind the hut is a new helicopter pad that offers a useful facility for future search and rescue operations," says Roger. "There's also ample room for camping."
Roger expects the hut will be used regularly by tramping and walking groups, hunters, youth and school groups, families, nationwide and overseas visitors, KRT volunteer working parties, SAR training groups and for pest control activities.
"It would be great for a local group to adopt the hut as their pest control base and embark on a targeted pest control activity to encourage a return of more birds to the area."
A major funding contributor was the Backcountry Trust – a partnership of Federated Mountain Clubs, NZ Deerstalkers Association and Trail Fund NZ. Other donations and grants were received from the Lion Foundation, tramping clubs, BOP Deerstalkers branch, individuals, rotary clubs, and MPDC. And Whakamarama Community Inc members helped with painting, landscaping and final touches.
"DOC has been a major supporter of the project, assisting with documentation and approvals and providing a range of logistical support and resources," says Roger.
"They're also producing new signage to show walking time and map information for Te Whare Okioki for all road ends and major track junctions."
Roger says visitors must book the hut on DOC's website, or by phoning DOC's Tauranga office, prior to arrival.
The future
As for the future, Roger says KRT and DOC need to work closely with iwi, lead partners and all other interested groups to identify further hut locations.
"The long-term plan is to build three more huts so trampers who start from Karangahake, or from the Kaimai Summit, after every six hours of tramping will have a comfortable hut to stay in."
Formed in 2015, KRT currently maintains Daly's Clearing and Te Rereatukahia huts, and six smaller huts originally used by deer cullers.
Roger says KRT members have now surpassed 13,000 hours of voluntary work. "We're looking after about 150km of tracks."
For him, the Kaimai Range is unique – with breath-taking scenery and a very diverse forest providing a great variety of environments for everyday tramping. "We want to encourage a wide range of groups, especially including schools, youth and family groups to use the new hut to set youngsters on a path of appreciating and wanting to look after our great outdoor environments."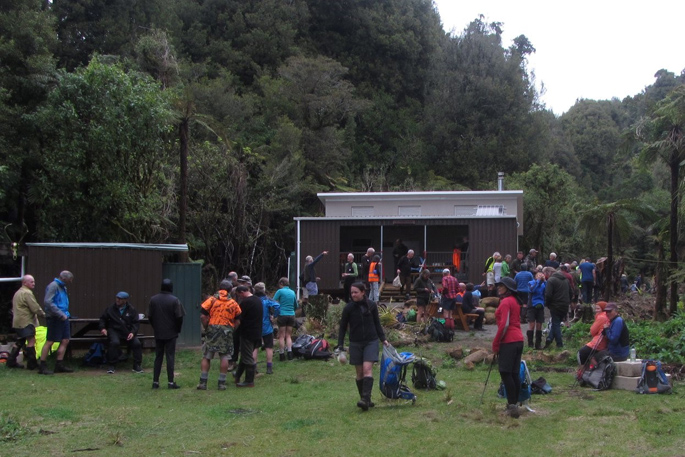 More on SunLive...