What's on Today? Chess, Tai Chi and Pickleball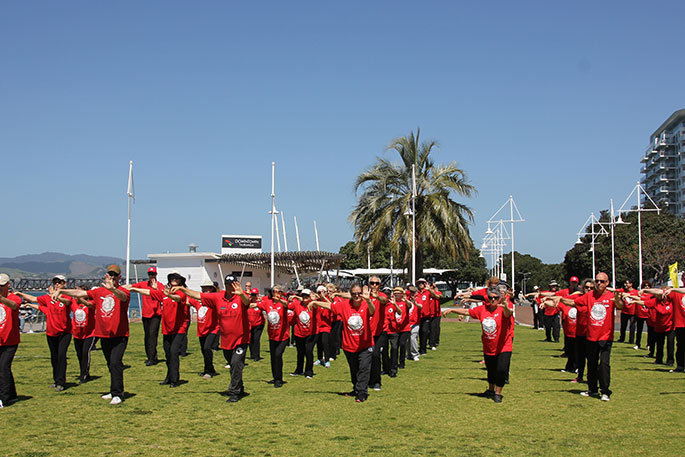 Good morning.
The last day of the long weekend has arrived and today is expected to be partly cloudy with a high of 19 degrees and possible showers around 5pm.
The Tauranga arts festival continues today with Canadian-born, New Zealand singer-songwriter Tami Neilson playing at the Carrus Crystal Palace on the Tauranga waterfront at 3pm. Also part of the festival is Cellfish, a show where hardened inmates come face to face with a whole new nightmare: Shakespeare classes with Miss Lucy. It's recommended for ages 13+ and starts at Baycourt Community and Arts Centre at 1pm.
If you're travelling home today drive safely, you can plan you trip using the NTZA website www.nzta.govt.nz/holidayjourneys. The map shows predicted traffic flow across popular journeys over the Labour weekend holiday, based on previous years travel patterns.
Enjoy your day and if you're looking for things to do around Tauranga check out these activities.
Monday 28 October
Mah-Jong
Every Monday 12:45pm-4pm visitors & beginners welcome (free teaching available). Tauranga South Mah-Jong at Tauranga Rowing Club 6th Ave. Ph Shirley 576 0014
---
Achieve Toastmasters
Build a Better You! Achieve Toastmasters meets 1st, 3rd, 5th Monday of month, St Stephens Church Hall, Brookfield. 7:30pm start. Ph Dee 027 636 2100
---
Alcoholics Anonymous
Open meeting 10am Mon & Fri. Tauranga Central Baptist Church cnr 13th Ave/Cameron Rd. All welcome. Ph 0800 229 6757
---
Argentine Tango in Tauranga
Free introduction to authentically danced close embrace, highlighting your sensibility. Welcome to our warm, open, fun group. Ph Denise 020 4006 1340 or Facebook Tango in Tauranga
---
Chess At Mount Maunganui
Mount RSA Chess Club, 544 Maunganui Rd, 6-7pm. Late program 7pm onwards. Incl casual games. Noel 579 5412
---
Chess In The Afternoon
Keep mentally fit. Chess 1pm Hillier Centre 31 Gloucester Rd Mt Maunganui. $4. Equipment & refreshments provided. Ph Bob or Viv 575 5845 or 027 478 6282
---
Croquet
45 Kawaka St, Mt Maunganui. Mon, Wed, Sat. 9am for 9:15am start. New players & visitors welcome. Ph Jacqui 574 9232
---
Diabetes Help Tauranga
Drop-in clinic. 10am-12pm, no appointment necessary. Advice or support for anyone living with diabetes & their families. 174 11th Ave, Tauranga
---
Dutch Friendly Support Network
Coffee morning (1st Monday of month) 10am-12noon. $3 entry. Vintage Car Club Rooms, Cliff Rd, Tauranga. Ph Bernadette 07 572 3968
---
Let's Learn Lifelong Learning
Want something to do, to learn, to meet people? Check out www.letslearn.co.nz for night classes, workshops, lectures, courses, clubs of all sorts. Ph 07 544 9557 https://www.facebook.com/letslearnbop
---
Omokoroa Beach Indoor Bowls
Settlers Hall, Omokoroa Rd 1pm for 1:30pm start. $3 per session, first session free. Please wear smooth-soled shoes. Equipment provided. All welcome.
---
Petanque Tauranga BOP
At Club Mount Maunganui Tuesday play starts 4pm, second game 5pm. Saturday play starts from 10am. Maryan 07 552 4346 or 022 070 8200
---
Pickleball at the Mount
What is Pickleball? Lots of fun! Join us at Mt Sports Centre, Blake Park 10am-12pm. Equipment provided. Ph Viv 575 5845 or 021 162 3342
---
Recycled Teenagers gentle exercise
Mon/Wed Tga Senior Citz Club 14 Norris St. 9:15-10:45. Tues St Mary's church hall corner Girven & Marlin 9-10:30. Jennifer 571 1411 or 027 206 0776
---
Sign Bomb
Let's talk about/with NZSL (NZ Sign Language)! Espresso Garden Cafe Tauranga Mitre 10 9:30-11am. More info Yuko email:hunyako3@gmail.com or FB:Visual Voices
---
Silver Singers Choir
Soprano, alto, tenor, bass voices required. Practice at St Stephens Chapel, Brookfield Tce 1-3 pm. Ph Pat 579 1036
---
Tai Chi Bethlehem
New Beginner class. Bethlehem Hall 1:30pm. All welcome. $5. Ph David 027 222 2824
---
Taichi Internal Arts NZ
Tai Chi beginner class. All welcome. Qigong set included. Non religious. Fun. Greerton Senior Citizens Hall, 33 Maitland St. 9:30-11am. Ph 552 4425 David (with SportBOP).
---
Taichi Internal Arts NZ
Greerton Senior Citizens Hall, beginner classes Mon 9:30am. Te Puke Memorial Hall, Tues 9:30am, Wed 5:30pm. LokHup Friday 11am. All incl Qigong. Ph 552 4425
---
Taoist Tai Chi
New beginner classes. 15 Koromiko St, Judea 9:30-11am. Memorial Hall Te Puke 9-10:30am. Great for stress, suitable for all. Start anytime. Ph 578 6193 or visit www.taoisttaichi.org
---
Tauranga Anglers Club
Friendly trout fishing club; trips, talks, tuition & magazine. Club Nights, 7.30pm third Monday every month, Fish & Dive Club Rooms, Sulphur Pt. Guests welcome. taurangaanglersclub@hotmail.com
---
Tauranga Creative Fibre
Every Mon 9:30am & 2nd & 4th Thur 7pm. Learn knitting, crochet, spinning, weaving & felting. 177 Elizabeth St. Ph Margaret 07 571 3483
---
Tauranga Senior Citizens Club
CARDS 500 Mon & Thurs. INDOOR BOWLS Tues, Wed & Sat. 14 Norris St (behind PaknSave) 12:45pm for 1pm start. Entry $2 includes afternoon tea. All welcome.
---
Vision Friendship Club (FNZI)
Friendship Fun Fellowship mixed club for retirees. Meets 4th Mon of month at Citizens Club 10am. Guest speakers interest groups. Ph Bryan 570 2483
---
Welcome Bay Art Group
9:30am at Lighthouse Church Meeting Room (next to village shops). Ph Denis 544 6451
---
More on SunLive...